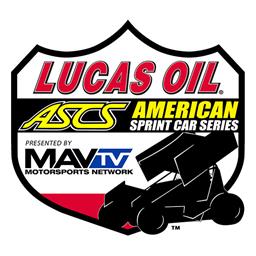 ---
Oerter Takes ASCS Elite Non-Wing North Opener
Bryan Hulbert – CALHAN, Colo. (April 24, 2021) Opening the 2021 season at El Paso County Raceway, Ryan Oerter captured the Saturday night victory with the ASCS Elite Non-Wing North Series.
Coby Pearce was second over Gary Land, Austyn Gossel, Butch Hardman, and Brian Hardman.
The series is set to race again at El Paso County Raceway on Saturday, May 22.
For other news, notes, and information on any of the tours under the ASCS banner, log onto http://www.ascsracing.com, follow on Facebook, Instagram, and Twitter (@LucasOilASCS).
Race Results:
ASCS Elite North Non-Wing
El Paso County Raceway (Calhan, Colo.)
Saturday, April 24, 2021
Heat 1: 1. 92-Coby Pearce[2]; 2. 43-Ryan Oerter[5]; 3. 55-Gary Land[3]; 4. 16-Brian Hardman[6]; 5. 16G-Austyn Gossel[1]; 6. 59-Butch Hardman[4]
A-Feature: 1. 43-Ryan Oerter[1]; 2. 92-Coby Pearce[2]; 3. 55-Gary Land[4]; 4. 16G-Austyn Gossel[5]; 5. 59-Butch Hardman[6]; 6. (DNF) 16-Brian Hardman[3]
---
Submitted By: Bryan Hulbert
Back to News