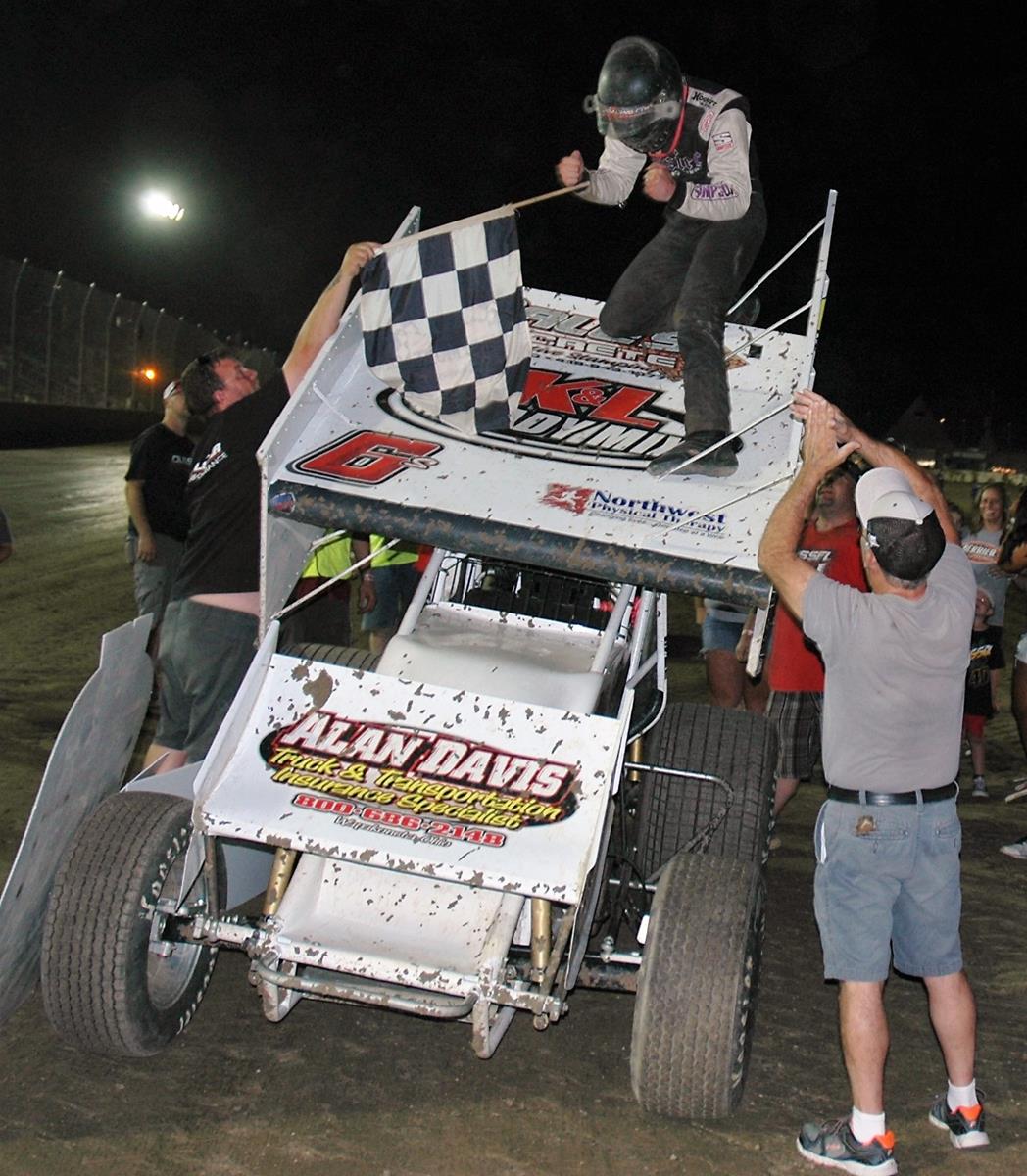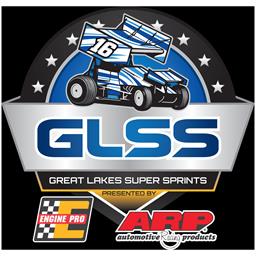 7/21/2017
GLSS-Great Lakes Super Sprints
---
DUSSEL 1, HANNAGAN 1, MOTHER NATURE 2
Lima, OH – Fourth of July weekend was shaping up to be all we had hoped for! Last winter when K&L Sprint Invaders and Great Lakes Super Sprints sat down and started dove tailing their schedules together, 4th of July stood out to be a big weekend. We were looking at Limaland, Fremont, Millstream and Waynesfield for 4 great nights of racing. With Millstream not opening, it left us with a void for Sunday night. Early in June Brad McCowan, the owner of Atomic Speedway made it possible for us to add a 4th race and we were back in business for a great weekend of sprint car racing!
Dubbed the week of speed, our weekend started out at Limaland on June 30th. There were threatening storms passing to the North, but we were optimistic that we would be able to get our race in. We had 28 cars registered, including a visiting Christopher Bell, Gary Tayler, Channin Tankersley and Ryan Coniam. We had a brief drivers meeting and got all the cars fired and heat in the engines as the air cooled suddenly and the skies opened up with a torrential down pour. After about 20 minutes of raining and potential of more to come, the nights races were unfortunately cancelled…Mother Nature 1.
The rain front that hit NW Ohio had passed Fremont Speedway by about midnight. Rich Farmer, owner of the speedway, and his crew worked diligently through the night pumping out the infield and getting the track worked to race on Saturday night.
As the sun came out Saturday, the green light was out for racing that night at Fremont Speedway. With 3 classes of sprint cars present, the 360 cu in class was the largest class in attendance with 35 cars registered. With many of the same cars we added 4 cars from Ontario, including Mitch and Jake Brown, Tyler Hendricks and Dylan Westbrook and Indiana native, Parker Price-Miller.
Mitch Brown (Brantford, ON) was fast qualifier for the night with a 13.172 second lap. Devon Dobie (Wapakoneta, OH), Dylan Westbrook, (Scotland, ON), Parker Price-Miller, (Kokomo, IN) and Butch Schroeder (Leipsic, OH) rounded out the top five qualifiers.
Running 4 heat races, Todd Heuerman (Leipsic, OH) M. Brown, Schroeder and Dustin Daggett (Portland, MI) transferred out of the first heat race. Nate Dussel (Bradner, OH), Dobie, Randy Hannagan (Pittsboro, IN) and Shawn Dancer (Delphos, OH) transferred out of the second heat race. In the 3rd heat race, Gary Taylor (Snohomish, WA), Jared Horstman (Cloverdale, OH), Westbrook and Jake Brown (Brantford, ON) transferred to the A-Main. Kyle Sauder (Archbold, OH), Chase Ridenour (Perry, MI), Ryan Ruhl (Coldwater, MI) and Phil Gressman (Helena, OH) filled out the last transfer spots from the heat races.
Tim Allison (Cridersville, OH) and Tyler Hendricks (Chatham, ON) raced their way into the A-Main from the 1st B-Main. With only 2 spots left, Gregg Dalman (Bellevue, MI) and Jarrod Delong (Cridersville, OH) secured those spots by racing out of a pretty stacked B-Main.
The A Main rolled out with the 20 cars that had raced their way out of the original 35. As the green flag dropped local fan favorite Dussel was out in the lead with Mitch Brown on his tail. As the cars were maneuvering for spots, in lap 4 running 13th at the time, Dancer got high on the outside cushion going into turn 3 rolling his car. Running 14th, Ruhl narrowly misses Dancer as he tumbles into the middle of the track. Unfortunately, 18th place running Hendricks had nowhere to go as Dancer landed on his car. After cars were cleared, we had a single file restart and went green flag to checker the last 21 laps. Taking the checkered flag was Dussel, with M. Brown, Taylor, Ridenour and Dobie rounding out the top 5. Nate Dussel 1.
Day 3 was a sunny hot day in southern Ohio. It was a beautiful scene to see Atomic Speedway nestled in the hills with its high banks beckoning the sprint cars to come out and play. With 29 cars registered, we had one new driver for the weekend joining us, Kody Swanson from Zionsville, IN.
Fast qualifier for the night at Atomic was Dustin Daggett with a 13.255 second lap, followed by Sauder, Price-Miller, Dancer and Tankersley.
Heat Race 1 transfers were Schroeder, M. Brown, Tankersley and Gressman. Heat Race 2 transfers were Hannagan, Allison, Sauder and Dussel. Heat Race 3 transfers were Coniam, Horstman, Swanson and Price-Miller. Heat Race 4 transfers were Dobie, Danny Smith (Chillicothe, OH), Ed Neumeister (Upper Sandusky, OH) and Dancer.
Transferring from the B-Main were Daggett, Westbrook, Landon Lalonde (South Amherst, OH) and Heuerman.
The heat of the night had taken its toll on the track as Butch Schroeder and Randy Hannagan led the field out for the feature. As the green flag dropped the field roared past the flag stand and wouldn't take another flag until the white flag came out. There was a lot of battling going on in the field and just some plain good driving by everyone. As that white flag flew, Hannagan just had to hold Schroeder off for another 14 seconds and he did, claiming his 2nd feature win of the season with GLSS/NRA. Schroeder, Coniam, Horstman and Dobie rounded out the top 5 for the night. Hannagan 1.
The biggest night of the weekend was Day 4 of our week of speed. Chances of rain were in the forecast again, but everyone was optimistic. As the pits filled up with over 121 sprint cars, the stands filled up to a capacity crowd. A passing shower slowed things slightly after heat was in the motors, but the track crew quickly got the track ready to go and the FAST 305's rolled out for hot laps. The 360's were then lined up for qualifying next. The first group on the track, set new track records. 26 more cars rolled out and every one of the cars was under the old track record. Scorching the old record by nearly 2 ½ seconds was fast qualifier Mitch Brown at 10.708 seconds or nearly 105 mph. The night was shaping up to be a historic night. With five cars left to qualify, the rains started. After much debate and wanting to stay and get the race in, it was decided to cancel the race and reschedule for Sunday, September 3rd on Labor Day weekend. Mother Nature 2.
It was unfortunate that we only got 2 races in out of 4, but it was an awesome weekend none the less! The support from the fans, the tracks and the racers was great! When Ron Hammond, owner of the K&N NRA Sprint Invaders and Barry Marlow, owner of GLSS got together and worked on schedules last winter, we only hoped for the turn out that we had last weekend! We ended up having 124 total cars registered at the 4 weekend races, giving us a 31 car average per night. Of those cars, we had 54 different drivers from 9 different states and Ontario, CA. Thank you to everyone that came out to support us!
With 2 weeks off, GLSS/NRA are back at it this weekend with the Mid-Summer Triple Header. Racing at Tri-City Speedway July 21st, Merritt Speedway July 22nd and I-96 Speedway on July 23rd for the Open Wheel Spectacular.
For more information, follow us on Facebook or go to our website at www.greatlakessupersprints.com.
---
Article Credit: Barry M. Marlow
Article Media
Back to News