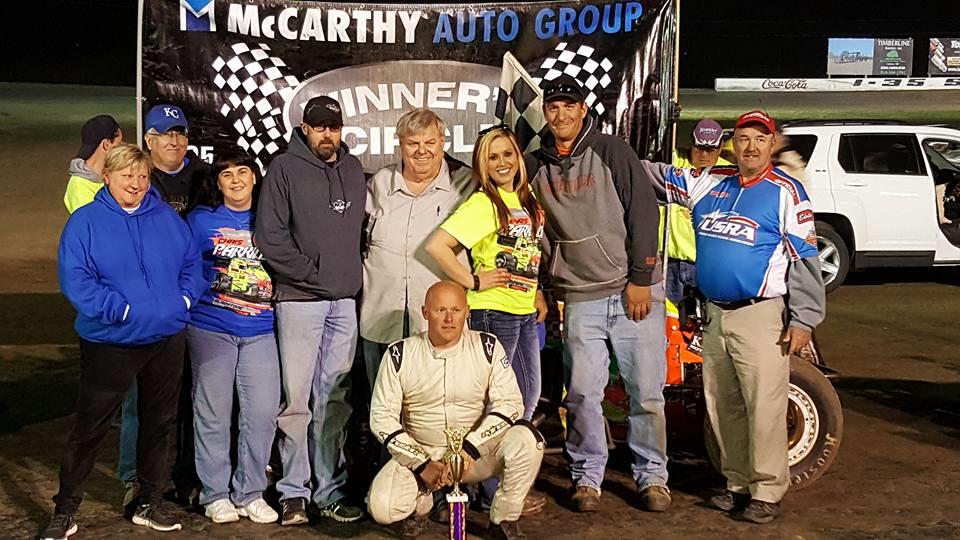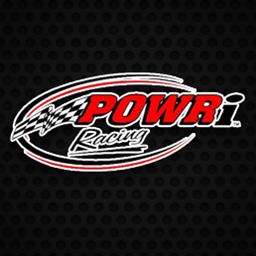 5/15/2016
POWRi WAR Sprints
---
PARKINSON WIRES WINSTON
PARKINSON WIRES WINSTON
Winston, MO (May 14, 2016) - ­Taking the lead at the drop of the green flag, Chris Parkinson scored a dominant win with the Boss Chassis WAR Series at I-­35 Speedway on Saturday night as he led all 25 laps.
Parkinson beat fellow front­-row starter Rob Caho Jr. down the front stretch and would lead lap one before action was halted for a Mike Dapra spin. Dapra would spin again before another lap was completed ending his evening.
Once green, Parkinson set a torrid pace as Steve Thomas, Ryan Kitchen, Caho Jr, and Clinton Boyles battled for position behind him.
Parkinson continued to lead as Thomas moved into the second spot with Kitchen in third. Throughout the race, Parkinson would not be challenged as he went on to his seventh career win with the Boss Chassis WAR Series tying him with Mitchell Moore and WAR owner Casey Shuman for the all-­time lead in his 54th Street Bar & Grill/Country Kids Daycare #65. Thomas was a solid second in his Bell Helmets/K1 Racegear #20. Kitchen was third in his #21, with Boyles moving up to fourth from his ninth starting spot in the Jesse Hockett Racing/Lucas Oil #77 making him the night's hard charger. Kameron Key, making his first start in the Helm Racing #12, rounded out the top five. TJ Muths, back from a scary flip at Lakeside Speedway on May 5th, was sixth followed by Caho Jr. Rounding out the top ten were Kenny Potter, Andrew Genkinger, and Chris Desselle.
Parkinson won the Hinchman Racewear Heat #1 with Caho Jr. picking up the Wilwood Disc Brakes Second Heat. The Boss Chassis WAR Series will be back in action this Friday, May 20 as they make their first ever appearance at the Sedalia State Fair Speedway in Sedalia, MO.
I-­35 Speedway­ - 13 cars
Hinchman Racewear 1st Heat - 8 laps
65-­Chris Parkinson, Gladstone, MO (3); 2. 12-­Kameron Key, Warrensburg, MO (2); 3. 55­-Kenny Potter, Harrisonville, MO (5); 4. 77-­Clinton Boyles, Greenwood, MO (1); 5. 09­-Andrew Genkinger, ­Mt. Pleasant, IA (6); 6. 38-­Mike Dapra, Knoxville, IA (7); 7. 70­-Pete Palazzolo, Ballwin, MO (4)­-DNF
Wilwood Disc Brakes 2nd Heat - 8 laps
78-­Rob Caho Jr, Wyoming, MN (2); 2. 20­-Steve Thomas, Rantoul, IL (3); 3. 21­-Ryan Kitchen, Lincoln, NE (6); 4. 21C-­Chris Desselle, Richmond, MO (5); 5. 65M­-TJ Muths, Sedalia, MO (4); 6. 42-­Warren Johnson, Overland Park, KS (1)­-DNF
BOSS Chassis A­-Main - ­25 laps
65­-Parkinson (1); 2. 20­-Thomas (4); 3. 21­-Kitchen (3); 4. 77­-Boyles (9); 5. 12­Key (6); 6. 65M-Muths (10); 7. 78­-Caho Jr. (2); 8. 55­-Potter (5); 9. 09-­Genkinger (8); 10. 21C-Desselle (7); 11. 70­-Palazzolo (13)-­DNF; 12. 42­-Johnson (12)­-DNF; 13. 38-­Dapra (11)­-DNF
---
Article Credit: Chad Buford
Back to News