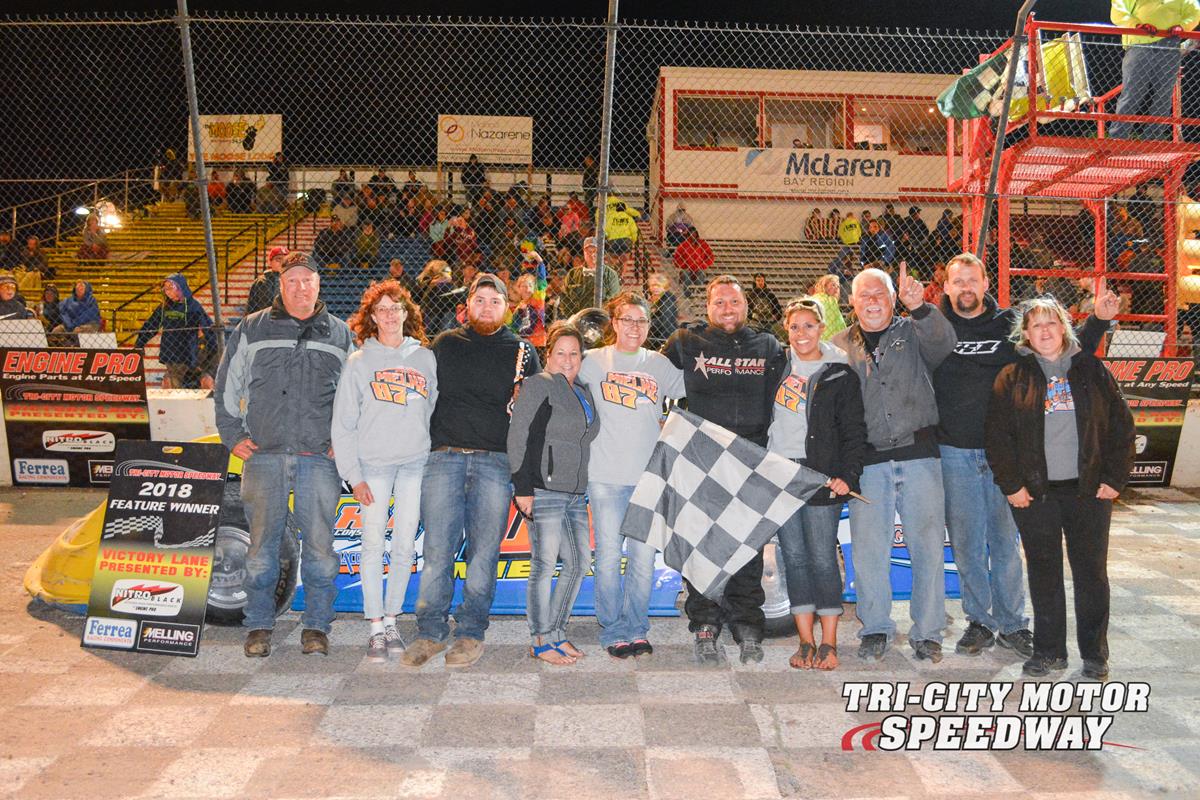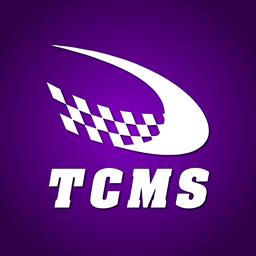 6/3/2018
Tri-City Motor Speedway
---
6/1/2018 Race Results
06/01/2018 TeamTech Motorsports Safety Inc. Night/ Pro Stock Special
Main Street Seed and Supply IMCA Modified: #19jr Kody Johnson
Mueller's Performance Engines Pro Stock: #25 Steven Hilliker
Suspension MAXX Street Stocks: #7r Kevin Newcomb
Melling Performance Late Models: #87 David Mielke
Thornton Brothers Sewer and Septic Service Bomber Stocks: #7 John Staszak
Walker's Ideal Trophies Mini-Wedge 6-9 Yr Olds: #5 Brennan DeShano
Walker's Ideal Trophies Mini-Wedge 10-14 Yr Olds: #15 Cole Doty
Hall of Famer Steven Hilliker Takes Big Pro Stock Payday at Tri-City Motor Speedway
06/01/2018 (Auburn, MI) It was another great night of stock car racing entertainment took place last Friday night at Tri-City Motor Speedway in Auburn with 111 cars on hand in hopes of reaching victory lane in each of the six car divisions. The Mueller's Performance Engines Pro Stocks had the spotlight with a special 38-lap feature paying $1,258 to win.
One of the big topics discussed in the pit area in the Mueller's Performance Engines Pro Stock division was that Street Stock point leader Jake Thompson would make his class debut behind the wheel of Johnny Robbins' owned #93. Heat race winners earlier in the night were #25 Steven Hilliker, #77 Chris Malek, and last week's feature winner #K11 Kendall Morrison. Thompson didn't show much muscle in his heat but finished high draw the pole position for the 38-lap main event. Thompson immediately jumped out to an enormous advantage over the initial 18 laps before a caution would regroup and bunch up the field. On the restart, Malek looked like he may have something for Thompson as he never let the leader get out of his sight. While both drivers battled each other, they would quickly catch the tail of the field. With slower traffic to contend with, Hilliker, who was charging from eighth place, was able to catch the duo to make it a three car fight to the finish. On the final lap, Hilliker took to the low side of turn one to go underneath the lapped traffic that was holding up Thompson and Malek. Hilliker completed the winning pass in the Rick Yaroch owned car to steal the win away from Thompson and Malek. #28 Jared Rizer and Morrison would cross the finish stripe in the top five.
The Walker's Ideal Trophies Mini Wedge division competition continues to improve as the "kids" learn to compete with each in race situations. The feature event for the 6-9 year olds had #28 Kyron DeShano pass #12 Morgan Bujarski on lap two. However, he would spin in turn four on the final lap and finish fifth. It was #5 Brennan DeShano that would take advantage of the spin to pick up his first feature of 2018. #54 Addison Clink, and Kyron DeShano pick up heat gold. The 10-14 year olds featured a great battle between last week's winner #24 Caden Anderson, young lady #2e Easton Murray, and #15 Cole Doty. Doty would edge out Anderson at the finish with Murray completing the top three. Doty also won his heat race.
Attrition took its toll on some of the front runners Friday night in the Thornton Brother Sewer and Septic Service Front-Wheel drive Bomber Stocks. #21 Alex Keit would lead early before leaving the race with issues. This handed the lead to #80 of Daryl McBride. #03 Josh Charbonneau would catch McBride, but hard racing led to contact that would eventually cause both drivers to retire from the race before the final lap. When the dust settled, it was #7 of John Staszak that would survive to lead the final lap and take his second feature trophy of the year. #5 Dakota Vennix, #17 James Antku, #01TK Brad Treichel, and #34 Joe Stanley took home top five finishes. Staszak also dominated his heat race as well as #9 Ethan Robarts.
The biggest contingent of cars and stars was once again in the Melling Performance Late Models. With 29 cars checked in, the main event was another tough ticket to earn. #21 Logan Arntz, Rookie #71 Timmy Near, and #16 Mike Staszak survived their heat races with wins and guarantee their starting positions in the 30-lap feature. Two-time defending Champion #4t Andrew Terrill had to beat a stout field in the Last Chance B-Main to earn his spot at the back the 20-car feature field. Staszak would lead the opening pair of laps in a race that saw numerous lead changes throughout. #76 Torrey Ahrens managed to snag the lead until the halfway point when #2 Travis Stemler took control. Twelfth place starter, rookie #87 David Mielke was relentless on the bottom of the track and was able to reel in Stemler with the winning pass on lap 28. The Gladwin driver would finish off those final two laps for his first late model feature win of his career. Stemler would have to settle for the runner-up position and was closely followed by #6m Dona Marcoullier, #23v Ryan Vanderveen, and Ahrens.
The Main Street Seed and Supply IMCA modified division has been dominated as of late by rookie driver #79 Nate Jones. He was looking for his fourth feature win in a row, but would have to start from row five in order to do so. Auburn driver, #03 Chris Cohoon would overtake the front row on lap one and continue to lead the field until lap seven when defending Champion #19jr Kody Johnson took his turn at the front. With few cautions, Johnson was able to keep the field behind him and was the first to finish the 20-lap feature. Jones fought his way up to second at the finish. Cohoon, #615 Chad Wernette, and #27 Matt Szecsodi clawed their way into the top five. Cohoon also won his heat race along with #33 Todd Matheson.
Point leader #50 Jake Thompson already had 38 laps and a runner-up finish earlier on in the Pro Stock feature and was ready to tackle the 20-lap SuspensionMAXX Street Stock main event. On lap three, he was able to pass the #16 of Steve Doty and #15.2 Robert Cunningham. Defending Champion, #x5 Eric Lake was the only one that was able to get close to Thompson to challenge. However, his bid for the lead fell short after clipping a track tire in turn three that sent him spinning and brought out the caution. On the restart, Thompson dominated the remainder of the race and finish ahead of the field. However, his finish would be disallowed after post race inspection. #7r Kevin Newcomb would end up being declared the victor. He finished ahead of Cunningham, #3 Mitch Clements, Lake, and #46 Tyler Moore.
Join us at TCMS next Friday as Driver Bingo is back!! Follow the drivers while playing Bingo with a twist! It is also Heroes Night as all military Firefighters, police, and first responders that bring that bring their Id enjoy free grandstand admission! A full fireworks display is also on tap for Friday night! Late Models, Pro Stocks, Street Stocks, IMCA Modified, Bomber Stock, and Mini Wedge class. Get your tickets early and avoid waiting in line by purchasing them online at www.tricityracetrack.com. We look forward to having you and your family joining us for the best dirt racing Michigan has to offer!!
---
Article Credit: Roger Williams
Article Media
Back to News