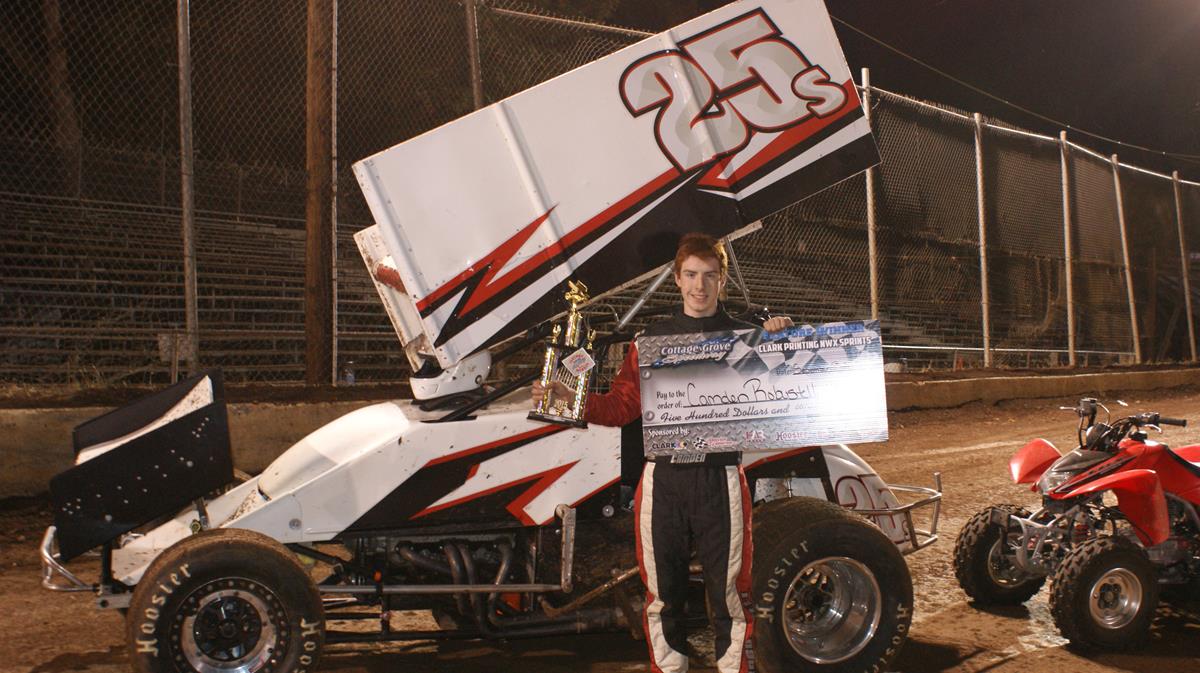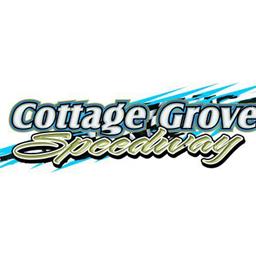 9/7/2015
Cottage Grove Speedway
---
Robustelli, Ashley, And Austin Kids Night Winners At Cottage Grove Speedway
Robustelli, Ashley, And Austin Kids Night Winners At Cottage Grove Speedway
By Ben Deatherage
(Photo Courtesy of Dirt Monkey Productions)
Cottage Grove, Oregon- Saturday September 5th would be Kids Night at Cottage Grove Speedway featuring the Clark Printing Extreme Sprints, IMCA Sport Mods, and a open comp 4-Cylinder race. There were also Kage Karts racing some non-point exhibition races. Children ages twelve and under got in to the races for free and during intermission around 200 books were given away to kids for National Read A Book Day. We would like to thank all the drivers that donated books and hung out to sign them for kids.
Starting on the front row in the Clark Printing Extreme Sprints feature Camden Robustelli of Medford would seize the lead. Robustelli would be pressured by a few drivers but kept them all in check. He would have a brief scare when he got lose headed into turn three around the midway point but he made a little contact with a lapped car that straightened him out. Despite a few cautions, which he would master the restarts, Camden Robustelli would put his O'Reilly Auto Parts/K-1 Race Gear/BC Motorsports #25S XXX in the winner's circle in only for the first time ever in his fifth career Sprint Car start.
The IMCA Sport Mod main event would be a close one. Gene Ashley of Jasper would get the lead in the first few laps in the Furniture Options/Ashley Family Racing/A-1 Auto Supply #85 entry. It looked like he was out of the woods until lap eleven. That is when Cottage Grove's Tyler Smith would make the pass on him. Smith, in the Ashley Family Racing/A-1 Auto Supply/Furniture Options #73 Harris, would be in front of the field on the final lap but Ashley and Smith would get together in turn three resulting in Ashley getting the lead and the win. It would be the fifth victory of the season for Gene Ashley.
A late addition to the racing card was the open competition 4-Cylinders. This was basically the Quality RV Repair Hornet division but with relaxed rules. Utilizing sideboards reminiscent of the old Super Stocks as well as a Sprint Car top wing Justin Austin would be the winner. Austin got the lead on lap eight and never looked back. It was the second straight win for Austin and his A-1 Auto Supply/Rapid Delivery Service/Bigg Dogg Recycling #22A Toyota Tacoma.
As mentioned above Kage Karts were also in action for some exhibition races that were non-points. Waylon House of Sutherlin was the winner in the Pee Wee division driving his Brother's Automotive/Oregon Tool & Supply/Kodiak Bar & Grill/Beauty Boutique Salon #7H QRC Area51. The Nexdor Tobacco & More/Team Dirt Dog/Zyta Construction #72 QRC of Coos Bay's Jayden Trupp got the job done in the 5HP Intermediates. The 125cc and 250cc classes would be combined together and the 125cc of Cottage Grove driver Justin Lemon was triumphant in his Phoenix Enterprises/Griffith Family Racing/Bear Racing Components/Inspection Center Northwest #42 QRC. Finally the Brown's Racing/Redline Racing/Digitron Electronics #2 QRC of James Setters from Spirit Lake, Idaho was able to hold off the competition in the Open Kage division.
Don't forget the World of Outlaw Sprint Car Series will visit Cottage Grove Speedway on Wednesday September 9th. Tickets are Adults $40.00, Juniors (9-17)/Seniors/Military $35.00, Youths (8 & Under) $10.00, and Pit Passes are $50.00. Racing is scheduled to begin around the normal 6;45 PM time. Be sure and visit www.cottagegrovespeedway.com for the latest new and information about CGS. Also check us out on Facebook and "Like" our page.
Race Summary:
Kids Night
Saturday September 5th, 2015
Cottage Grove Speedway
Cottage Grove, Oregon
Clark Printing Extreme Sprints
A Feature 1: 1. 25S-Camden Robustelli; 2. 3-David Hibbard; 3. 5D-Patrick Dills; 4. 71-Colby Carter; 5. 12-Orion Redmond; 6. 85-Ricky Ashley; 7. 1B-Chelsea Blevins; 8. 57-Dusty Redmond; 9. 3K-Michael (Buddy) Kofoid; 10. 70-Raquel Ivie; 11. 10K-Don Waddell; 12. 66-Brett McGhie; 13. 8-Anthony Pope; DNS 1-Bailey Hibbard
IMCA SportMods
A Feature 1: 1. 85-Gene Ashley; 2. 12X-Pamela Graham; 3. 38-Jimmy Owen; 4. 51N-Jayson Nelson; 5. 32-Kent Crump; 6. 51-Roy Kirk Jr.; 7. 73-Tyler Smith; 8. 15-George Daniels Jr.
4-Cylinders
A Feature 1: 1. 22A-Justin Austin; 2. 23-Brandon Letson; 3. 89-Jim Simmons; 4. 7-Andrew Mathers; 5. 30-K.C. Scott
Pee Wee
A Feature 1: 1. 7H-Waylon House; 2. 28J-Joshua Baker; 3. 40J-Jake Redmond; 4. 88K-Kasey Simmons; 5. 77H-Piper Hanson; 6. 28E-Ethan Ball
5HP Intermediate
A Feature 1: 1. 72-Jayden Trupp; 2. 06-Lydia Trupp
250cc
A Feature 1: 1. 42-Justin Lemon; 2. 04-Brody Sim; 3. 54-Les Doolittle; 4. 32-Daysen Thomas; DNS 41-Jesse Bonnichsen
Open Kage
A Feature 1: 1. 2-James Setters; 2. 3-Scott Fox; 3. 20-Chris Rolfe; 4. 55H-Conner Hanson; 5. 33-Michael Cooper; DNS 71-Kevin Hilgendorf
---
Submitted By: Ben Deatherage
Back to News