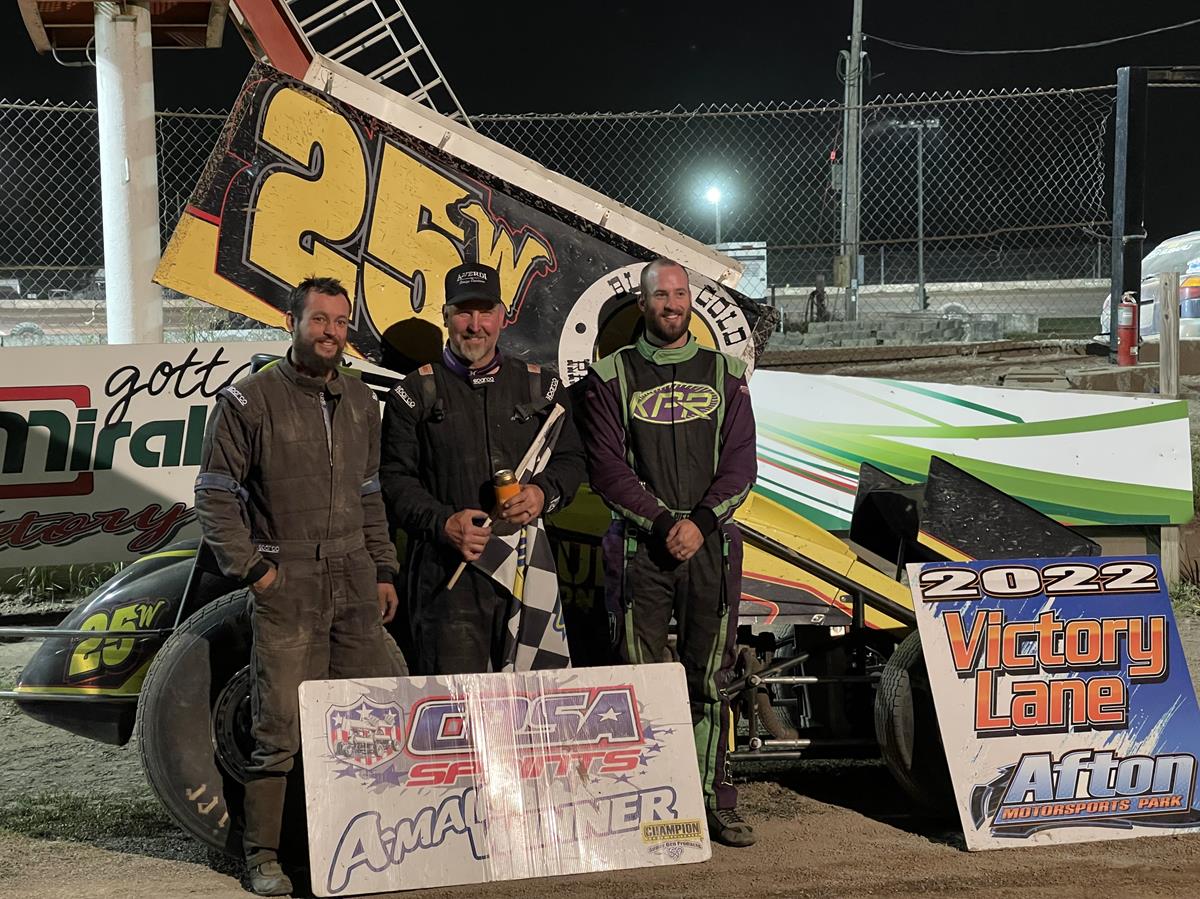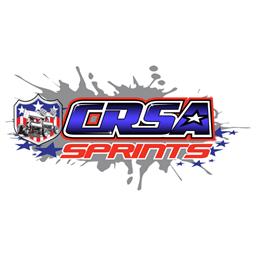 8/13/2022
CRSA Sprint Cars
---
Wagner Wins To Snap Three Year Winless Drought At Afton
Wagner Wins To Snap Three Year Winless Drought At Afton
Race Report by Steven Ovens – August 13th, 2022 – CRSA Sprints photo
(AFTON, NY) – Dalton Herrick may have said it best when he spoke to his crew members at the completion of the Super Gen Products CRSA Sprints 25-Lap A-Main at Afton Motorsports Park.
"We all wish we could have won that race, but nobody is said to see Dana finally get another win."
Dana Wagner is the driver Herrick was referring to with those comments. One of the great drivers on tour that has struggled with bad luck, mechanical issues and crashes finally put everything together to go back to victory lane for the first time in three years.
Wagner had to utilize an incredible high-low switch to get the lead, showing that it was far from just plain luck to get his first win since Glen Ridge in July of 2019. A sweet and savory win not far from home for one of the local boys, originally from nearby Trout Creek, New York.
Kyle Pierce and James Layton led the nineteen-car field to the green flag for 25 laps around the Afton Fairgrounds bullring. Pierce snuck out to the early race lead with Wagner giving chase after getting by the Rookie in the No. 14 in Layton.
The man on the move early was Billy VanInwegen, who showed a ton of speed right off the trailer in the Van Dusen Racing No. 56. VanInwegen powered from seventh to the win in his heat race and would line up fifth after the Top 9 Redraw in the pit area.
Afton Motorsports Park track prep crews laid a thin layer of water down on the top lane just prior to the CRSA Sprints feature and the drivers worked it in for several laps before the green flag flew. VanInwegen took the first two to three laps to figure out just how deep into the corner he could sling his car. Once VanInwegen got into a rhythm, he quickly raced into a podium position and went to work on Pierce for the lead.
VanInwegen took the lead on the outside off Turn 2 and was officially scored the leader on Lap 10. The caution flew on that same lap as Thomas Radivoy detonated an engine and had an oil fire erupt in the infield on the Ator Construction No. 1Q. Another tough night for Radivoy earned him the Midstate Basement Authorities "Out of the Basement" Award.
Once the green was displayed again, VanInwegen pulled away while Wagner and Pierce duked it out for the runnerup position. Scott Landers from nearby Kirkwood, NY was putting on a clinic passing cars on the outside as well as Trevor Years who started shotgun on the field. Landers' night would end on a sour note as he smacked the frontstretch wall and hurt his mount- drawing the yellow on Lap 13.
VanInwegen was on cruise on the next green flag run but something came apart on Lap 17, ending "Billy V"'s dominant run with mechanical woes. That handed the lead back to Pierce, with Wagner second, Layton maintaining a great run for third, point leader Jordan Hutton fourth and Dalton Herrick up into the Top 5.
The final right laps were incredible- if you missed seeing it in person you absolutely missed out. Pierce, Wagner and Hutton waged war for the lead with Wagner starting to find the top lane to his liking. Coming to five laps to go, Wagner sent it on the top lane to hit the moisture to go around Hutton for second place. Coming off Turn 4, Wagner got the tail tank of Pierce and dove down low for the lead to take the top spot coming off Turn 2.
Wagner would then run away for the remaining four laps to score his first victory in over three years and his second career A-Main win with CRSA.
"After I figured out the top side, Kyle kept leaving me an opening and I knew I had to go for it with however many laps to go we had there," said a very happy and relieved Wagner.
"Once I got down in there I said to myself that this was either going to work or it wasn't. I really wanted this one."
Wagner had a big crew on hand and certainly had the support from the crowd as a they gave him a thunderous ovation during his climb to the top of the wing. His wave of the flag when he reached the top signified a slaying of the bad luck dragon that has reared its ugly head so many times over the last three years.
Pierce was facing his own struggles and credited Wagner with giving him enough space to race even though they were battling close for the lead into Turn 1. Pierce would end up finishing third at the checkered flag.
"I was really struggling out there. I made a bad call on gear and it was really hurting us to be able to run the bottom like I needed to," noted Pierce post-race.
"Dana made a great move to get by me. It was close racing but he gave me room and didn't just throw a nasty slider to go by. We gave it all we had with this new Panther car and we're really starting to hit on something with it."
Dalton Herrick was just inside the Top 5 during the final eight-lap sprint to the finish, but put on a clinic to make some moves and gain some valuable points heading into a track he traditionally runs well at- Thunder Mountain on August 20.
"Once we had the yellow flag, I could see how close I was to Jordan (Hutton) and knew that if I could make something happen up top I could gain some points on him. It's been such a close points race, now is the time to make those moves to try and win this thing."
Herrick was able to bring the Kiser Sand and Gravel ride home in second. Hutton was a bit disappointed with a fourth place finish but revealed a problem he was having, making him thankful to bring home a Top 5 and earn the Maguire Family of Dealerships "Magnificent Move of the Race".
"My car was popping and banging all race long. We think maybe the Mag went bad because it felt like I was on four cylinders out there instead of eight," said Hutton.
With the great battles being had up front, Emily VanInwegen quietly and swiftly raced her way into the Top 5 at the end to score her first finish in the first five positions of 2022.
Trevor Years passed thirteen cars to come from dead last to finish sixth and earn the Powdertech Powdercoating Hard Charger of the Race. Eagle Enterprises $25 Heat Wins went to Billy VanInwegen, Dana Wagner and James Layton.
The CRSA Sprints will now head to Thunder Mountain Speedway on Saturday August 20 before a highly anticipated return to Skyline Raceway Motorsports Park for the first time in ten years and only the second time in CRSA Sprints history.
The CRSA 305 Sprints are powered by Super Gen Products with their Champion Power Equipment located in Newark, NY. Associate sponsors for 2022 include A-Verdi Storage Containers, Midstate Basement Authorities, CNY Farm Supply, the Maguire Family of Dealerships, Powdertech Powdercoating, Pit Stop Convenience Stores, PJC Sprayfoam, Profab Enterprises, Eagle Enterprises, Bonnell's Rod Shop, DisBatch Brewing Company, Magsarus Ignitions, Hoosier Racing Tire, Insinger Performance with their Stinger Race Fuel, My Race Pass and is owned and operated by Mike Emhof Motorsports.
For more information on the series, results, points and 2022 schedule please visit our website www.crsasprints.com
Please visit the Super Gen Products with Champion Power Equipment CRSA Sprints on Facebook (@CRSAsprints) and on Twitter (@CRSAsprints).
SUPER GEN PRODUCTS CRSA SPRINTS @ AFTON MOTORSPORTS PARK OFFICIAL RESULTS- Friday August 12th, 2022:
A-MAIN RESULTS (25 Laps): 1. 25W-Dana Wagner[4] ($1,000); 2. 29-Dalton Herrick[6]; 3. 9K-Kyle Pierce[1]; 4. 66-Jordan Hutton[7]; 5. 19EM-Emily VanInwegen[13]; 6. 13T-Trevor Years[19]; 7. 28-Ron Greek[18]; 8. C12-Tyler Chartrand[12]; 9. 112-Mike VanPelt[15]; 10. 22-Tomy Moreau[14]; 11. J27-John Cunningham[9]; 12. 410-Jerry Sehn Jr[10]; 13. 25H-Tyler Emmons[8]; 14. 7W-Calvin Wheelock[11]; 15. (DNF) 14-James Layton[2]; 16. (DNF) 56V-Billy VanInwegen Jr[5]; 17. (DNF) 33-Scott Landers[16]; 18. (DNF) 4-Cliff Pierce[17]; 19. (DNF) 1Q-Thomas Radivoy[3]
Eagle Enterprises Heat Bonuses $25: 56v Billy VanInwegen, 25w Dana Wagner, 14 James Layton
Powdertech Powdercoating Hard Charger Bonus: 13T Trevor Years +13 Spots
Maguire Family of Dealerships "Magnificent Move of the Race": 29 Dalton Herrick
Midstate Basement Authorities "Out of the Basement" Bonus: 1Q Thomas Radivoy
Heats (8 laps)
#1: 1. 56V-Billy VanInwegen Jr[7]; 2. J27-John Cunningham[1]; 3. 29-Dalton Herrick[5]; 4. 410-Jerry Sehn Jr[2]; 5. 19EM-Emily VanInwegen[4]; 6. 33-Scott Landers[3]; 7. 13T-Trevor Years[6]
#2: 1. 25W-Dana Wagner[1]; 2. 1Q-Thomas Radivoy[4]; 3. 66-Jordan Hutton[5]; 4. 7W-Calvin Wheelock[3]; 5. 22-Tomy Moreau[2]; 6. 4-Cliff Pierce[6]
#3: 1. 14-James Layton[1]; 2. 9K-Kyle Pierce[2]; 3. 25H-Tyler Emmons[4]; 4. C12-Tyler Chartrand[3]; 5. 112-Mike VanPelt[5]; 6. 28-Ron Greek[6]
---
Article Credit: Steven Ovens
Back to News