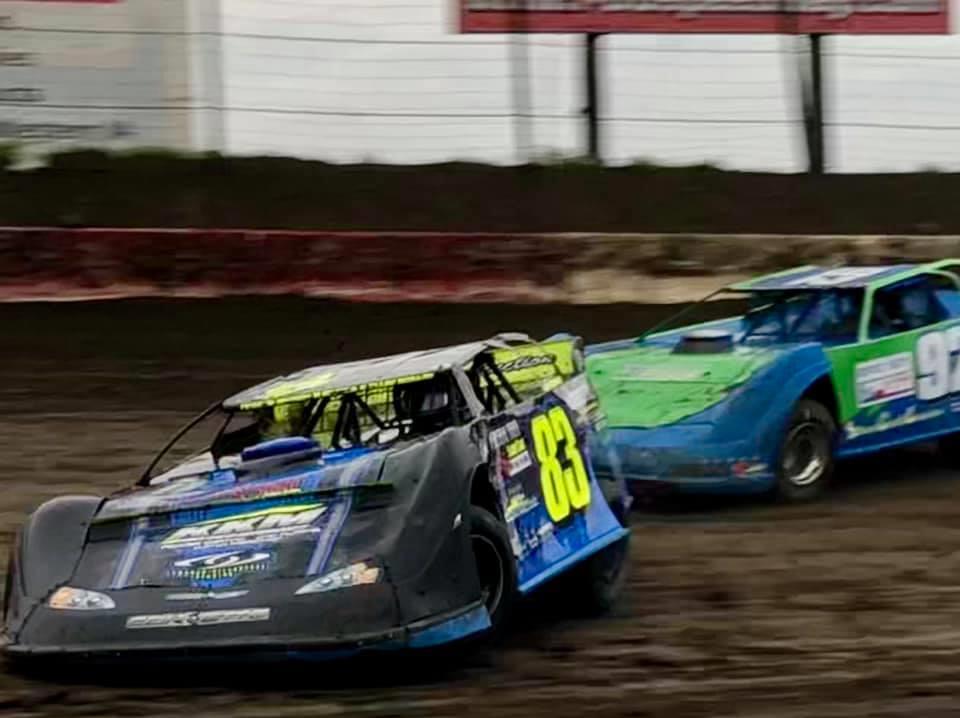 ---
Bridge scores top five at I-80 Speedway
Jake Bridge Racing- Ashland-Greenwood, Neb. (08/02/19) - Jake Bridge scored his sixth top five finish of the 2019 season with a fourth place finish at I80 Speedway on Friday Night.
Bridge advanced one spot to third in his heat race to start the evening after starting fourth.
After starting in sixth for Friday nights feature, Bridge was able to advance two spots to finish fourth.
Bridge now sits second in the Kosiski Auto Parts Bragging Rights Late Model Class at I80 Speedway. He is only four points behind the points leader, Jacob Brown.
Bridge and the team will return to action on August 16 for Shriners night at I80 Speedway.
RESULTS:
Kosiski Auto Parts Heat 1 (6 Laps): 1. 92-Jacob Brown, 05:59.382[5]; 2. 21-Tracy Harr, 05:59.615[1]; 3. 83-Jake Bridge, 06:00.044[4]; 4. 0-Brian Barrett, 06:01.329[3]; 5. 52-Rob Kosiski, 05:23.705[6]; 6. 5-Blake Andersen, 00:05.891[7]; 7. 9-Dave Cook, 00:00.637[2]
Kosiski Auto Part A Feature 1 (18 Laps): 1. 41-Robbie Jorgensen, 13:57.639[2]; 2. 43-Sterling Perkins, 14:00.748[4]; 3. 56T-Andrew Tilley, 14:02.128[3]; 4. 83-Jake Bridge, 14:03.161[6]; 5. 92-Jacob Brown, 14:03.593[8]; 6. 18-Karl Getzschman, 14:05.831[7]; 7. 35-Kale Kosiski, 14:09.735[9]; 8. J1-Jay Burdic, 14:12.971[5]; 9. 1150-Todd Bell, 14:14.419[11]; 10. 52-Rob Kosiski, 14:17.111[13]; 11. 69J-Jay Norton, 14:19.105[17]; 12. 47-AJ Jorgensen, 13:58.644[20]; 13. 8-Mike Wallace, 11:38.990[15]; 14. 6K-Roger Elliot, 11:33.675[21]; 15. 24X-Micah Brown, 10:44.098[12]; 16. 21-Tracy Harr, 01:02.892[1]; 17. 0-Brian Barrett, 01:03.728[10]; 18. 22-Jake Jorgensen, 01:04.443[14]; 19. 10-Jack Hearty, 01:05.255[18]; 20. 5-Blake Andersen, 01:05.255[16]; 21. 9-Dave Cook, 01:05.255[19]
Back to News