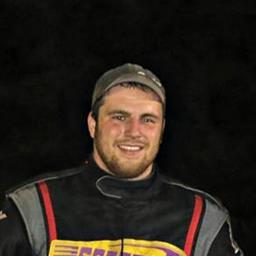 Austin Svoboda
David City, NE
Driver Information
I have grown up around the dirt track watching my dad Tom Svoboda. I have been going to the races since before I could walk. I had always dreamed of racing as a kid and now my parents, sponsors, friends, and family members have made that a reality for me. With watching my dad all of my life I also worked on his cars. He raced and still races a Late Model and Modified, so I have plenty of experience. I currently race in the Modified division. My dream is to race a Late Model in the Lucas Oil Late Model series and the World of Outlaws. I am far from that point in my career, but you have to start somewhere! I pride myself on being a clean driver, I want to win races because I am the fastest car, not because I can drive through others. Racing is a passion of mine and there is nothing else I would rather do. If I could race for a living all year round I would. Working on race cars for me is enjoyable which allows for me to race a lot because I enjoy it and don't think of it as work. The time that I put into my car and my equipment is never ending, especially when racing 3 nights a week. I have learned to never be satisfied, the car can always be faster and I try to strive for constant improvement. My goal as a racer is to win, but also have fun doing what I love with my friends and family!
I won my first race at US 30 Speedway in 2015 at the Abe Lincoln Memorial where I started 18th and won on a last lap pass. I am a pretty consistent finisher so I have finished in the top 5 in points numerous times. I won the points championship at Junction Motor Speedway in 2016. In 2017 I won the points championship at US 30 Speedway and Junction Motor Speedway. We won 8 races, 14 second place finishes, and 44 top 5 finishes. Of the 8 wins they included the Abe Lincoln Memorial, and the Marcie Schultz Memorial that paid $2000 which is the most I have ever won. In 2018 I wont the track points at Junction Motor Speedway, Boone County Raceway, and the NE state points. I also finished 6th in IMCA points and won races at 5 different tracks.
The most memorable moment I have had is finishing 1st and 2nd with my brother in 2017 5 different times! The only problem was I was the 2nd place car all 5 times...
Favorites
Track

US 30 Speedway, Junction Motor Speedway, Beatrice Speedway, I-80 Speedway

Driver

Tom Svoboda

Event

Boone Super Nationals

Food

Steak Sandwich

Movie

Day of Thunder

Song

When I'm Gone-3 Doors Down

Sports Team

Huskers

Speed Shop

Speedway Motors
Recommendations
Restaurant

Eagles Nest Bar and Grill

Fast Food

Taco Bell

Gas Station

RC Pit Stop

Car Manufacturer

Assault Chassis

Beverage

Dr. Pepper

Parts Store

Speedway Motors

Hotel

Holiday Inn