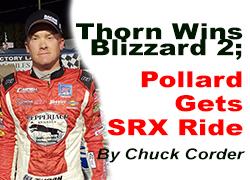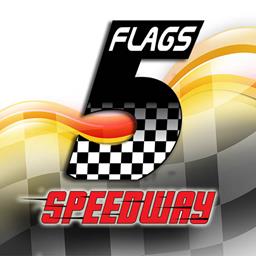 4/10/2022
Five Flags Speedway
---
THORN GOES FROM 18TH TO FI RST IN BLIZZARD 2
Thorn's Zooms from Back of the Pack to Win Zoom 100; Pollard Secures SRX Spot
By Chuck Corder
Derek Thorn was not leaving Pensacola without a "W."
The Bakersfield, California, Late Model superstar made it clear with a determined and spectacular performance in Saturday's Zoom 100 to cap off the Pepperjack Kennels Twin Blizzard weekend at Five Flags Speedway. Thorn started 18th in a 25-car field and made a furious charge to chase down then-leader Hunter Robbins on Lap 92. Thorn navigated lapped traffic in the closing laps to get his first Super Late Model victory at Five Flags.
"I can't thank my team enough," said Thorn, who drives for Pepperjack Kennels. "The guys worked so hard and that kind of work ethic is what makes our team special."
Thorn has won several Pro Late Model races at the famed half-mile asphalt oval, including two of the last three Snowflake 100s. He was ecstatic that his back-of-the-pack quest helped remove the SLM monkey off his back and earn his team $10,000.
"It's a sigh of relief for us in the Super here," Thorn said. "For whatever reason, it had eluded us."
Not any longer. Thorn praised his team and sponsors for getting him to Victory Lane.
"I'm lucky to have good equipment," he said. "You can't win the Kentucky Derby on a donkey. We've been good every time we've been here. I'm disappointed in last night."
Thorn was parked in Friday night's Rubber & Specialties 100 after some admittedly "aggressive" moves.
"I'm mad at myself," Thorn told Racing America after Friday's race. "I should have just stayed on the track and kept my nose clean. My own fault being overly aggressive and trying to get back to the front."
On Friday's incident with Chandler Smith: "Spinning him out wasn't intentional. I went for a move off (Turn 2) and anticipated him to be back on the gas sooner. I was rolling the top a little bit tight behind him. By time he checked up, I was already committed to continue high and he was slowing down faster than I could slow down and he went around."
He was back to his scintillating self Saturday, holding off Robbins who finished runner-up with Matt Craig rounding out the podium.
Not to sound like a broken record, but Bubba Pollard was strong again. His fourth Saturday coupled with his second Friday meant that Pollard had the best average finish for the weekend. Pollard's reward is a starting spot in June's Superstar Racing Experience (SRX) season opener at Five Flags. Drivers already confirmed for the SRX race include former NASCAR champions Bobby Labonte, Michael Waltrip, Greg Biffle and Ryan Newman, as well as IndyCar Series champions Tony Kanaan, Ryan Hunter-Reay and Ernie Francis, Jr.
"It's a great honor to race against some of the best," Pollard said. "We're gonna have some fun. I think it's great what SRX is doing for short-track racing. There are a lotta stars out there that don't get the recognition they deserve."
Faith Chapel Outlaws
Timothy Watson ain't going anywhere.
The Panama City teenager enjoyed a banner rookie season in which he scored a win and finished fifth in the points championship. He continued to build his blossoming resume Saturday at Five Flags Speedway.
Watson set the fast time in qualifying and went onto win the Faith Chapels Outlaws 35-lap season opener. He and runner-up Logan Boyett, of Pensacola, delivered masterful performances on battling door-to-door. Cantonment's Bubba Winslow finished third.
"The car handled well, and it was a lot of fun racing with (Boyett)," Watson said. "I thank him for racing me clean. It feels great to be able to stay in front of him because he's such a great racer. It's really all about staying consistent and smooth."
The 19-car field had some early cautions but ran a clean race after the halfway point. Boyett started on the pole after Super Late Model driver Daniel Dye—Watson's special guest for the die roll to set the feature invert—delivered a soccer-style kick and the die landed on 2.
After falling in line, Watson nudged Boyett's bumper on Lap 4 to let him know he was there. It was after the second of three cautions on Lap 8 when things got really fun. The duo raced side-by-side for a handful of laps relatively clean before Watson took the long way around and cleared Boyett on Lap 12.
Boyett effused with praise for Watson, someone who Boyett predicted big things for a few years ago after seeing him race as a youngster. Boyett complemented how "humble" Watson is and believes Watson has a bright short-track future.
Watson could not be caught once he pulled ahead.
The Dock on Pensacola Beach Sportsmen
It's not how you start, but how you finish.
Brannon Fowler didn't begin 2022 off on the right foot Saturday night at Five Flags Speedway. The Molino driver started second in the Dock on Pensacola Beach Sportsmen 30-lap feature but stumbled at the drop of the green flag. Thankfully, Fowler had plenty of time to find said footing.
He returned to form by the end of the 30 lapper, holding off Darryl McDonald and capturing the first checkered flag of the season. A year after winning seven features and the Sportsmen Snowball Derby, Fowler was back in a familiar place: Victory Lane.
Earlier in the night, he blistered the previous track record (20.173 seconds) during qualifying. The Sportsmen have gone to a wider tire this season and Chad Robinson's three-and-half year mark took a whupping. Several drivers eclipsed it, but it was Fowler's 19.750-second lap that stood above them all.
"These tires definitely pick the cars up speed-wise," he said. "There a lotta fun to drive, but I still have a lot to learn about them."
After his early struggles, Fowler took the lead from Jonathan Langham on Lap 20 and was able to keep McDonald at bay down the stretch. "D3," last year's Sportsman Rookie of the Year at Five Flags, finished runner-up and Maddox Langham rounded out the podium.
"Really, it feels good to be back in second," McDonald said. "We found a lotta stuff over the winter and the car has come alive."
---
Submitted By: Dave Pavlock
Back to News