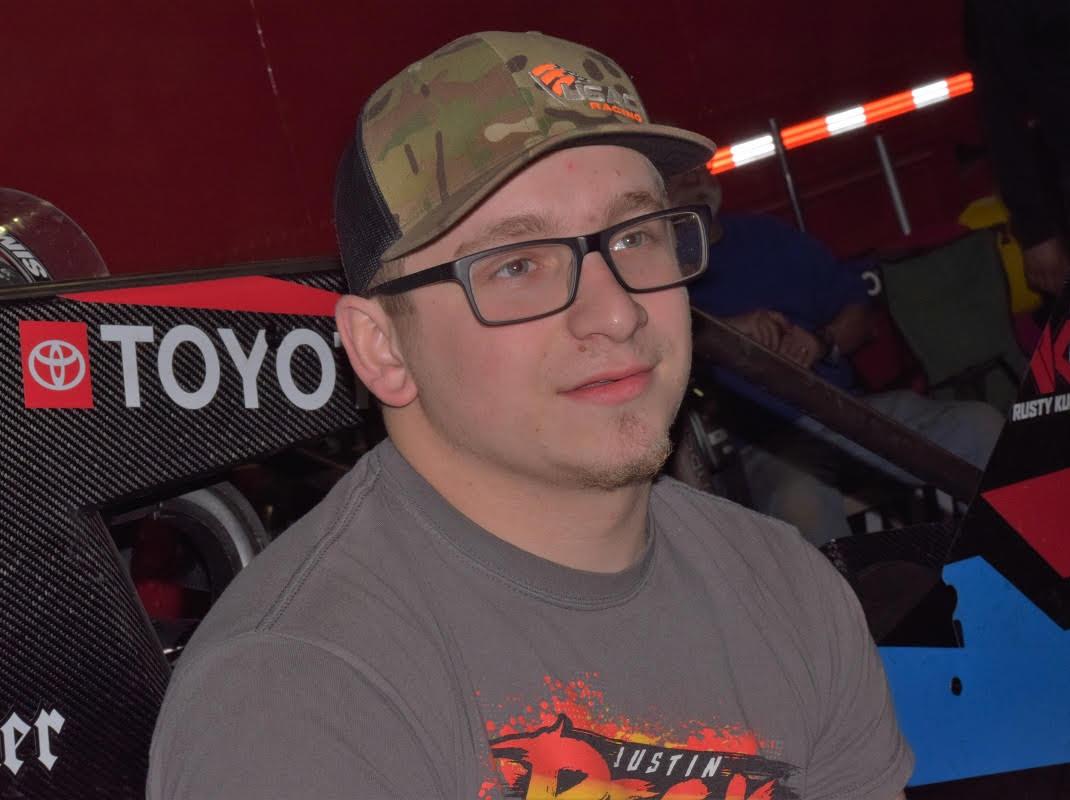 ---
Lynch Gunning For Rich Vogler Hard Charger Award
Jacob Seelman photo
TULSA, Okla. – With a fresh car, a fresh engine and a whole lot of gusto in the tank, Brayton Lynch hopes to make a run through the alphabet soup on Lucas Oil Chili Bowl Nationals championship day.
Lynch, the grandson of Chili Bowl-winning car owner Rusty Kunz, was leading his heat race earlier in the week when he had a motor let go on him under the hood of his primary No. 1k midget.
That buried him about as deep as one can be buried for Saturday's finale program at Tulsa Expo Raceway, but Lynch isn't worried. If anything, he's excited for the opportunity to try and make a run.
With the support of RMS Racing, who supplied Lynch with a backup car to be able to compete on Saturday, he'll have a shot to do just that and leave his mark on the fifth-mile temporary dirt oval.
He's even got a goal in mind already that he's chasing throughout the day.
"There's an award out there (the Rich Vogler Hard Charger Award) where, if you pass the most cars, you get 1,500 bucks. So as of right now that's my goal, is earning that," said Lynch. "We start in the O-main, which is the first race of the day, so we'll be up early and hopefully have as good a shot as any at taking that cash home.
"I'm excited. I'm ready to go for it."
Lynch was quick to point out that in his heat race, he was actually leading despite having already dropped a cylinder in the engine before things really went south.
"It's crazy because the motor was laying down from the drop of the green (flag in the heat)," Lynch recalled. "So I figured somebody was going to be there, but I felt good. We led the whole race, even though we were on three cylinders … but then we dropped to two (cylinders), and I knew it wasn't going to be good from there, unfortunately.
"It is what it is. I wish things would have turned out different, though."
With a potentially-long day on tap, Lynch is staying relaxed and loose as he prepares to try and pass as many cars as possible, gunning for the Rich Vogler Hard Charger Award.
Past recipients of the honor include Ken Schrader, Jack Hewitt, Sammy Swindell, Michael Pickens, Brady Bacon, Cole Whitt, Chase Briscoe, Thomas Meseraull, Ryan Bernal and Ricky Stenhouse Jr.
Clinton Boyles is the reigning Vogler hard charger, going from the G to the D in the 2019 Chili Bowl and advancing past 40 cars, while Chris Windom is the all-time honoree with three Saturday hard charges.
"I'm just fortunate that the guys at RMS Racing gave me their backup car so I can actually get my full Chili Bowl experience, so to speak," Lynch noted. "I know I've said it already, but I really am excited. I mean, the pressure is pretty much off at this point being so far deep, you know? So there's no stress."
---
Article Credit: www.SpeedSport.com
Submitted By: Josh Holt
Back to News