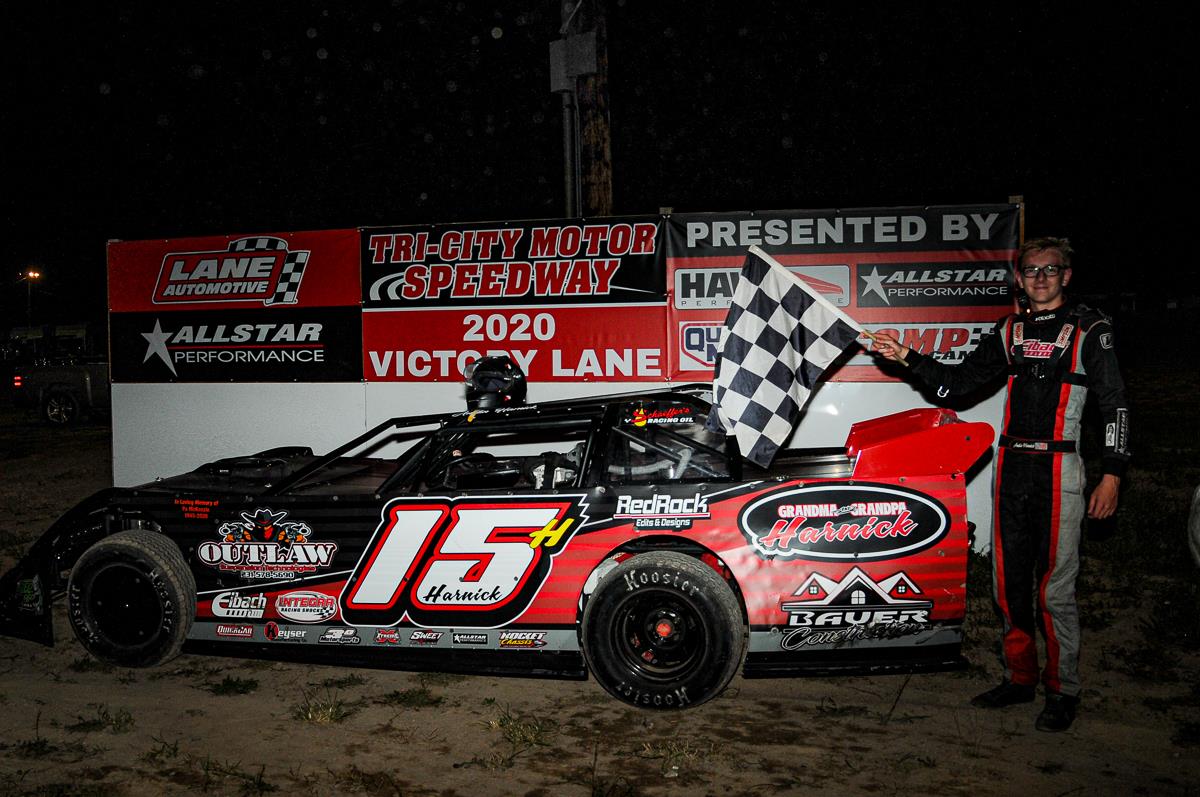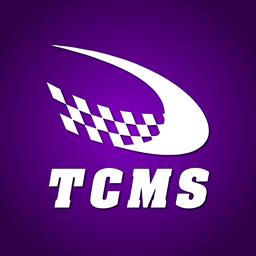 7/17/2020
Tri-City Motor Speedway
---
Marcoullier Dominates Once Again at Tri-City Motor Speedway
07/17/20 TCMS Results
Feature Winners:
Soaring Eagle Late Models: #6m Dona Marcoullier
Engine Pro Pro Stocks: #15 Austin Harnick
Suspension MAXX Street Stocks: #M65 Rick Spencer
Lane Automotive IMCA Modifieds: #50 Chad Bennett
XLT Engineering Bomber Stocks: #22 Nick Bullock
Allstar Performance Unrestricted Mini-Wedge: #11 Cole Shanteau
Allstar Performance Restricted Mini-Wedge: #3 Jett Gohr
07/17/20 (Auburn MI) After a week off from racing due to weather, drivers were eager to tackle the 3/8 mile clay oval at Tri-City Motor Speedway last Friday night. Ninety-six teams checked in to the Auburn speed plant in hope of a capturing the top prizes in each racing division. With blazing heat the biggest factor of the night, seven drivers would walk away with the big feature wins.
The youngsters of the Allstar Performance mini wedge divisions would take to their newly configured race oval in the center of the main track to kick off the nights festivities. The restricted plate drivers would be the first to compete. Jett Gohr (Bay City) would use his previous driving experience to take both the heat race and the feature event over rookies Lincoln Hughey (Kawkawlin) and Cason Murphy (Coleman). In the unrestricted class Brennan DeShano snatched up the victory in the heat race. With a fully inverted field for the feature, Cole Shanteau (Weidman) moved from his fourth place starting position to be the first to the checkered flag finishing ahead of Morgan Bujarski, Ella Gradowski (Essexville), B. DeShano and defending Champion Kyron DeShano (Kawkawlin).
The SuspensionMAXX Street Stocks always manage to put on some of the more entertaining portions of the nightly show. Once again, Friday night was no exception. Ryan Nethers (Mount Pleasant) and Blake Meylan (Harrison) brought the field of 21 to the green flag which started the 20-lap feature. Meylan would lead the initial three laps of the race before overdriving turn four and allowing Nethers to steal the lead. However, working through three and sometimes four-wide traffic, multi-time Champion Rick Spencer maneuvered his way from a seventh place starting position into the lead. Spencer was able to pull away from the pack until a late caution flag bunched the field for a final restart. Spencer was never intimidated and cruised to the win. Jacob Flickinger (Gaylord), Nethers, Mike Vandecar (Caro) and Nick Putman (Kawkawlin) managed to survive with top five finishes. Spencer, Ben Gonzalez (Midland), and Flickinger all won their preliminary heat races.
Tanner Pray (Mt Morris) and 2018 Lane Automotive IMCA Modified Champion Nate Jones marked themselves as ones to beat by winning in their respective heat races. Outside front row starter Kevin McFarland (Bay City) took the top spot on lap once of the 25-lap feature before rookie Chad Bennett (Caro) took over the lead. By lap 14, Jones, who started outside of row three, caught and passed Bennett. That battle would last another two laps when Jones made an rare mistake in turn four allowing Bennett to make the pass for the lead at lap seventeen. Another late race caution brought the field back together and put the defending modified Champion Matt Szecsodi (Clio), who patiently moved his way to second from an eleventh place start, within striking distance of Bennett. On the final restart, Szecsodi mistimed the start which allowed Bennett to pull away by a few car lengths and capture his first ever TCMS feature win. Szecsodi held on for second and was followed across the finish line by Kendall Morrison (Bay City), Timmy Near (Midland), and Tanner Pray.
The outside front row was the preferred starting spot for the Soaring Eagle Late Model heat races Friday night. Travis Stemler (Ionia), defending Champion Derrick Hilliker (Midland), and Cody Bauer (Farwell) won their races from the second starting spot. The same pattern came to fruition in the 30-lap main event. With Michigan Motorsports Hall of Fame driver David Hilliker (Midland) and all time leading TCMS Late Model feature winner Dona Marcoullier (Houghton Lake) on the front row, the fans really expected an epic battle from the drop of the green flag. However, Marcoullier would jump out immediately in front of the field of 21. With long green flag runs and slick track conditions, drivers were working hard to find grip and a happy groove in which their machines would perform the best. Marcoullier would also have some luck on his side as every time he would reach the back of the pack, a caution would come out and allow him to maintain a clean track in front of him. He ended up leading all 30-laps to add another win to his record. Stemler continued his streak of top three finishes with another runner-up finish. Hilliker, Chad Finley (Lansing) and Eric Spangler (Lake City) notched top five positions. Logan Nickerson (Vestaburg), David Hilliker, and David Mielke (Gladwin) picked up additional points for being the quickest qualifiers within their group earlier in the evening.
Loren Short (Clio) and Tim Murphy (Holland, OH) led the field of Engine Pro Pro Stocks to the start of their twenty lap feature. Short used the high lane to lead the first three laps until Kendall Morrison (Bay City), who had proposed to his fiancée earlier in the evening in front of the TCMS crowd, edged Short at the line on lap four. That lead was short lived as the next lap Austin Harnick (Clare) made the final lead pass of the night. From there, the recent Clare High School graduate cruised to his first TCMS victory besting Morrison, Rob Westergard (Bay City), Jared Rizer (Freeland), and Murphy. Defending Champion Nate Murphy (Coleman) and Westergard were the heat race winners.
So far in 2020 XLT Bomber Stock driver Nick Bullock (Bay City) has been the class of the field. Going into Friday night, Bullock has won both Bomber Stock feature events run this year. He would capture his heat race checkered flag along with Jacob Wassmann (Whittamore). In the 15 lap feature Bullock started in the seventh position. Pole sitter Dylan Miller took charge for the first five laps before Wassmann caught and passed Miller to take the point. Bullock committed most of his race to running the very bottom groove and was within reach until a late race caution from Troy Deuscher (Bay City) taking a frightening ride flipping his car in turn four brought out the red flag. Deuscher would walk away from the tumble without injury. The restart was all Bullock needed as he made the winning pass to sweep his evening's event and remain undefeated in 2020. Wassmann settled for second and was followed by Miller, Brad Treichel (Bay City), and Don Frohm (Lakeport).
Next week TCMS welcomes back the Allstar Performance Late Model Challenge Series presented by American Ethanol. Late model series drivers are chasing a $10,000 top prize in the year long point's battle with races at both TCMS and Merritt Speedway. Next Friday, these drivers will be racing for a $3000 prize for winning the feature. Mini wedges, Pro stocks, Street Stocks, IMCA Modifieds, and Bombers will all be back in action. Follow us on Face Book for updates and other information throughout the week.
---
Article Credit: Roger Williams
Submitted By: Brian Osborne
Article Media
Back to News