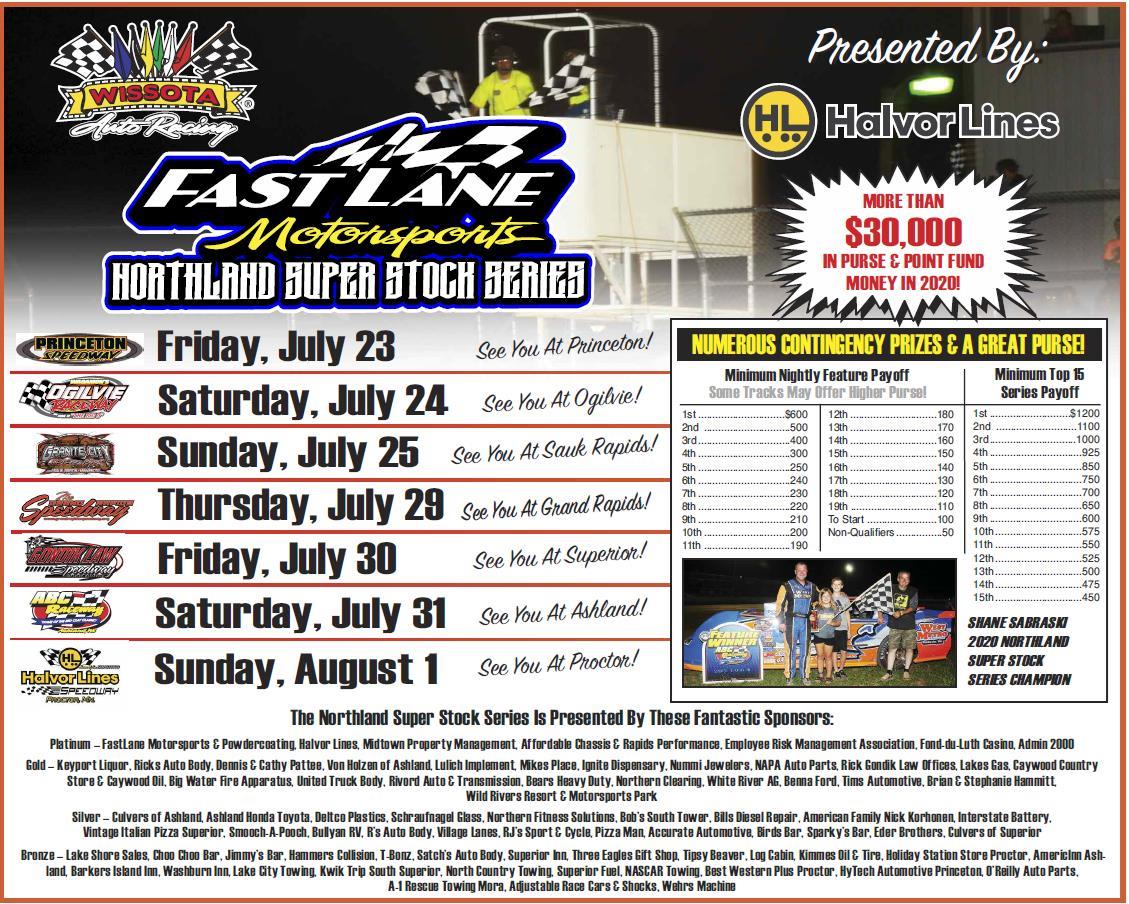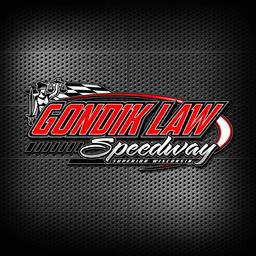 6/7/2021
Gondik Law Speedway
---
The FastLane Northland Super Stock Series has high hopes for 2021!
With a little over a month to go the Fastlane Northland Super Stock Series is set to put on some great races to recognize the Super Stock Class in its 7th year. Series Spokesman Dennis McCauley and FastLane Motorsports & Powder Coating owner Chris Bretting have been working since late December to again bring the fans and drivers of the Super Stock Class a great mid-summer event for this year. The Series owes all of its success first to its Drivers who compete each year, and also to the Fans and Tracks for supporting these races.
After an abbreviated 2020 where two tracks could not open we are again set to have 7 races in 10 days of late July starting Friday at Princeton July 23rd, Ogilvie July 24th and rounding out the first weekend at Granite City July 25th. The Series will take a quick 3 day break and be back at it Thursday in Grand Rapids July 29th, Superior July 30th, Ashland July 31st and the finale hopefully to take place August 1st at Proctor. If any event was to be canceled we would find the next available date to run the make up event.
The Series reached a few milestones last year and now sits at 157 different drivers who have competed at one or more of the 24 events. Last year there were 76 different drivers who participated in at least one event and 21 drivers who made all 5 events. The Series participation declined a little averaging just about 39 cars per event, a very respectable number and still the best supported Series in all of WISSOTA! Thanks to all you drivers for making it great. We also have some lofty goals for this year including the largest purse over the last 6 years. We will also be trying to break that record of 52 drivers at a single event made at Ogilvie in 2019, and of course we will be trying to outdue the 76 different entrants in a single year. One of our biggest milestones could come at Ogilvie or Granite City when the Series checks in its 1000th Driver into competition!
As in past years the Series final purse will not be set until all of the races have been run, with sponsors coming on board right up until the end of it, and much of the final purse depends on participants. As always there will be NO DRAW FEE for any of our drivers and we will continue to do that as we have always promised that the main goal of the Series is to put money into the driver's pockets and not take it out. We expect the Series champion to take home about $1300 just like the last few years and paying the top 15 in points with small incremental drops to the 15th spot of $500. Unlike any other "Series" or "Tour" we reward our drivers for following the whole Series with a "Non-Qualifier" bonus for those outside the top 15 as long as they run all 7 of the events they will be rewarded for a minimum of $400 for their efforts.
As in the past the Series continues to round up other bonuses and Contingency awards for the drivers which some will be handed out each night like 2 - $100 long tow bonuses, $100 random bonus to one driver who does not make the feature, $100 hard charger bonus, $100 Hard Luck Award, 2 Free Shock rebuilds, 1 free Hoosier Tire, 2 - $25 Kwik Trip gas cards, and 10 random $50 bonuses available to all drivers in competition. There will also be Series Contingency awards at the end including $100 Series Hard Charger, Win bonus if a driver wins 4 or more features, and 4 - One night stays at various Hotels. In all the Series is set to pay out over $30,000 to the drivers over the 7 race swing in addition to the over $36,000 in track purse!
Last year's Series Champion Shane Sabraski will again be running the Series, although at this point we do not know in what capacity since the Advantage RV Modified Tour will overlap on the first weekend, and we sure wouldn't hold it against Shane for following that tour this year. Our 2019 & 2017 Series Champion Dave Mass will hit a few events but with his Late Model career taking off he will be spending more time in that car. 2018 Series Champion Kevin Burdick will be back to try and get his 2nd Championship as well as 2016 Champion Scott Lawrence. As of Press time our inaugural 2015 Champion Curt Myers is unsure of his intentions this year since he is spending a lot more time in the Modified but he says he would love to make all the events if it does not coincide with the USMTS schedule. There will be quite a few new drivers taking their first crack at the Series and many returning to try and get their first Series Championship. One thing is for sure there will be no shortage in talented WISSOTA drivers competing at each track!
DRIVER RACE INFORMATION
The Series will use the old WISSOTA point system awarding drivers points for heat races and feature events. The old point structure was decided upon by Series Statistician Kimmes based on the relatively small number of races and with the smaller gaps in points it keeps the point chase close and manageable for drivers. The Series will again extend a provisional based on final 2020 points to a driver at each track that does not make the feature, which a driver is only eligible for once. We will again offer each local track a provisional to tag the back of the feature to one driver who competes at that track regularly that does not make the feature. 2021 Series points will be accumulated at all 7 of the events to provide us with a final point champion. Please keep tuned in to the FastLane Super Stock Series Facebook page for track and travel information to be posted just prior to the Series start.
The Series will take place July 23rd at Princeton Speedway, July 24th at Ogilvie Raceway, July 25th at Granite City Motorpark, July 29th at Grand Rapids Speedway, July 30th at Gondik Law Speedway, July 31st at ABC Raceway and August 1st at Halvor Lines Speedway. If a postponement occurs the race will take place at that tracks next regular night that the Super Stocks compete that does not conflict with a Series date, or that tracks "Special Event". The Series would like to recognize all seven of the participating tracks for their support to the Super Stock Class and a special Thank You for working with their competing tracks to allow their regular drivers to compete in the Series. If you would like to come on board to help out the Series please contact Spokesman Dennis McCauley at 218-348-9919 and see you at an event near you!
---
Article Credit: Dennis McCauley
Back to News