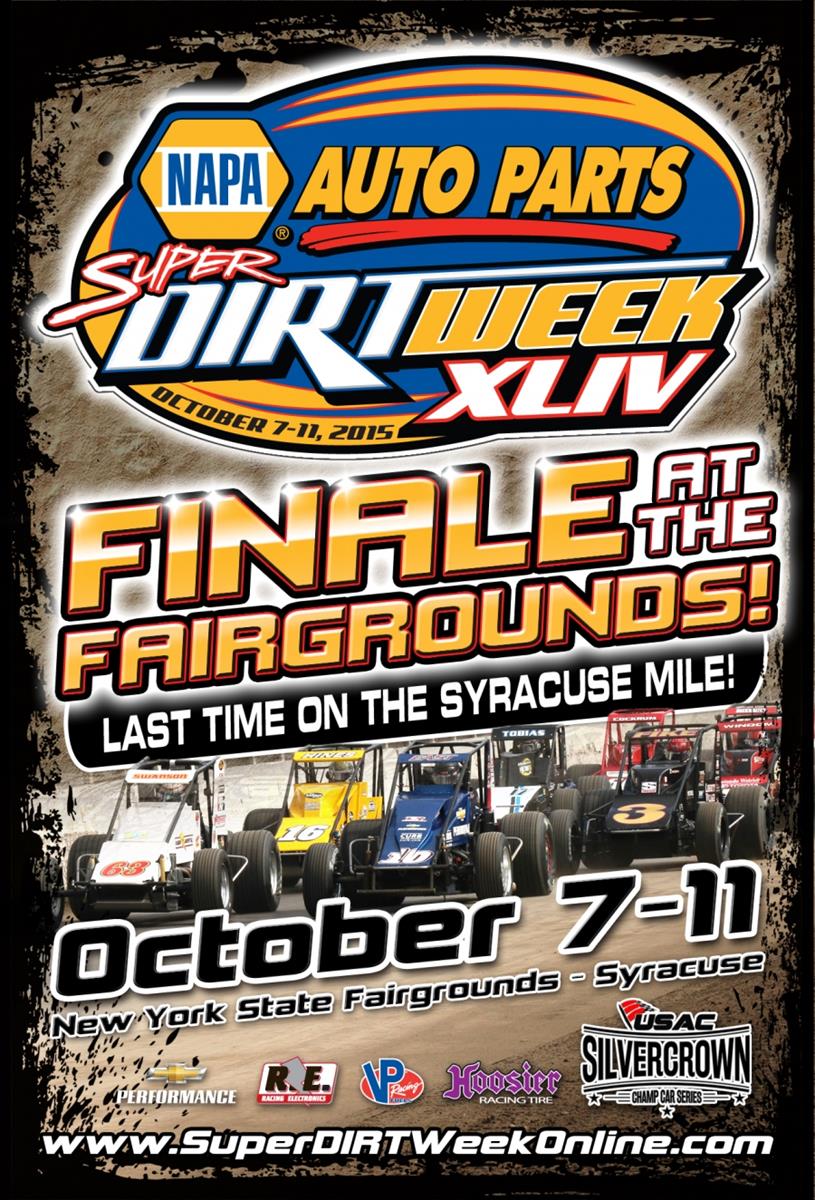 ---
"Salt City 78" Favorites at Syracuse are Numerous
Despite the fact that Kody Swanson of Kingsburg, Calif. has dominated USAC Silver Crown dirt racing the past two years, he faces stiff competition in this Saturday's "Salt City 78" series finale at the New York State Fairgrounds in Syracuse. The weekend's "Super Dirt Week XLIV" has been announced as the final racing event at the storied facility which first hosted National Championship racing in 1924.
Swanson enters the race as the defending race winner and series champion and has already locked up the 2015 title. His three victories this year and part of eight the past two seasons, including seven on dirt surfaces. Last year at Syracuse he led the first 12 and last 12 laps for the win.
Second-ranking driver Jerry Coons Jr. of Tucson, Ariz. has logged "top-10" finishes in all but one race this year and hopes to improve on his seventh-place Syracuse finish in 2014. He's one of only five USAC "Triple Crown" Champions, having won titles in the Silver Crown, National Sprint and Midget series.
A.J. Fike of Galesburg, Ill. challenged Swanson at Syracuse last year, finishing second, and has a pair of victories on the Springfield, Ill. mile on his resume. He ranks third in the 2015 standings.
Chris Windom of Canton, Ill. won on the Belleville (Kans.) High Banks this year and was fourth last year at Syracuse. He's been on the podium in three of the last four dirt Silver Crown outings.
Local favorite Stewart Friesen of Niagara-on-the-Lake, Ontario, Canada is no stranger to the Syracuse mile, having won a number of races there. He was challenging late in last year's race and eventually finished fifth. This year he pilots the series' most recent winning car, driven by Christopher Bell in the September 26 "4-Crown Nationals" at Rossburg, Ohio.
Pennsylvania star Richie Tobias of Lebanon was eighth at Syracuse in 2014 and pilots his own creation, a departure from the traditional Silver Crown look, but is a former winner on the mile at DuQuoin, Ill.
Shane Cockrum of Benton, Ill. owns wins already this season at Terre Haute, Ind. and DuQuoin, Ill. The DuQuoin win Labor Day weekend was his second there the past two years.
Others expected to be gunning for victory Saturday include: Brady Bacon of Broken Arrow, Okla. (four top-10s this year on dirt); Steve Buckwalter of Royersford, Pa. (a trio of dirt top-10s this year); Justin Grant of Ione, Calif. (five top-6 finishes in just six starts in 2015); Aaron Pierce of Muncie, Ind. (runner-up in this year's Hoosier Hundred); C.J. Leary of Greenfield, Ind. (runner-up at Terre Haute in July); Casey Shuman of Tempe, Ariz. (two recent dirt top-10s); Shane Cottle of Kokomo, Ind. (four dirt top-10s since July) and rookie Austin Nemire of Toledo, Ohio, who has started every Silver Crown race this year.
Saturday's race will be the ninth for the USAC Silver Crown cars at the New York State Fairgrounds. Previous winners have been: Swanson (2014), J.J. Yeley (2002 and 2003), Pancho Carter (1976 and 1978), Larry Dickson (1977), Sheldon Kinser (1975) and Al Unser (1974).
Back to News