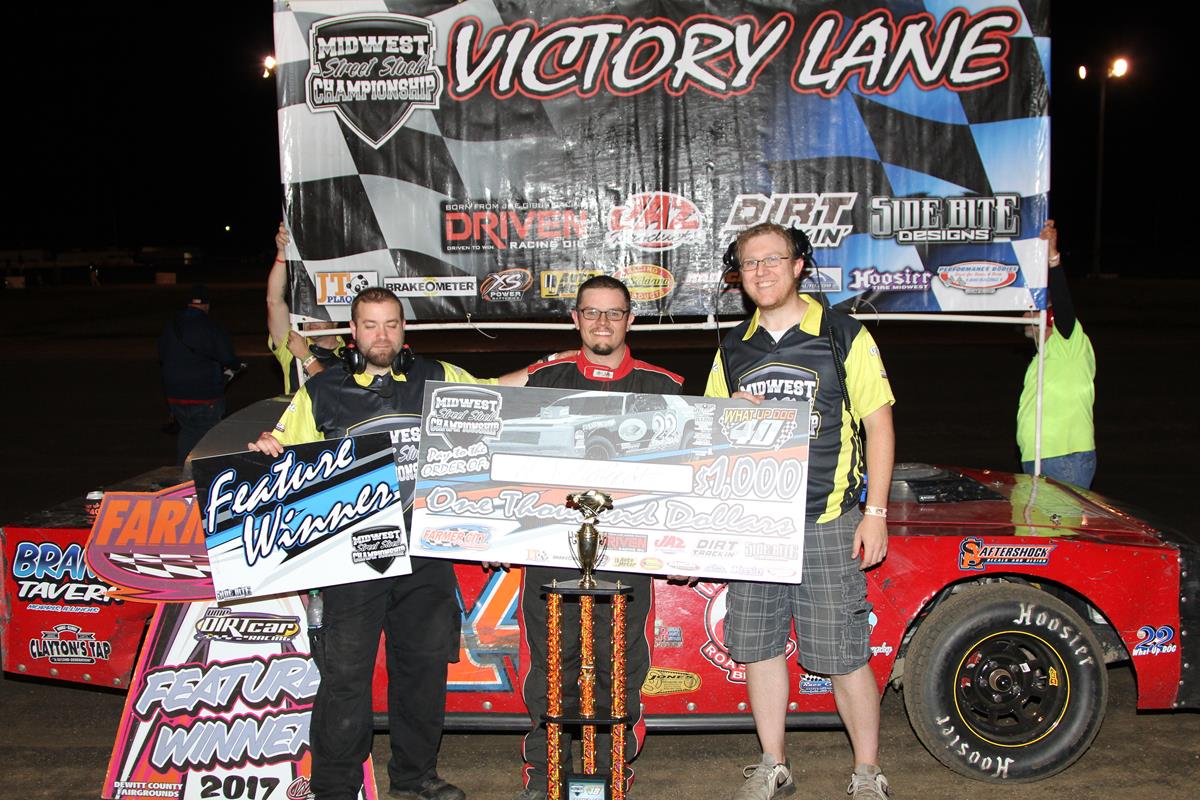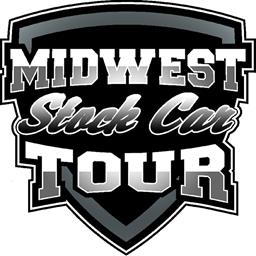 8/5/2017
Midwest Stock Car Tour
---
Meiferdt Nabs Second Series Win While Misfortune Strikes Gash Again
FOR IMMEDIATE RELEASE
(Farmer City, IL) Luke Gash was well on his way to his first Midwest Street Stock Championship victory before misfortune struck with a mere six laps remaining in the forty lap What Up Dog 40 at Farmer City Raceway. "Bent valve and broke rocker," said Gash, visibly upset after the win slipped through his grasp.
JAZ Products Dash winner and pole sitter AJ Meiferdt led the first seven laps and was out to a sizeable advantage before the second caution flag flew for Ian Keller as he slowed and came to a stop on the horse track. The race was slowed again two laps later for debris in the second turn with Meiferdt still showing the way with Driven Racing Oil Fast Qualifier Jerrad Krick and Gash in second and third positions respectively. As the race restarted, Gash would find himself in contention for the lead as Meiferdt still showed the way. On lap eleven, Gash would make his way to the point and the race would not slow again until lap thirty-four, going twenty-three laps without a caution. Unfortunately for Gash, this caution would be the one that ended his run as his engine expired. Meiferdt inherited the lead back and dominated the remaining six laps, picking up the win and the $1,000 winner's prize along with it.
Midwest Street Stock Championship Point Leader Nick Macklin would come home second followed by Jerrad Krick, Dirt Trackin' Hard Charger Dave Crawley, Jr. in fourth, and Josh Griffith rounding out the top five.
---
Driven Racing Oil Qualifying (1 Laps): 1. 99K-Jerrad Krick, 00:15.310[38]; 2. DT14-AJ Meiferdt, 00:15.370[20]; 3. 13G-Luke Gash, 00:15.370[35]; 4. K67-Ian Keller, 00:15.420[24]; 5. 16M-Nick Macklin, 00:15.470[32]; 6. 97G-Josh Griffith, 00:15.490[28]; 7. 23A-Andrew Funk, 00:15.560[29]; 8. 37-Lance Evans, 00:15.590[7]; 9. 67R-Jeremy Nichols, 00:15.590[13]; 10. 12-Timmy Dick, 00:15.650[33]; 11. R1-Jim Ransom, 00:15.660[25]; 12. G1-Tyler Gilmour, 00:15.680[19]; 13. 22C-Chris Dick, 00:15.750[31]; 14. B9-Joe Brown, 00:15.810[22]; 15. 22DC-Dave Crawley, Jr, 00:15.830[3]; 16. 20E-George Ewing, 00:15.830[8]; 17. 22-Darrell Dick, 00:15.840[26]; 18. Z23-Shawn Ziemer, 00:15.860[1]; 19. 09-Dane Arvin, 00:15.870[2]; 20. 23W-Dennis Wernle, 00:15.870[37]; 21. 2-Chad Rockefeller, 00:15.900[17]; 22. 17-Preston Oberle, 00:15.910[6]; 23. J1-Jeff Watts, 00:15.920[15]; 24. 63-Andy Thompson, 00:16.020[23]; 25. 18-Dennis Ring, 00:16.030[16]; 26. 7-Sean Leatherman, 00:16.080[12]; 27. 24-Justin Crowell, 00:16.090[9]; 28. 33B-Doug Berbaum, 00:16.120[36]; 29. 20-Tanner Sullivan, 00:16.150[39]; 30. 14-Megan Erwin, 00:16.160[27]; 31. 16-Andrew Alwood, 00:16.240[18]; 32. 10-Adam Rhoades, 00:16.340[5]; 33. 96-Kevin Quimby, 00:16.490[30]; 34. 4-Scott Hufford, 00:55.550[4]; 35. 58-Jerit Murphy, 00:55.550[10]; 36. 33-Aaron Cole, 00:55.550[21]; 37. 42-Jeff Beggs, 00:55.550[34]; 38. 15G-Jason Maier, 00:59.000[14]; 39. 14M-Greg Marlow, 00:59.000[11]
Heat 1 (10 Laps): 1. 99K-Jerrad Krick, [1]; 2. 16M-Nick Macklin, [2]; 3. 2-Chad Rockefeller, [6]; 4. 22-Darrell Dick, [5]; 5. 18-Dennis Ring, [7]; 6. 20-Tanner Sullivan, [8]; 7. 42-Jeff Beggs, [10]; 8. (DNF) 22C-Chris Dick, [4]; 9. (DNF) 67R-Jeremy Nichols, [3]; 10. (DNF) 96-Kevin Quimby, [9]
Heat 2 (10 Laps): 1. DT14-AJ Meiferdt, [1]; 2. B9-Joe Brown, [4]; 3. 97G-Josh Griffith, [2]; 4. Z23-Shawn Ziemer, [5]; 5. 12-Timmy Dick, [3]; 6. 4-Scott Hufford, [9]; 7. 14-Megan Erwin, [8]; 8. 7-Sean Leatherman, [7]; 9. 17-Preston Oberle, [6]; (DNS) 15G-Jason Maier
Heat 3 (10 Laps): 1. 13G-Luke Gash, [1]; 2. 23A-Andrew Funk, [2]; 3. J1-Jeff Watts, [6]; 4. 09-Dane Arvin, [5]; 5. 22DC-Dave Crawley, Jr, [4]; 6. 24-Justin Crowell, [7]; 7. (DNF) 16-Andrew Alwood, [8]; 8. (DNF) R1-Jim Ransom, [3]; 9. (DNF) 58-Jerit Murphy, [9]; (DNS) 14M-Greg Marlow,
Heat 4 (10 Laps): 1. K67-Ian Keller, [1]; 2. G1-Tyler Gilmour, [3]; 3. 23W-Dennis Wernle, [5]; 4. 33B-Doug Berbaum, [7]; 5. 10-Adam Rhoades, [8]; 6. 63-Andy Thompson, [6]; 7. (DNF) 20E-George Ewing, [4]; 8. (DNF) 37-Lance Evans, [2]; (DNS) 33-Aaron Cole,
JAZ Products Dash (5 Laps): 1. DT14-AJ Meiferdt, [2]; 2. 99K-Jerrad Krick, [1]; 3. 13G-Luke Gash, [3]; 4. K67-Ian Keller, [4]
B Feature (15 Laps): 1. 24-Justin Crowell, [7]; 2. 4-Scott Hufford, [6]; 3. 17-Preston Oberle, [18]; 4. 20-Tanner Sullivan, [5]; 5. 37-Lance Evans, [16]; 6. 18-Dennis Ring, [1]; 7. 42-Jeff Beggs, [9]; 8. 10-Adam Rhoades, [4]; 9. (DNF) 63-Andy Thompson, [8]; 10. (DNF) 16-Andrew Alwood, [11]; 11. (DNF) 22DC-Dave Crawley, Jr, [3]; 12. (DNF) 7-Sean Leatherman, [14]; 13. (DNF) 14-Megan Erwin, [10]; 14. (DNF) R1-Jim Ransom, [15]; (DNS) 12-Timmy Dick, ; (DNS) 20E-George Ewing, ; (DNS) 22C-Chris Dick, ; (DNS) 67R-Jeremy Nichols, ; (DNS) 58-Jerit Murphy, ; (DNS) 33-Aaron Cole, ; (DNS) 96-Kevin Quimby, ; (DNS) 15G-Jason Maier, ; (DNS) 14M-Greg Marlow
A Feature (40 Laps): 1. DT14-AJ Meiferdt, [1]; 2. 16M-Nick Macklin, [5]; 3. 99K-Jerrad Krick, [2]; 4. 22DC-Dave Crawley, Jr, [22]; 5. 97G-Josh Griffith, [10]; 6. B9-Joe Brown, [6]; 7. G1-Tyler Gilmour, [8]; 8. 22-Darrell Dick, [13]; 9. 17-Preston Oberle, [19]; 10. 2-Chad Rockefeller, [9]; 11. 24-Justin Crowell, [17]; 12. Z23-Shawn Ziemer, [14]; 13. 20-Tanner Sullivan, [20]; 14. (DNF) 13G-Luke Gash, [4]; 15. (DNF) J1-Jeff Watts, [11]; 16. (DNF) 63-Andy Thompson, [23]; 17. (DNF) 33B-Doug Berbaum, [16]; 18. (DNF) 4-Scott Hufford, [18]; 19. (DNF) 37-Lance Evans, [21]; 20. (DNF) K67-Ian Keller, [3]; 21. (DNF) 23A-Andrew Funk, [7]; 22. (DNF) 09-Dane Arvin, [15]; 23. (DNF) 23W-Dennis Wernle, [12]
---
Contingency Award Winners:
---
MSSC Championship Point Standings
Nick Macklin 486
Jerrad Krick -4
Dave Crawley, JR. -6
Luke Gash -24
Chad Rockefeller -30
Darrell Dick -42
Jeremy Nichols -58
Dane Arvin -62
Justin Crowell -88
Rudy Zaragoza -220
---
MSSC Driven Racing Oil Fast Time Point Standings
Luke Gash 495
Jerrad Krick -4
Nick Macklin -9
Jeremy Nichols -20
-. Dave Crawley, JR. -20
---
MSSC JAZ Products Dash Point Standings
Jerrad Krick 498
Luke Gash -104
Dave Crawley, JR. -200
Jeremy Nichols -401
Darrell Dick -402
Nick Macklin -403
---
MSSC Dirt Trackin' Hard Charger Point Standings
Nick Macklin 38
Chad Rockefeller -13
Dave Crawley, JR. -16
Walt Layne -24
Andy Thompson -31
---
MSSC Side Bite Designs and Race Wraps Rookie of the Year Point Standings
Dane Arvin 484
Justin Crowell -44
Walt Layne -194
Wes Biesenthal -334
Sean Leatherman -348
---
The Midwest Street Stock Championship is proud to partner with the following companies for the 2017 racing season:
---
Don't forget to follow us on Social Media!
Facebook: Midwest Street Stock Championship
Twitter: @Midwest_Streets
YouTube: MSSC
Instagram: @MidwestStreetStocks
Back to News