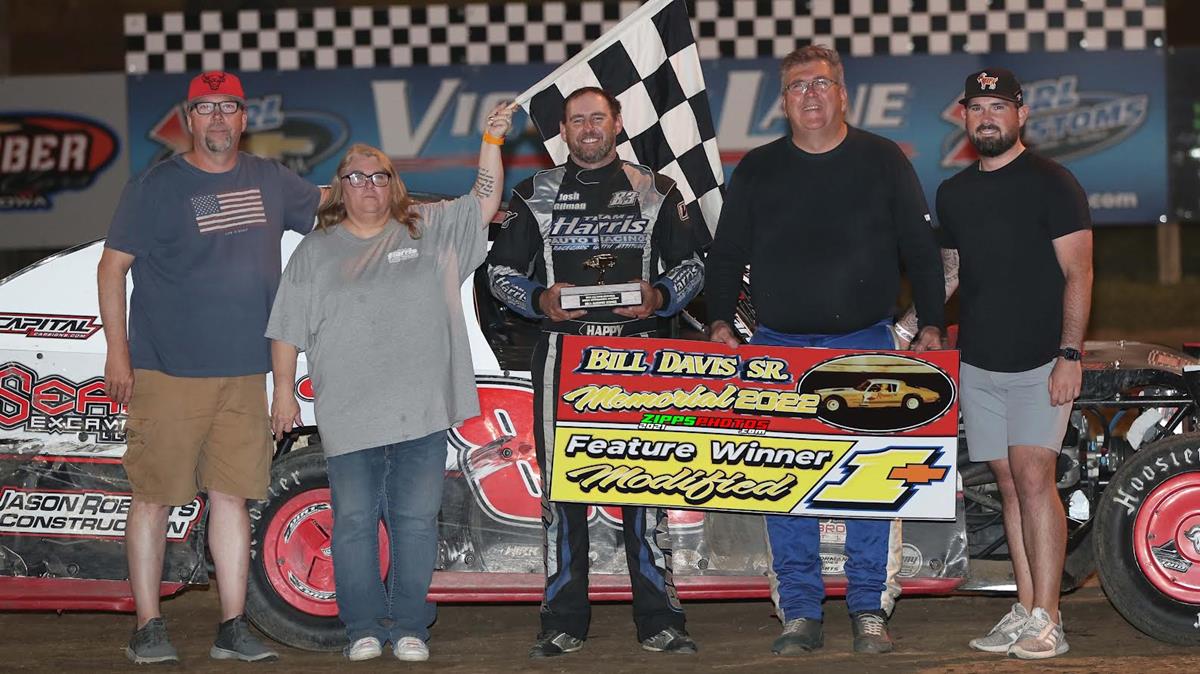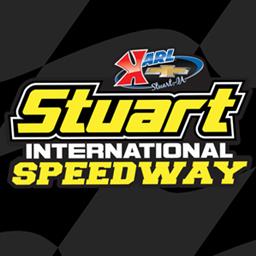 ---
Gilman Wins Bill Davis Memorial
105 race cars made their way to Karl Chevrolet of Stuart International Speedway for the Bill Davis Memorial on Wednesday night. Feature winners were Todd Cooney, Nathan Kilwine, Josh Pruitt, Kolby Sabin, Luke Ramsey, David Schwartz and Josh Gilman.
The first feature on the track was the Karl Chevrolet Dirt Trucks and it was Shawn Cooney leading lap one. Bill Davis Jr led the next two times around until Todd Cooney worked under him to take over the lead on lap 4. Davis Jr kept it close but Cooney would stretch it a bit at the end to take the win. Davis Jr finished second with Shawn Cooney third, Dennis Plain fourth and Justin Schroeder fifth.
Outlaw Mini Mods were up next and it was Bobby Ruehlow setting the pace for the first 6 laps. Nathan Kilwine took over the next time around and led all the way to the end to get the win. Ben Kraus made it interesting but settled for second with Ruehlow third, Kamdyn Haggard fourth and Dalton Faber fifth.
Todd VanEaton led the IMCA Stock Car feature until a lap 9 caution came out and the field was reset. This let 15-year-old Rowdee Van Genderen take advantage of the restart to get out front and lead the first feature laps of his young career. Van Genderen led and was pulling away when another caution slowed the field on lap 15. He would stay out front for one more lap, but getting a great drive off of the bottom was Josh Pruitt with Michiah Hidlebaugh in tow. Hidlebaugh made it to Pruitt's door in turn 4 but the two kept things clean and it was Pruitt taking the win. Hidlebaugh finished second with Van Genderen third, Ty Hill fourth and Austin Meiners fifth.
IMCA Sport Compacts were on the track next with Elijah Hoyt leading through lap 2. Kolby Sabin took over on lap 3 and drove off to the easy win. Tyler Fiebelkorn finished second with Jeremiah Downing third, Craig Furstenau fourth and Mark Smith fifth.
Jared Smith had the IMCA Hobby Stock field covered until a lap 14 yellow flew. A couple different restarts changed everything and it was Eric Stanton that benefitted from to lead the next 2 laps. Contact in the last turn amongst the top three cars let Luke Ramsey take advantage and get to the checkered flag first. Stanton finished second with Solomon Bennett third, Brandon Cox fourth and Skylar Pruitt fifth.
IMCA Northern SportMods came up next and it would be a dogfight for second as David Schwartz led all twenty laps through some cautions to get the win. Mitchell Morris won the battle for second with Mike Dullard third, Brayton Carter fourth and Thomas Nelson fifth.
The last race of the night was the IMCA Modifieds and Nick Roberts led early with Josh Gilman and Ethan Braaksma close behind. Gilman got the advantage on lap 5 and looked to drive off to an easy win, but a yellow on lap 12 erased any gap and set the field up for an 8-lap dash to the checkers. Gilman didn't make it easy on himself but found a way to lead at the line each time as he went on to the win. Roberts settled for second with Braaksma third, Cory Wray fourth and Chase Rudolf fifth.
We'd like to thank all who came out to support the race track at our seventh event of the year. Thursday, June 30 welcomes the Ron Little Memorial and Midwest Madness Tour presented by: Elite Electric & Utility Contractors, Ganoe Excavating, Affordable Quality Roofing & Exteriors, VIP Contractors, Country Kitchen of Stuart and Advanced Problem Solutions APS. See you then!
---
Article Credit: Josh Reynolds
Article Media
Back to News