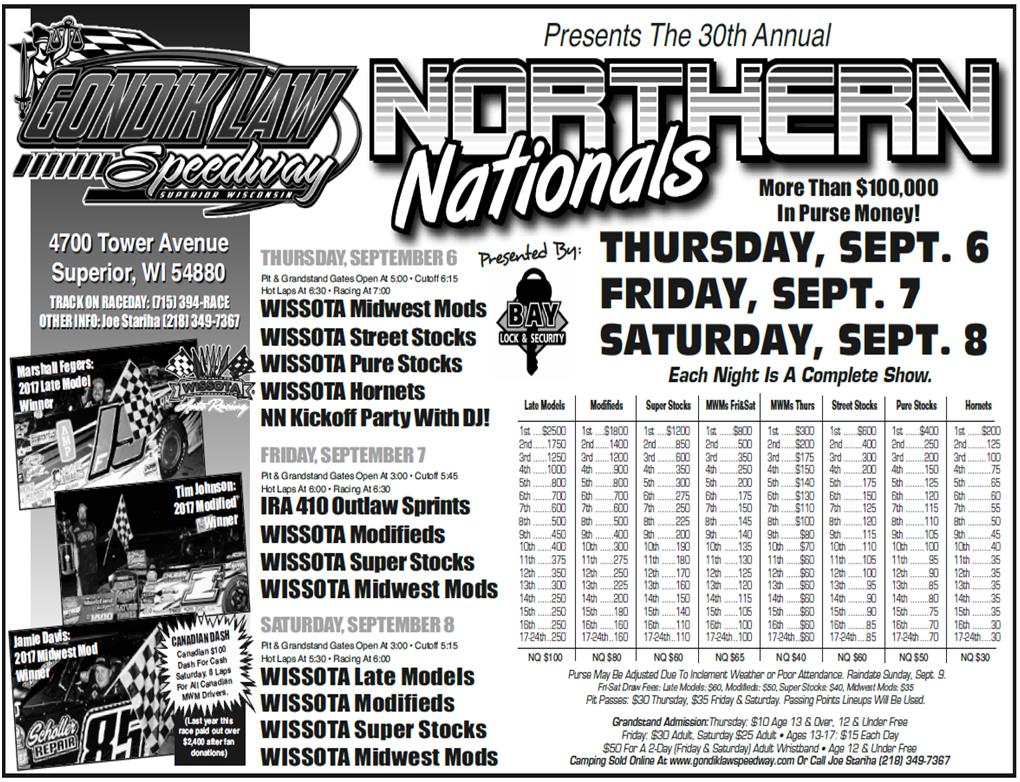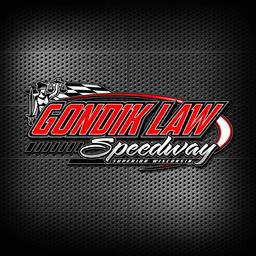 8/6/2018
Gondik Law Speedway
---
Gondik Law Speedway Announces Northen Nationals Purse
Gondik Law Speedway in Superior Wisconsin has announced its 2018 Purse for the popular Northern Nationals to take place September 6th through 8th!
The track officials are excited to bring back the WISSOTA Street Stock Class for the first time in about 10 years to the lightning fast red clay surface. Also appearing for their first ever appearance are the WISSOTA Hornet division on the opening Thursday of the Nationals. Both classes gives our fans something "New and Fresh for this years 2018 Northern Nationals" said promoter Joe Stariha. With expanding the Northern Nationals to a three day program the track will also be moving their WISSOTA Pure Stocks to Thursday Night (Traditionally on Saturday) and also bringing in the WISSOTA Midwest Modifieds for a third day to give those drivers 3 complete shows on that weekend! All four WISSOTA Classes will kick off the festivities on Thursday September 6th with hotlaps at 6:30 and racing at 7:00. Grandstand admission is an amazingly low $10 for 13 and over and 12 and under free! Pit passes will be $30 for the evening and NO DRAW FEES for these classes that evening!
The excitement will not end there though, Friday will see a visit from the IRA Outlaw 410 Sprints which will put their high horsepower to the banks of Superior and put on a whale of a show for the fans. Along with the IRA Sprints their will be a complete show of WISSOTA Midwest Modifieds, WISSOTA Super Stocks, and WISSOTA Modifieds. Grandstand Admission is $30 for adults 18 plus, $15 for 13-17, and 12 and under are free. Pit Passes will be $35 for the evening. Draw fees will be Midwest Modifieds $35, Super Stocks $40, Modifieds $50.
Saturday continues the 3 day extravaganza bringing in the WISSOTA Late Models for their year end special in place of the Sprints, and also another day of WISSOTA Midwest Modified, Super Stock, and Modified action. Gates will again open at the same time as Friday at 3:00 with Grandstand admission set at $25 for adults 18+, $15 for 13-17, and 12 and under again free as usual. Buy a 2 day pass on Friday and save $5 off the single day price. Pit Passes will again be $35. Draw fees will be Midwest Modifieds $35, Super Stocks $40, Modifieds $50, Late Models $60.
Passing Points will be used for all Feature Line ups. Camping reservations can be made online at www.gondiklawspeedway.com or by contacting Joe Stariha at 218.349.7367 we look forward to you joining us at Gondik Law Speedway in Superior Wisconsin August 6th through 8th!
Back to News