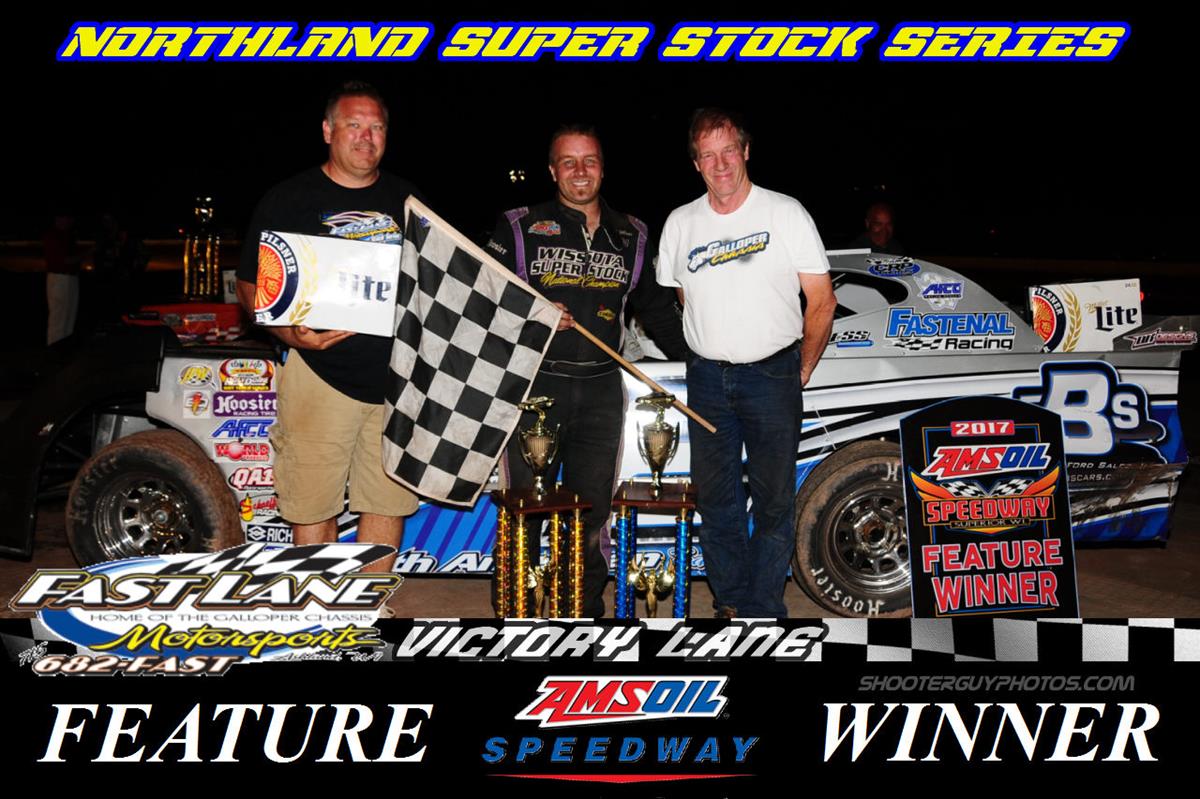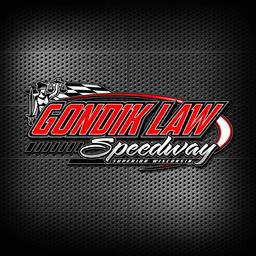 6/3/2018
Gondik Law Speedway
---
FastLane Super Stock Series Adds Two Tracks for '18
FastLane Super Stock Series Adds Two Tracks for '18
by Nick Gima
Ashland, WI, June 1 -- The FastLane Motorsports Northland Super Stock Series has provided a popular boost to WISSOTA Super Stock drivers and fans over its first three seasons. In that short time, the Series has seen over 60 different drivers compete at WISSOTA's three Northeastern-most tracks, splitting up total prize money and purses exceeding $50,000.
For 2018, Series director Dennis McCauley has been working tirelessly to improve on the quality, popularity and participation of the tour. An exciting first step was taken back in March when it was announced that races at two more tracks - Granite City Speedway in Sauk Rapids, MN; and Hibbing (MN) Raceway - have been added to the schedule.
"We are thrilled to have the folks at Granite City and Hibbing on board with us for the Series," McCauley said at the time of the announcement. "These are two great racing venues, with quality people running them and top-tier drivers competing there.
"Both of these tracks are home to some excellent Super Stock racers. We know that these drivers will add to the competitiveness of the fields running in the Series, both at their tracks and at the others."
With the added tracks, the Series will expand to five scheduled nights over two consecutive weekends for 2018.
The Series will kick off on Friday, July 13, at the Granite City Speedway, where drivers like Shane Sabraski, Dexton Koch, and Chad and Devin Fouquette lead the way. Granite City will offer a $700-to-win feature that is sure to lure a large count of competitors and fans.
The second night of the tour will take place on the Hibbing Raceway's challenging surface on Saturday, July 14. The track draws large Super Stock car counts during its annual Labor Day Shootout specials, and the $600-to-win feature payout is sure to bring traveling drivers to compete against home-track stars like Kevin Burdick, Kyle Oman and Dan Severson.
The Series moves to its three cornerstone tracks for the following weekend, starting with a Friday night, July 20 stop at the Gondik Law Speedway in Superior, WI. A big, wide track known for high speeds, GLS will also offer a $600 winner's check, as the tour followers will take on the likes of Dave Flynn, DJ Keeler and 2016 Series champ Scott Lawrence.
The next night, Saturday, July 21, the Series moves to Ashland, WI, and the award-winning ABC Raceway. The sticky-fast red-clay surface makes for some excellent two- and three-wide racing, and local stars like Nick Oreskovich, Shawn McFadden Jr and Matt Deragon will take on the visitors for the $700 feature win.
The Series wraps up on Sunday, July 22, at the Proctor Speedway. The high banks at Proctor make for some wild racing excitement, the local stars include Jim Campbell, Ronnie Malecki and Brian Carl, and the 2018 FastLane Series champion will be crowned after the $600-to-win A-main.
Drivers who qualify to start in each feature will take home at least $100, according to McCauley.
Another huge step taken by the Series for 2018 is the increase in prize monies and continency awards to be offered. At press time the points and prize fund has grown to over $20,000, and McCauley believes that amount will continue to climb right up until and into the first weekend of Series action. Also, with the addition of the two tracks, drivers will have a chance to compete for over $15,000 in total purse for the five nights.
The Series will maintain points standings based on WISSOTA's 2017 points system. At its conclusion, the Series champion will be awarded $1,300, complements of Keyport Liquor, while the runner-up will receive $1,200, courtesy of Northern Fitness Solutions. Other drivers finishing in the top-ten in final points will receive funds ranging from $700 to $1,100.
The contingency awards already being offered during this season's tour are generous and plentiful:
- Superior Fuel Company will pay out bonuses if any driver wins three ($100), four ($300), or five ($500) of the Series' features;
- the top two drivers who do not make the Series feature at each track will receive $50 bonuses from 10Pin Racing and Phillips Lanes;
- bonuses of $250 each will be paid to two feature-finishing drivers at each track based on random drawings, complements of Northern Clearing Inc;
- Shane Kisling of Adjustable Race Shocks will present two certificates by random drawing at each event for free shock rebuilds;
- "hard-charger" bonuses of $100 will be awarded on a per-track and overall Series basis by Dennis and Cathy Pattee; and
- a "long-tow" bonus of $100 will be presented at each track by North Country Towing, NASCAR Towing and Lake City Towing.
Other contingency awards include "participant non-qualifier" bonuses for all drivers finishing outside of the top-ten in final points who compete at a minimum of three races ($125) or all five ($275).
A big reason for the increases in overall prize and points funds is that the Series is being supported by a huge and ever-growing number of contributing sponsors, led by title sponsor FastLane Motorsports & Custom Powdercoating of Ashland. McCauley says that the Series owes its success to FastLane owner Chris Bretting for his support and generosity.
Other contributing sponsors include Shaw Trucking, Keyport Liquor, Affordable Chassis and Rapids Performance, Bernick's Distributing, Benna Ford, El Dorado Restaurant of Ashland, Tim's Automotive, Northern Clearing Inc, Keyport Liquor, White River Ag Products, Rivord Auto & Transmission Repair, TJ's Oil & Racing Fuels, Brian Olby Logging, Dennis & Cathy Pattee, NAPA Auto Parts, Rick Gondik Law Offices, Nummi Jewelers, Von Holzen Chevrolet-Buick-GMC, Lulich Implement, Superior Fuel Company, Northern Fitness Solutions, Lakes Gas & Stone Lake Oil, Village Lanes, Bullyan RV Center, Country Buds Flower Shoppe, Bulldog Auto Repair, Bob's South Tower Service, VIP Pizza, Nick Korhonen of American Family Insurance, Smooch-A-Pooch, Proctor Builders' Supply, Oliver's Service Station, Len's Auto Body, Finnlander Corner, Clark Transfer Lines, Greg's Towing & Repair, Kom-On-Inn Lounge, Three Eagles Gift & Smoke Shop, Omer Nelson Electric, Ashland Honda-Toyota, Fuller's Family Restaurant, Eder Brothers of Ashland, Bill's Diesel Repair, Culvers of Superior, Accurate Auto Repair, and Deltco Plastics of Ashland.
The FastLane Northland Super Stock Series has crowned three different champions in each of its three years of existence - and each at a different track. Curt Myers of Cameron, WI, closed out a phenomenal run through the Series in Ashland in 2015 after sweeping every heat and feature he entered at all three tracks.
Lawrence, of Superior, claimed the 2016 title at Proctor despite not winning a Series feature, as the tour ran its slated course over three consecutive nights. Last year, Dave Mass of East Bethel, MN, opened and closed the Series with feature wins at Ashland and Superior for the title.
Fifty-five different drivers participated in at least one event of the FastLane Series during the 2017 edition, with a tour-record 49 competing at Ashland last year. McCauley says that he expects both of those numbers to be exceeded during this year's tour.
FastLane Super Stock Series 2018 advance
Nick Gima
---
Article Credit: Nick Gima
Back to News