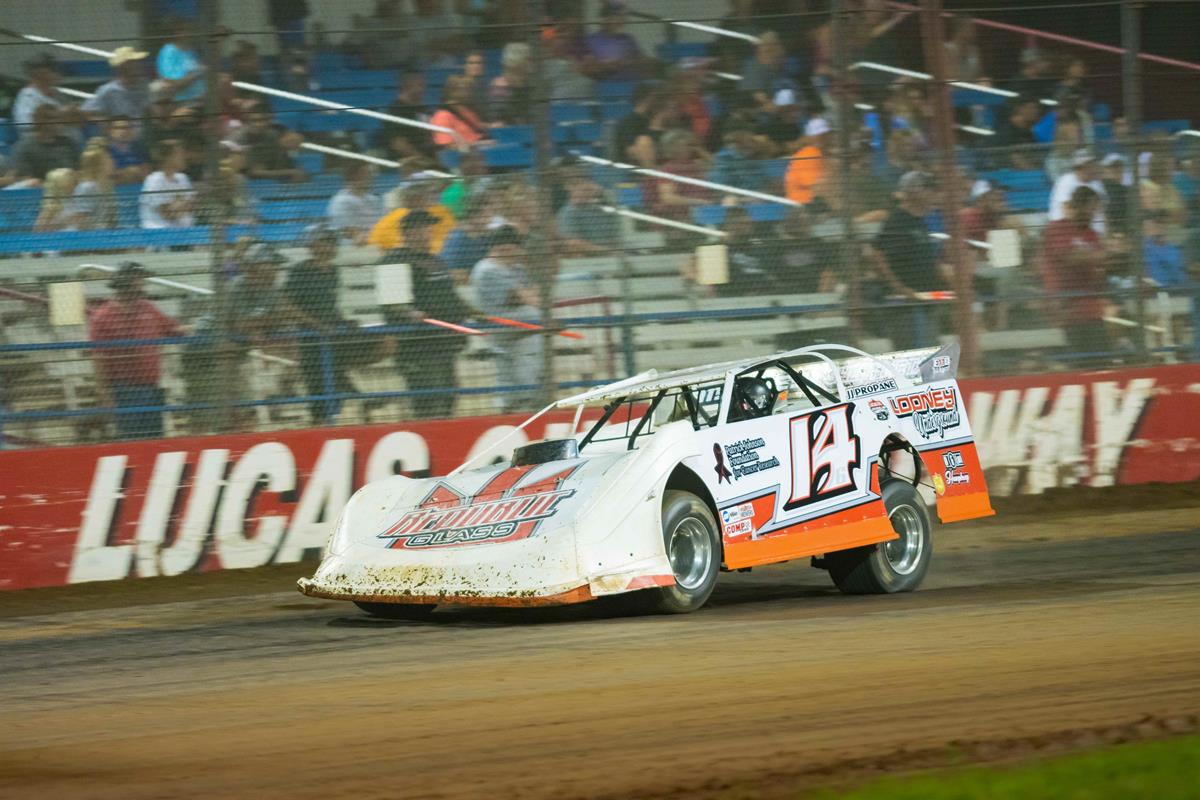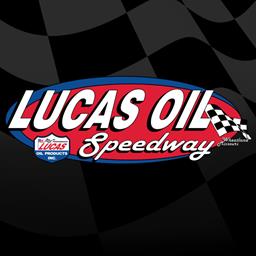 1/28/2020
Lucas Oil Speedway
---
Lucas Oil Speedway Preseason Spotlight: Veteran Brad Looney set to join highly competitive ULMA Late Model division
WHEATLAND, Missouri (January 28, 2020) - The already-competitive Warsaw Auto Marine & RV ULMA Late Model division at Lucas Oil Speedway is going to be even more interesting this season.
This after long-time regional Late Model racer Brad Looney of Republic announced that he plans to follow the Lucas Cattle Company ULMA in 2020 with Lucas Oil Speedway serving as his home track.
Looney said helping run the family business, Republic Glass, is taking more and more time and that has pretty well eliminated his ability to travel for open Late Model circuits. He's a former MARS Dirt-Car Series champion (2011) and Lucas Oil MLRA runner-up (2010).
"I've been looking to race local," the 44-year-old Looney said. "Wheatland is like an hour and a half from the house. It works best for me to race just one night a weekend. Of course, Lucas is a nice facility and the few sponsors I've got, they really like going up there. It's an ideal fit for me."
Looney is coming off a banner 2019 season, earning 12 feature wins en route to the Cash Money Super Dirt Series championship. However, he was suspended for a year by the series following a late-season incident.
Asked about the issue, Looney said, "there's a lot I could say, but it's probably best to leave it alone and move on."
One thing he hopes to continue is a laser-focus on his racing program.
"It seems like I've slowed down and not raced so much the last several years and last year, I kind of made a point of, 'OK, I'm going to run 15-20 races and I'm going to really focus on getting my set-up right and being good.' It paid off. I was really prepared each time I went to the race track."
Looney said his youngest son, Race (who's also a standout senior point guard for the Republic High School basketball team) was a big key behind the scenes.
"I've always thought that I was pretty competitive, but Race is really competitive," Looney said, with a laugh. "He kept me focused on getting the car right and being right driving it. I'm excited that he's gonna help me again this year, probably with my oldest boy Skyler helping as well.
"It's so much more fun when you can do it with your family. And when you win, it's even better."
Looney said he's eager to become a Lucas Oil Speedway regular. Middle son Payton is a former ULMA Late Model competitor there before moving on to open Late Models, so between that and Brad's trips there for past MLRA or Lucas Oil Late Model Dirt Series events, he feels good about getting dialed in there.
"The last few times I've been there, I've struggled," he said. "Part of it's my fault, not being focusing or not being in the right situation or right equipment. I think we've won two or three MLRA shows there in the past. Going there and racing every week, I feel like I have the potential to be really good there."
Looney knows little about the ULMA competition, which includes three-time reigning track champion Johnny Fennewald, 2019 ULMA national champ Aaron Marrant and young Kaeden Cornell of Republic. That trio has battled to the last lap on the last night for the track title the last two years.
"I do know that's it's going to be competitive and it's gonna be a pretty good bunch of racers," Looney said of the year ahead. "You're gonna have to be pretty good to win there. I've got my work cut out for me."
Whatever he accomplishes will largely be to honor the late Patrick Johnson, a big supporter of Looney and other dirt-track racers prior to his death from cancer in 2017 at the age of 52.
"We do this for Patrick," Looney said of the Patrick Johnson Foundation for Cancer Research. "My whole racing from here on out will be for Patrick. He is sorely missed. He was a guy who helped a lot of people and did stuff for them, never wanting his name out there. But yeah, this is in honor of Patrick, his wife Carey and daughter Madi."
The Lucas Oil Speedway season kicks off with the Open Test and Tune on March 28, with the Big Adventure RV Weekly Racing Series opening night set for April 4 with action in all four divisions - Pitts Homes USRA Modified, Ozark Golf Cars USRA B-Mods, Warsaw Auto Marine & RV ULMA Late Models and O'Reilly Auto Parts Street Stocks.
Season passes for 2020, along with gift cards which can be redeemed in any department of the speedway, are now available. Contact Admissions Director Nichole McMillan at (417) 282-5984 or email her at nichole@lucasoilspeedway.com for more information.
CONTACT:
Danny Lorton
Lucas Oil Speedway General Manager
Office: (417) 282-5984
DLorton@lucasoilspeedway.com
---
Article Credit: By Lyndal Scranton, Lucas Oil Speedway
Back to News