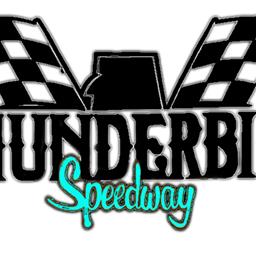 4/14/2018
Thunderbird Speedway
---
Thunderbird Season Opener Dodges Oklahoma Severe Weather
As Friday the 13th took shape severe weather was once again on the horizon as we prepared to welcome drivers, fans and Advanced Energy back to the track for the season opener of the first ever NASCAR Whelen All American Series event at the Historic Half Mile.
Storms had built up to the west of Muskogee but as they approached, not once but twice, split to the north and south of the speedway only dropping just enough water for a great track. Stanley Slader and the gang had worked hard for the last several weeks getting the Old Bird in shape and had us a great track to watch the action on.
Fans watched as Kyle Peace took the first win in the first ever Nex Gen race on the new 1/4 mile short track that had been newly constructed just for this class. This class stirred up huge excitement with fans many of which were asking how to get into racing these cars. Rules are available online and were looking to see how many new young driver accept the challenge and get into this exciting sport.
Dale Richardson ran away with the Factory Stock division and captured his first win as they made their first appearance on the speedway. This division was a Pure Stock class last year but with some rule changes is now considered a Factory Stock. Richardson also picked up a heat race win along with Ryan Walman as he bested the field in the second heat.
Super Stock action seen Ted Holt Jr. outlast the field in his win to start his season off with a high points night as he looks to add to the Holt family racing championships at Thunderbird Speedway. Fort Gibson driver Tyler Hopson took the heat race win.
Advanced Energy was powering the B Modified action last night and it was at its peak as tight heat races battles had fans on their feet and cheering for more. Young gun Colby Kasinger picked up his fist ever heat race win in a B mod at Thunderbird. Dalton Clay and Brett Hansen added heat race wins as well as putting on a show in the A main. Three and four wide racing dominated the night in the heat races and A feature up front and throughout the field but it was the 5* car of Dalton Clay who came out on top. Advanced Energy put up the entry fees for all B mod drivers and they will be able to pick up their added money from drivers sign in at next weeks event.
Arkansas driver Tyler Wolff parks the 4W in victory lane in the NASCAR Whelen All American Series Division I season opener. After a second lap caution Wolff had to restart in the second position but had a great restart and took the lead from Trevor Latham. Latham who won the second modified heat race stayed right in the fight keeping Wolff on his toes throughout the race! In an off the record post race conversation with Tyler he stated that a 20 lap race at Thunderbird in a modified is a workout!
A huge shout out goes to Willie Gammill and the boys over at Advanced Energy INC. for their support of Thunderbird Speedway and the B mod class! Thanks guys for all you do!
4/13/2018 Results
A Modifieds
A Feature 1 (20 Laps): 1. 4W-Tyler Wolff, 16:47.461[3]; 2. 27L-Trevor Latham, 16:48.121[1]; 3. 127-Andy Morris, 15:18.567[4]; 4. 88-Chad Wheeler, 16:53.716[5]; 5. 4R-Jared Russell, 02:42.835[6]; 6. 73-Jay Arnold, 17:02.930[10]; 7. F5-Fausten Willhite, 17:06.935[8]; 8. 2G-Patrick Goodnight, 14:17.070[9]; 9. 112-Grady Smith, 17:10.127[11]; 10. (DNF) 27-Dan Morris, 12:42.871[2]; 11. (DNF) 98-Allan Beatty, 08:25.339[15]; 12. (DNF) 95-Devin Beach, 07:35.925[14]; 13. (DNF) 52-Chad Davis, 02:42.835[7]; (DNS) 32Y-Ron Yates, 02:42.835; (DNS) 8-Tyler Chambers, 02:42.835
Heat 1 (8 Laps): 1. 27L-Trevor Latham, 04:00.054[3]; 2. 27-Dan Morris, 04:11.604[5]; 3. 127-Andy Morris, 04:11.851[7]; 4. 52-Chad Davis, 04:12.066[6]; 5. 2G-Patrick Goodnight, 04:13.238[4]; 6. 32Y-Ron Yates, 04:16.821[1]; 7. (DNF) 95-Devin Beach, 01:28.079[2]
Heat 2 (8 Laps): 1. 4W-Tyler Wolff, 05:40.625[1]; 2. 88-Chad Wheeler, 05:44.096[2]; 3. 4R-Jared Russell, 02:32.447[4]; 4. F5-Fausten Willhite, 05:50.128[3]; 5. 73-Jay Arnold, 05:50.640[5]; 6. 112-Grady Smith, 05:51.118[7]; 7. (DNF) 98-Allan Beatty, 02:32.447[6]
B Modifieds
A Feature 1 (15 Laps): 1. 5*-Dalton Clay, 39:16.747[1]; 2. 7H-Brett Hansen, 39:17.914[3]; 3. 89-Tate Cole, 39:18.994[8]; 4. 22-Dalton Ragsdale, 39:19.943[13]; 5. 19-Dylan Cantwell, 39:22.493[10]; 6. 7 G-Willie Gammill, 39:22.862[15]; 7. 6-Chris Theodore, 39:24.123[9]; 8. 15A-Mike Anderson, 39:24.500[24]; 9. 79-Allen Owen, 39:25.876[6]; 10. 8-Tony Quinton, 39:26.738[23]; 11. (DNF) 7-Colby Kasinger, 38:33.671[2]; 12. (DNF) 36-Dustin Boston, 32:35.710[14]; 13. (DNF) 3UFO-Ted Holt, 32:36.719[16]; 14. (DNF) 33-Bobby Ward, 32:11.941[17]; 15. (DNF) 18-Casey Lindell, 31:23.029[21]; 16. (DNF) 27-Jacob Campbell, 31:42.851[12]; 17. (DNF) 4D-Floyd Dixon, 30:26.512[20]; 18. (DNF) 94-Dustin Leatherman, 29:44.809[18]; 19. (DNF) 88B-Hunter Byers, 16:04.350[11]; 20. (DNF) 501-Leroy Cook Jr, 16:01.842[4]; 21. (DNF) 23-Kerney Weaver, 16:04.070[5]; 22. (DNF) 0-Kort Morgan, 16:49.396[22]; 23. (DNF) 52-Dylan Rupe, 04:15.113[19]; 24. (DNF) 9-Kevin Flock, 04:12.313[7]
Heat 1 (6 Laps): 1. 7-Colby Kasinger, 02:22.943[1]; 2. 23-Kerney Weaver, 02:24.383[2]; 3. 6-Chris Theodore, 02:24.910[3]; 4. 19-Dylan Cantwell, 02:25.128[6]; 5. 27-Jacob Campbell, 02:28.149[8]; 6. 3UFO-Ted Holt, 02:29.257[7]; 7. 18-Casey Lindell, 02:30.095[5]; 8. 0-Kort Morgan, 02:16.047[4]
Heat 2 (6 Laps): 1. 7H-Brett Hansen, 03:49.077[1]; 2. 79-Allen Owen, 03:55.111[2]; 3. 9-Kevin Flock, 03:55.580[5]; 4. 22-Dalton Ragsdale, 03:58.560[3]; 5. 36-Dustin Boston, 04:00.365[7]; 6. 94-Dustin Leatherman, 04:08.363[6]; 7. 4D-Floyd Dixon, 04:09.678[4]; (DNS) 15A-Mike Anderson, 04:09.678
Heat 3 (6 Laps): 1. 5*-Dalton Clay, 02:36.172[6]; 2. 501-Leroy Cook Jr, 02:59.978[3]; 3. 89-Tate Cole, 03:00.751[4]; 4. 88B-Hunter Byers, 03:01.443[5]; 5. 7 G-Willie Gammill, 03:02.251[2]; 6. 33-Bobby Ward, 03:04.482[7]; 7. 52-Dylan Rupe, 02:16.974[8]; 8. (DNF) 8-Tony Quinton, 02:02.125[1]
Super Stocks
A Feature 1 (15 Laps): 1. 3UFO-Ted Holt, 13:22.286[4]; 2. 3-Danny Womack, 13:22.825[2]; 3. 19S-Kyle Slader, 13:23.856[3]; 4. 333-Tyler Hopson, 13:23.877[1]; 5. 64-Heath Weston, 13:25.687[5]; 6. 44-Steven Jennings, 13:31.019[7]; 7. (DNF) 42-Gene Pearce, 07:07.568[6]; (DNS) 327-Dale Richardson, 07:07.568; (DNS) 8S-Michael Skaggs, 07:07.568
Heat 1 (6 Laps): 1. 333-Tyler Hopson, 13:29.257[6]; 2. 19S-Kyle Slader, 13:31.618[3]; 3. 3-Danny Womack, 13:31.851[9]; 4. 3UFO-Ted Holt, 13:31.924[5]; 5. 64-Heath Weston, 13:33.774[4]; 6. 42-Gene Pearce, 13:35.534[8]; 7. 44-Steven Jennings, 13:36.722[7]; 8. (DNF) 327-Dale Richardson, 06:28.713[2]; 9. (DNF) 8S-Michael Skaggs, 05:44.971[1]
Factory Stock
A Feature 1 (15 Laps): 1. 327-Dale Richardson, 06:16.140[4]; 2. DT1-Mike Wiseman, 16:15.623[13]; 3. 79-Allen Owen, 16:17.313[5]; 4. 1A-Ryan Waltman, 06:16.140[2]; 5. 25-Mike Moschak, 16:20.396[8]; 6. 6P-Pat Fielder, 16:21.748[7]; 7. 18-Kyler Mackey, 16:21.901[6]; 8. 7-Brandon Hogard, 16:25.616[10]; 9. 8R-Jimmy Waltman, 06:16.140[12]; 10. (DNF) 10-9-Trevor Massey, 16:09.186[11]; 11. (DNF) 3UFO-Ted Holt Sr, 14:07.759[1]; 12. (DNF) 7K-Jack Kirby, 09:25.572[15]; 13. (DNF) 42-Levi Sullins, 08:41.180[9]; 14. (DNF) 83D-Chris Dugan, 06:16.140[14]; (DNS) 96-Philip Blair, 06:16.140; (DNS) 21-Wesley Mackey, 06:16.140; (DNS) 7A-Dale Drieth, 06:16.140; (DQ) 6-Mark Martin, 16:15.099[3]
Heat 1 (6 Laps): 1. 327-Dale Richardson, 03:39.205[3]; 2. 3UFO-Ted Holt Sr, 04:04.944[9]; 3. 79-Allen Owen, 04:11.013[6]; 4. 42-Levi Sullins, 04:11.101[2]; 5. 25-Mike Moschak, 04:11.680[8]; 6. 7-Brandon Hogard, 04:14.099[4]; 7. 10-9-Trevor Massey, 03:55.746[5]; 8. (DNF) 7K-Jack Kirby, 03:57.196[1]; (DNS) 21-Wesley Mackey, 03:57.196
Heat 2 (6 Laps): 1. 1A-Ryan Waltman, 03:18.772[5]; 2. 6-Mark Martin, 04:39.529[8]; 3. 6P-Pat Fielder, 04:43.050[4]; 4. 18-Kyler Mackey, 04:48.897[9]; 5. (DNF) 8R-Jimmy Waltman, 03:18.772[2]; 6. (DNF) DT1-Mike Wiseman, 03:00.084[6]; 7. (DNF) 83D-Chris Dugan, 03:31.140[7]; (DNS) 7A-Dale Drieth, 03:18.772; (DNS) 96-Philip Blair, 03:18.772
Nex Gen
A Feature 1 (15 Laps): 1. 42-Kyle Peace, [1]; 2. 54-Jason Metcalf, [2]; 3. 19-Blake Miller, [3]
Powered by MyRacePass
---
Article Credit: David Edwards
Submitted By: Thunderbird Speedway
Article Media
Back to News