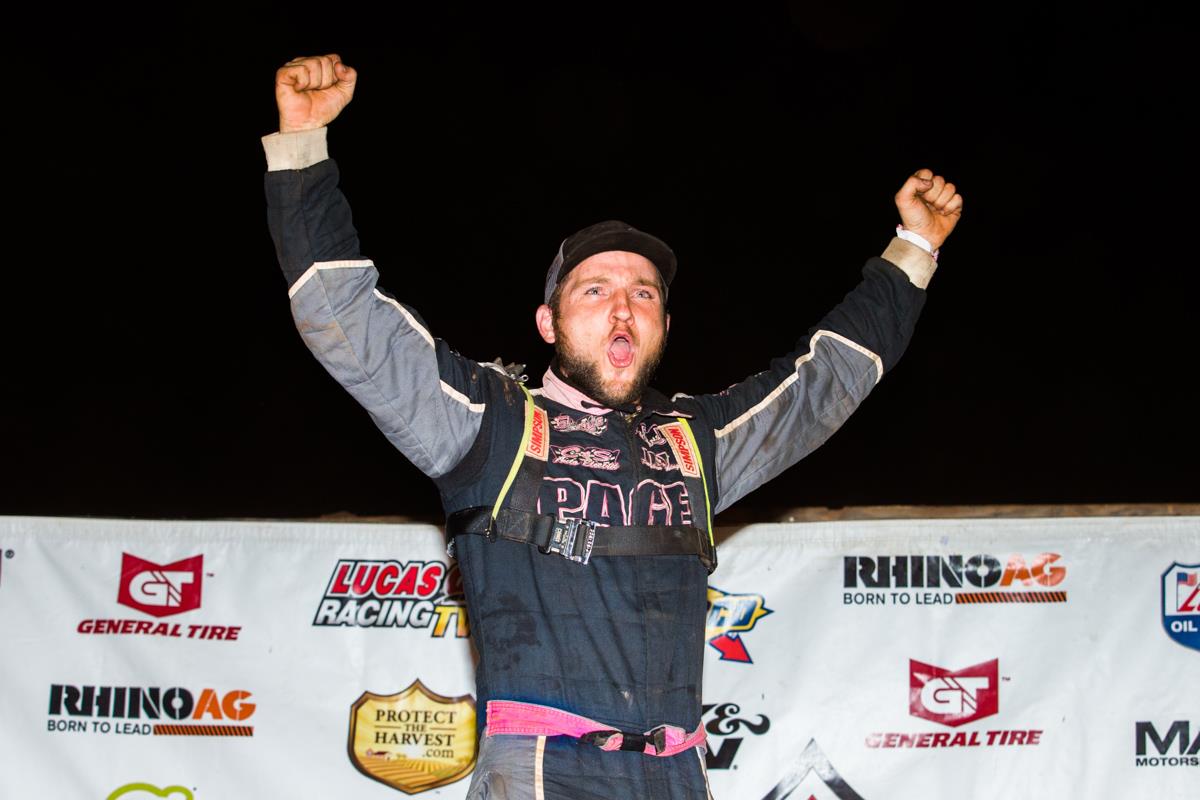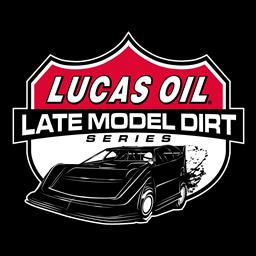 9/30/2017
Lucas Oil Late Model Dirt Series
---
Michael Page Claims First-Career Lucas Oil Victory!
WOODSTOCK, GA (September 30, 2017) – Michael Page scored the biggest win of his career on Saturday night by winning the Lucas Oil Dixie Shootout in front of a packed-grandstand at Dixie Speedway. Page, who has raced most of his career at the 3/8-mile oval, has grown up dreaming of winning this race at his home track. It became a reality as he became the seventeenth different winner this season in Lucas Oil Late Model Dirt Series competition.
Page pocketed $12,000 for his first career LOLMDS victory. Don O'Neal led the first 22-laps of the race and finished second. Scott Bloomquist came home in third. Completing the top five were Chris Madden and Jimmy Owens.
O'Neal was in control of the event in the early going, before Page tracked him down in lapped traffic. On the restart after the final caution of the race on lap 46, Page saw O'Neal pull alongside him and threaten to retake the lead, but Page held off every challenge that O'Neal had for him to take the win.
"I figured if I was ever going to win it, tonight was it. It has been an up-and-down season and I am about wore out. I do what I can with a little team here," said the emotional winner, who was surrounded in Lucas Oil Victory Lane with dozens of well-wishers. "When these Lucas Oil guys come here, you have to do something and tonight we did it."
"I really didn't want to move up on that last restart. I wasn't worried about the right rear like I was the right front here. I just wasn't pushing it too early. I was hoping he [O'Neal] would burn his stuff up and I think it worked out. I had a very good car here tonight. I want to thank Troy Baird and Stinger Race Cars. I am the only one here with one. It is a good race car. Thanks to all my help, my team, my mom and dad. Thanks to all of the fans here tonight and to those that believed in me, this one's for you."
The winners Andy Durham-powered, Stinger Race Cars Chassis is sponsored by Baird Truck and Trailer, Elite Concrete, T&T Trucking, Baird Towing, Mac Trailer, National Transportation, and Schaeffer's Racing Oil.
O'Neal's Peak Antifreeze and Coolant, Club 29 for Clint Bowyer was seeking his first Dixie Shootout win in 14 years. "I thought I had a shot to get back around him on that last restart. He did what he had to do he moved up there and blocked me. We were just two free getting into the turns. It was good run for us and hats off to him [Page] for the win.
Bloomquist moved to second in championship points with his podium finish. "It was a great points night for us. Hopefully we can get the lead at Rome and extend it out over these last three races. The car was good all night. I thought I could get by Don [O'Neal]. He was running the same line I was wanting to run. It killed our momentum there at the end. I want to thank Mike Reece, he was out here tonight and all my other great sponsors, we look forward to heading to Rome tomorrow night.
Completing the top ten were Shane Clanton, Devin Gilpin, Casey Roberts, Steve Francis, and Dale McDowell.
Lucas Oil Late Model Dirt Series
Race Summary
Saturday, September 30th, 2017
Lucas Oil Dixie Shootout
Dixie Speedway – Woodstock, GA
Miller Welders Fast Time Group A: Don O'Neal / 14.113 seconds
Miller Welders Fast Time Group B: Chris Madden / 14.385 seconds
Eibach Springs Heat Race #1 Finish (10 Laps, Top 4 Transfer): Don O'Neal, Scott Bloomquist, Jimmy Owens, Shane Clanton, Chris Ferguson, Jason Croft, Dennis Erb, Jr., Josh Richards, Hudson O'Neal, Eric Granger, Kayne Hickman
FK Rod Ends Heat Race #2 Finish (10 Laps, Top 4 Transfer): Devin Gilpin, Earl Pearson, Jr., Dale McDowell, Donald McIntosh, Steve Francis, Tim McCreadie, Gary McPherson, Ray Cook, Will Roland, Justin Shipley
Simpson Performance Products Heat Race #3 Finish (10 Laps, Top 4 Transfer): Chris Madden, Darrell Lanigan, Casey Roberts, Tyler Millwood, Gregg Satterlee, Mike McConnell, Shane Tankersley, Ryan Crane, Matt Bishop, Aaron Ridley
QA1 Heat Race #4 Finish (10 Laps, Top 4 Transfer): Michael Page, TJ Reaid, Ross Bailes, Tyler Bruening, David Payne, Austin Tyler Smith, Boom Briggs, Steven Roberts, Blake Spencer, Granger Howell
Penske Racing Shocks B-Main #1 Finish (12 Laps, Top 3 Transfer): Chris Ferguson, Tim McCreadie, Steve Francis, Jason Croft, Dennis Erb, Jr., Will Roland, Gary McPherson, Josh Richards, Eric Granger, Ray Cook, Justin Shipley, Hudson O'Neal, Kayne Hickman
Fast Shafts B-Main #2 Finish (12 Laps, Top 3 Transfer): David Payne, Boom Briggs, Mike McConnell, Austin Tyler Smith, Shane Tankersley, Blake Spencer, Granger Howell, Steven Roberts, Matt Bishop, Ryan Crane, Gregg Satterlee, Aaron Ridley
Feature Finish (60 Laps):
FINISH START CAR # DRIVER NAME HOMETOWN EARNINGS
1 4 18x Michael Page Villa Rica, GA $12,100
2 1 5 Don O'Neal Martinsville, IN $6,400
3 5 0 Scott Bloomquist Mooresburg, TN $4,500
4 2 44 Chris Madden Gaffney, SC $2,750
5 9 20 Jimmy Owens Newport, TN $3,050
6 13 25 Shane Clanton Zebulon, GA $1,800
7 3 1G Devin Gilpin Columbus, IN $1,500
8 10 101 Casey Roberts Toccoa, GA $1,300
9 21 15 Steve Francis Bowling Green, KY $1,900
10 11 17m Dale McDowell Chickamauga, GA $1,100
11 19 39 Tim McCreadie Watertown, NY $1,775
12 24 28E Dennis Erb, Jr. Carpentersville, IL $1,750
13 15 7m Donald McIntosh Dawsonville, GA $1,025
14 25 71 Hudson O'Neal ® Martinsville, IN $900
15 12 40 Ross Bailes Clover, SC $1,000
16 23 1R Josh Richards Shinnston, WV $1,800
17 16 16 Tyler Bruening Decorah, IA $1,000
18 14 31T Tyler Millwood Kingston, GA $1,000
19 18 8 David Payne Murphy, NC $1,000
20 7 1 Earl Pearson, Jr. Jacksonville, FL $1,800
21 26 22 Gregg Satterlee ® Rochester Mills, PA $800
22 22 119 Mike McConnell Ballground, GA $1,000
23 17 22F Chris Ferguson Mount Holly, NC $1,000
24 6 14 Darrell Lanigan Union, KY $1,700
25 20 99B Boom Briggs ® Bear Lake, PA $1,700
26 8 41 TJ Reaid Acworth, GA $1,000
Race Statistics
Entrants: 41
Lap Leaders: Don O'Neal (Laps 1 – 22); Michael Page (Laps 23 – 60)
Cautions: TJ Reaid (Lap 2); Earl Pearson Jr. (Lap 3); Gregg Satterlee (Lap 46)
Lucas Oil Late Model Dirt Series Provisionals: Josh Richards, Dennis Erb Jr.
Lucas Oil Late Model Dirt Series Emergency Provisionals: Hudson O'Neal, Gregg Satterlee
Wrisco Feature Winner: Michael Page
Optima Batteries Hard Charger of the Race: Steve Francis (Started: 21st; Finished: 9th; Advanced 12 Positions)
Midwest Sheet Metal Spoiler Challenge Point Leader: Josh Richards
Allstar Performance Power Move of the Race: Donald McIntosh
Sunoco Race for Gas Highest Finisher: Don O'Neal
Hot Rod Processing Rookie of the Race: Hudson O'Neal
COMP Cams Engine Builder of the Race: Durham Racing Engines
Ohlins Shocks Chassis Builder of the Race: Sweet-Bloomquist Race Cars
Outerwears Crew Chief of the Race: Brian Leonberg (Don O'Neal)
Fastest Lap of the Race: Don O'Neal (Lap #1 – 15.5507 seconds)
Safecraft Most Laps Led: Michael Page (38 Laps)
PFC Brakes Pole Award: Don O'Neal
Time of Race: 25 minutes 49 seconds
---
Submitted By: Jeremy Shields
Back to News