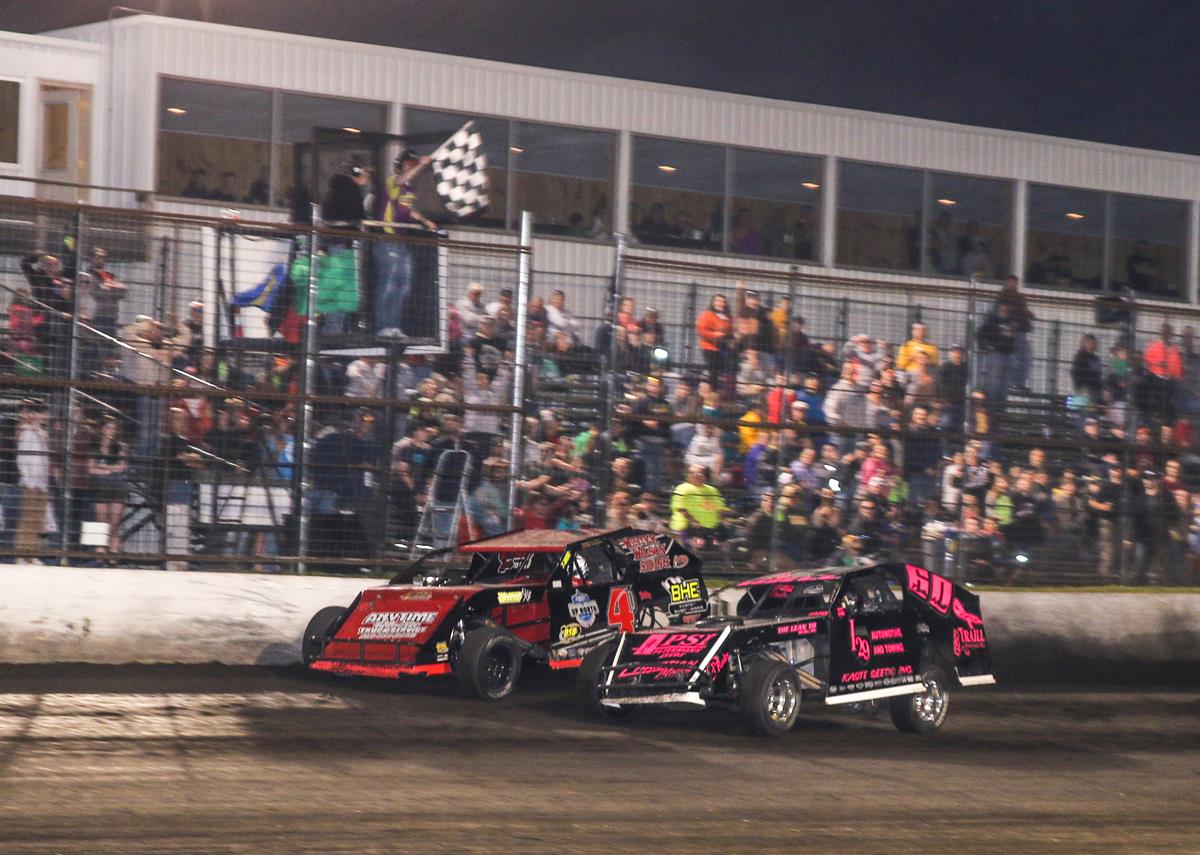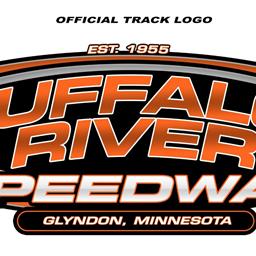 5/28/2017
Buffalo River Speedway
---
RECAP: VanMil Edges Out Hall for Modified Victory
By Mike Spieker
GLYNDON – An estimated 6,500 race fans packed Buffalo River Race Park Saturday night for the speedway's annual OutletRecreation.com Fan Appreciation night.
Just as he did on opening night, Rob VanMil picked up the IMCA modified win, but by the narrowest of margins.
After starting eighth on the grid, VanMil broke the top three on lap three by getting by Glyndon's Cody Peterson. From there the Barnesville driver got by 2014 BRRP track champion, Justin Jones, to move into the runner-up spot.
With Tyler Hall out to a straightaway lead, VanMil had a lot of ground to make up with 10 laps to go. Lapped traffic played a major factor in the closing laps as Hall get held up by two other competitors, who were racing for position.
The slower cars allowed VanMil to erase Hall's advantage and led to VanMil driving by Hall with three circuits remaining. Once out front, it looked as though VanMil had the race in hand, but Hall came back with one last bid for the lead.
On the final lap, Hall drove his car to the inside of turns one and two and got a run on VanMil heading into the last set of corners. Hall went to the bottom once again and pulled even with the No. 4D of VanMil, setting up a drag race to the checkers.
At the line, VanMil beat Hall by a mere 0.012 seconds.
In IMCA sport mod action, Dan Dowling picked up his first career win. The Wheatland, N.D. driver led all 20 laps in a dominating performance and took the checkers ahead of opening night winner, Chris VanMil.
Alan Truscinski claimed the NLSA lightning sprint feature win. After early race leader, Brendan Mullen, had a catastrophic engine failure, Alabama's Kevin Thomas, Sr. took the lead. Thomas, Sr. was surpassed by Truscinski on lap 12 before checking out from the field and taking the win.
Troy Hoff was victorious in the INEX legends, while Jason Reinke grabbed the IMCA stock car win.
Racing at Buffalo River Race Park continues Sunday at 6:00pm.
RESULTS:
IMCA SportMods:
FEATURE – 1. Dan Dowling, Wheatland, N.D.; 2. Chris VanMil, Barnesville, Minn.; 3. Luke Johnson, Moorhead, Minn.; 4. Kelly Jacobson, Fargo, N.D.; 5. Ryan Dahl, West Fargo, N.D.
NLSA Lightning Sprints:
FEATURE – 1. Alan Truscinski, Greenbush, Minn.; 2. Josh Abrahamson, Moorhead, Minn; 3. Kevin Thomas Sr., Cullman, Ala.; 4. Ryan Davis, Thief River Falls, Minn; 5. Charles Davis, Grygla, Minn.
INEX Legends:
FEATURE – 1. Troy Hoff, Flasher, N.D.; 2. Tim Estenson, Fargo, N.D.; 3. Preston Martin, Bismarck, N.D.; 4. Dauntae Martin, Bismarck, N.D.; 5. Tony Brockhouse, Glyndon, Minn.
IMCA Hobby Stocks:
FEATURE – 1. Brandon Schmidt, Hillsboro, N.D.; 2. Torey Fischer, West Fargo, N.D., 3. Maranda Borg, Harwood, N.D.; 4. Nick Nelson, Georgetown, Minn; 5. Tim Church, Dilworth, Minn.
IMCA Sport Compacts:
FEATURE – 1. Jason Reinke, Moorhead, Minn.; 2. Chase Golliet, Fargo, N.D.; 3. Tanner Engen, Detroit Lakes, Minn.; 4. Levi Lease, Harwood, N.D.; 5. Dennis Hopper, Fargo, N.D.
---
Submitted By: Mike Spieker
Back to News