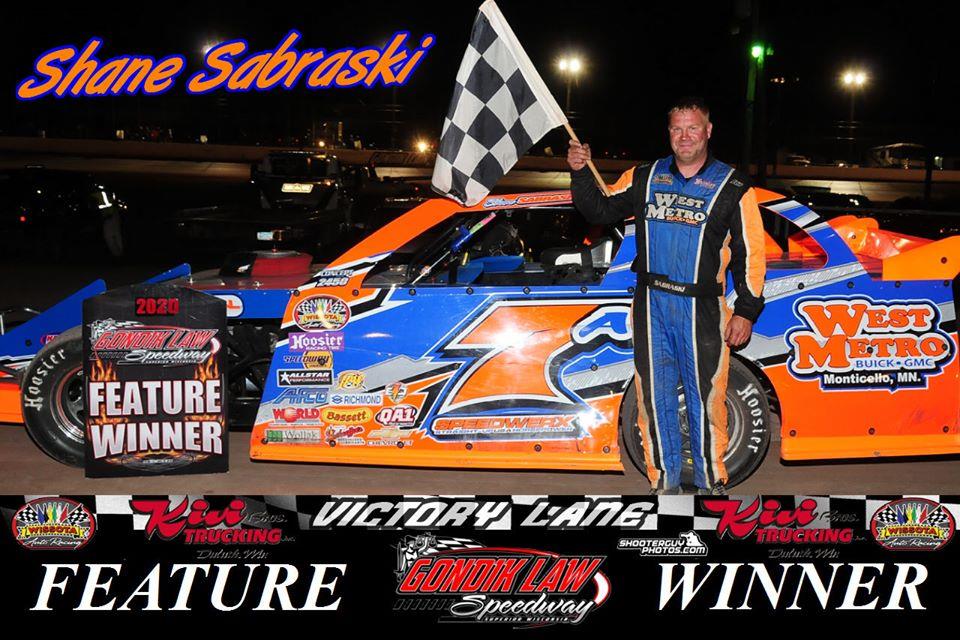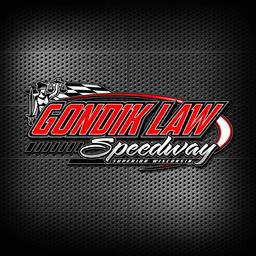 6/19/2020
Gondik Law Speedway
---
SABRASKI AWESOME AT GONDIK LAW SPEEDWAY
SABRASKI AWESOME AT GONDIK LAW SPEEDWAY
By Jerry O'Brien 6-19-20
Once again it was a perfect night for racing Friday June 19th at Gondik Law Speedway in Superior, WI. Around 75 degrees with the wind, this time, out of the west and not off Lake Superior.
A large crowd watched a six WISSOTA division event boasting 113 cars including the Late Models. Several top drivers returned including Pat Doar, John Kaanta, Mike Prochnow and Steve Laursen as they joined the regulars such as Derek Vesel, the Lillo Clan, Tim McMann, Deven VanHouse, Kyle Peterlin, Travis Budiaslovich and several others.
Twenty cars started the 25 lap Late Model feature with Steve Laursen and Kyle Peterlin pacing the field. Peterlin jumped the start and was penalized a row. There were two cautions in the first lap before the field could get going. Derek Vesel came from 4th to steal the lead from Laursen and stayed out front while Laursen clung to second. Budiaslovich moved from seventh to third, then passed Laursen for second. Vesel continued to lead into traffic until two more caution flags cleared the way for him each time. The final caution flag came with four circuits remaining and Vesel stayed out front until Budiaslovich found a groove at the top of the track, took advantage and grabbed the point with two to go for his second win of the season here. Vesel, Laursen, Jeff Massingill and Deven VanHouse finished top five.
Shane Sabraski of Rice, MN returned after a weeks absence and dominated the WISSOTA Modifieds and Super Stocks sweeping both divisions and capturing his fourth feature at GLS in this truncated season.
It appeared that Scott Lawrence was going to back up his feature win at the ABC Raceway in Ashland, WI as he started the 20 lap Super Stock event on the outside of the front row and led the first four circuits until the first of three caution flags flew. The restart gave Sabraski, who had started eighth, the chance he needed and he closed up on Lawrence and swept past towing along Kevin Burdick. He then proceeded to open up a huge lead and went on to the win. Dave Flynn, sophomore driver Andrew Mackey, Former track champ Nick Oreskovich and WISSOTA Rookie of the Year Kyle Copp
rounded out the top five. Lawrence began to fade back with some sort of problem and recorded a DNF.
Mark Kangas has been running well in the Midwest Modified division thus far and took advantage of the third caution period to track down Cody Carlson who was going after his first sweep at the speedway taking the lead with six laps left. Earlier Carlson who started sixth on the field, tracked down leader Jimmy Latvala to take the lead which he held until the final caution flag. Last week's winner Tyler Kintner (8th); McLean Andrews (13th) and Latvala were top five finishers.
Kangas broke a long dry spell as the win was his first feature since 2012, anywhere and his first ever at Gondik Law Speedway.
Pole sitter Clayton Wagemon jumped to the lead as the 20 lap WISSOTA Modified feature commenced. Wagemon appeared unbeatable as Greg Chesley was in pursuit. Wagemon pulled away from the pack to a huge lead over Chesley who soon fell to Jody Bellefeuille while Jeremy Nelson captured third. Bellefeuille began to slowly cut the distance to Wagemon, but it was Sabraski who was on the charge from his ninth starting spot began to charge toward Bellefeuille's rear bumper. With five laps to go, Sabraski caught and passed Bellefeuille and set out after Wagemon. With two laps left, Sabraski charged past Wagemon for the win completing a double sweep for the night and his third feature win of the season here. Jeremy Nelson and Darrell Nelson completed the top five.
It would be a dozen laps for a dozen Pure Stocks. Much of the event was dominated by McLean Andrews who was doing double duty in Jared Akervik's second car. 2019 WISSOTA and GLS Champion Cory Jorgensen worked his way from the fifth starting slot to second where he proceeded to chase down Andrews. With three laps remaining, Jorgensen drove high off of turn two and began to lose power as he slid back in the field. Akervik was able to get by Andrews to take the win. James Vendela, two time winner
Trevor Treviranus, and Rookie Tanner Gehl rounded out the top five.
The evening's festivities finished up with nineteen Hornets going for twelve laps in their feature event. Michael Egan and Superior's Rick Andrews led the field to the green which produced a caution flag when Josh Johnson, Jr turned around in the fourth turn. Jase Wiarda had taken the lead from row three, but the caution flag flew before a lap was finished so it was a complete restart. The second try produced another caution flag when Johnson and Ryder Gangl tangled in turn two. Johnson was sent to the pits and, "The third time was the charm" as this time the start was clean. Egan took the lead over Andrews, Tyler Schramm, Kristi Marken and Kyle House. It was Jase Wiarda who was on the charge and soon blew by everyone to take the lead which he held to the checkered flag. Wiarda buzzed off to a huge lead over Marken who was all alone in second far ahead of A. J. House in third. Wiarda had little trouble taking his first ever feature win at GLS, and a sweep to boot as he won the first of two heats. It was his second feature win of the season as he captured the feature at ABC Raceway the previous Saturday. Hunter
McDougall (8th) was fourth while Egan held on for fifth.
Next Friday June 26th GLS will have a visit from the UMSS Sprints Winged and Non Winged, presented by Jo's Grab & Go. Also on the card will be the WISSOTA Modifieds, Super Stocks, Hornets and a visit from the Northern Vintage Stock Car club.
Next Sunday June 28th GLS will have a visit from the WISSOTA Late Models and the Northern Renegade Non Winged Sprints with WISSOTA Midwest Modifieds, Pure Stocks and Hornets. The Sunday show will have a different start time: Hot Laps at 5 o'clock, racing at 5:30.
---
Article Credit: Jerry O'Brien
Article Media
Back to News