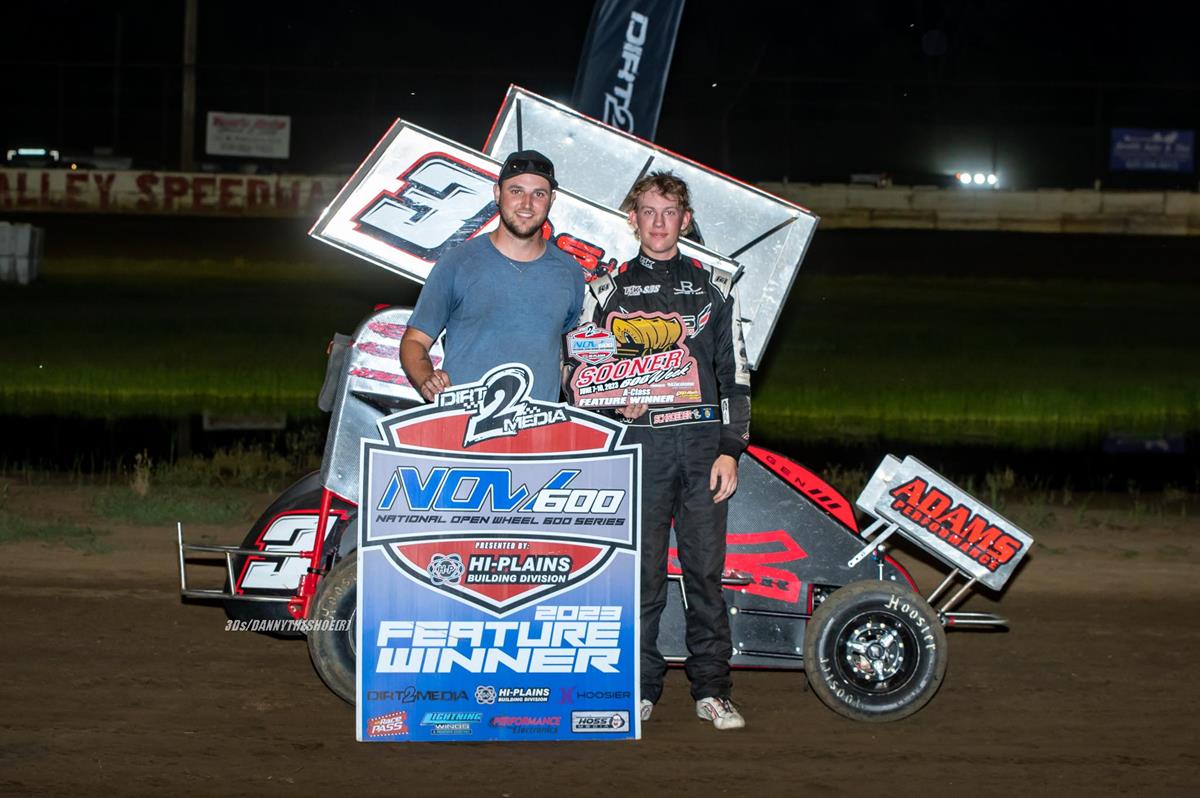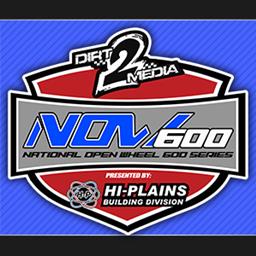 6/8/2023
NOW600 National Micros
---
Sooner 600 Week Opens With Schroeder, Torgerson, and Nunley Winning At Caney Valley Speedway
(NOW600 At Caney Valley Speedway | June 7, 2023 | Image Credit: Danny Clum)
Bryan Hulbert – CANEY, Kan. (June 7, 2023) Kicking off the seventh Sooner 600 Week presented by Milestone Home Service, Co. at Caney Valley Speedway on Wednesday, June 7, the Dirt2Media National Open Wheel 600 Series presented by Hi-Plains Building Division added Cole Schroder and Austin Torgerson to the list of National Micro winner, while Jett Nunley overtook Ryan Timms on the all-time Restricted win list.
Welcoming a field of 73 entries to the quarter-mile-oval, 32 of those took part in A-Class where Montana's Cole Schroder kept pace from start to finish to become the division's 56th different winner. Jett Hays crossed second with Harley Hollan third. Elijah Gile fourth was trailed by Jett Nunley, who made it to fifth from 14th.
A dominant force in the Arizona micro scene, Austin Torgerson brought that same tenacity to Kansas where the No. 88 jumped from fourth to first by Lap 3. Keeping pace from there through numerous restarts, the Glendale, Ariz. shoe crossed 1.064-seconds ahead of Jett Hays for his second silver score of the night. Cole Schroder third, was followed by Matt Car and Isaiah Garcia to complete the top five.
Tied with Ryan Timms going into the weekend at 21 wins, Marlow's Jett Nunley finally completed his season's goal of taking his win total to 22 in Restricted competition. Unstoppable from the start, the No. 33 bested the field by 2.997-seconds. Fining the high line to second, Carson Bolden was followed by Cale Lagroon. Kyle Hooper was fourth with Deekan McRoberts in fifth.
Sooner 600 Week presented by Milestone Home Service, Co. continues Thursday, June 8 at Creek County Speedway in Sapulpa, Okla. Tickets are $10 for adults, $5 for youth (11-14), and free for kids 10 and under. Grandstands open at 5:00 P.M. with racing at 7:30 P.M.
Fans not able to attend can see every lap live on https://www.now600.tv and http://www.dirt2media.tv.
The 2023 season marks the 11th year of competition for the National Open Wheel 600 Series. Anchored by the Dirt2Media NOW600 National Championship, the NOW600 Series comprises several regional tours and sanctioned racetracks. The NOW600 National Championship features three divisions of 600cc micro sprints at each event: Stock Non-Wing, Winged A-Class, and Restricted 'A' Class.
To keep up on everything happening with the National Open Wheel 600 Series, from the National Tour to Regional and Weekly racing lineups, log onto http://www.now600series.com and make sure to follow the tour on Facebook and Twitter (@NOW600Series).
Race Results:
Dirt2Media NOW600 Series
Caney Valley Speedway (Caney, Kan.)
Sooner 600 Week – Round 1
Wednesday, June 7, 2023
Winged A-Class
Hi Plains Building Division A-Main (25 Laps): 1. 3-Cole Schroeder[1]; 2. 11X-Jett Hays[4]; 3. 14H-Harley Hollan[3]; 4. 13-Elijah Gile[2]; 5. 33-Jett Nunley[14]; 6. 25-Maverick Elkins[12]; 7. 83-Brant Woods[11]; 8. 2B-Garrett Benson[18]; 9. 93-Matt Carr[10]; 10. 27KW-Kaden Weger[8]; 11. 24C-Cale Lagroon[15]; 12. 14G-Madelyn Gjerness[17]; 13. 5-Ryder McCutcheon[16]; 14. 77E-Cole Esgar[20]; 15. 938-Bradley Fezard[19]; 16. 81-Frank Flud[6]; 17. 00-TJ Stark[9]; 18. 17S-Baron Silva[7]; 19. 72-Alex Karpowicz[5]; 20. 22-Jesse Pate[13]
Hoss Media B-Main 1 (12 Laps): 1. 24C-Cale Lagroon[2]; 2. 5-Ryder McCutcheon[6]; 3. 14G-Madelyn Gjerness[4]; 4. 2B-Garrett Benson[3]; 5. 938-Bradley Fezard[5]; 6. 77E-Cole Esgar[1]; 7. 34-Colton Robinson[7]; 8. 17E-Kaylee Esgar[8]; 9. B2-Carson Bolden[13]; 10. 82-Robert Randolph[10]; 11. 2-Lathe Griggs[14]; 12. 14F-Bobby Wofford Jr[16]; 13. 42-Ashley Afdahl[18]; 14. 15-Brody Brown[11]; 15. 78C-Chance Cody[9]; 16. 9F-Ryan Frandsen[12]; 17. 9A-Hunter Hanson[17]; 18. 11J-Joey Starnes[15]
Milestone Home Service Co Heat 1 (8 Laps): 1. 11X-Jett Hays[4]; 2. 93-Matt Carr[2]; 3. 27KW-Kaden Weger[6]; 4. 25-Maverick Elkins[7]; 5. 14G-Madelyn Gjerness[5]; 6. 9F-Ryan Frandsen[1]; 7. 15-Brody Brown[3]; 8. (DNS) 9A-Hunter Hanson
Milestone Home Service Co Heat 2 (8 Laps): 1. 14H-Harley Hollan[4]; 2. 83-Brant Woods[1]; 3. 00-TJ Stark[6]; 4. 24C-Cale Lagroon[5]; 5. 938-Bradley Fezard[2]; 6. 34-Colton Robinson[3]; 7. 82-Robert Randolph[8]; 8. 14F-Bobby Wofford Jr[7]
Milestone Home Service Co Heat 3 (8 Laps): 1. 81-Frank Flud[2]; 2. 3-Cole Schroeder[4]; 3. 33-Jett Nunley[1]; 4. 22-Jesse Pate[6]; 5. 2B-Garrett Benson[3]; 6. 78C-Chance Cody[5]; 7. B2-Carson Bolden[7]; 8. 42-Ashley Afdahl[8]
Milestone Home Service Co Heat 4 (8 Laps): 1. 72-Alex Karpowicz[2]; 2. 13-Elijah Gile[4]; 3. 17S-Baron Silva[7]; 4. 77E-Cole Esgar[5]; 5. 17E-Kaylee Esgar[1]; 6. 5-Ryder McCutcheon[3]; 7. 2-Lathe Griggs[6]; 8. 11J-Joey Starnes[8]
Performance Electronics Qualifying 1 (3 Laps): 1. 11X-Jett Hays, 13.908[2]; 2. 15-Brody Brown, 14.135[8]; 3. 93-Matt Carr, 14.221[4]; 4. 9F-Ryan Frandsen, 14.223[3]; 5. 14G-Madelyn Gjerness, 14.414[1]; 6. 27KW-Kaden Weger, 14.486[7]; 7. 25-Maverick Elkins, 14.486[5]; 8. 9A-Hunter Hanson, NT
Performance Electronics Qualifying 2 (3 Laps): 1. 14H-Harley Hollan, 14.190[5]; 2. 34-Colton Robinson, 14.272[2]; 3. 938-Bradley Fezard, 14.301[7]; 4. 83-Brant Woods, 14.408[8]; 5. 24C-Cale Lagroon, 14.416[1]; 6. 00-TJ Stark, 14.501[3]; 7. 14F-Bobby Wofford Jr, 14.691[4]; 8. 82-Robert Randolph, 14.741[6]
Performance Electronics Qualifying 3 (3 Laps): 1. 3-Cole Schroeder, 13.938[8]; 2. 2B-Garrett Benson, 14.043[7]; 3. 81-Frank Flud, 14.046[4]; 4. 33-Jett Nunley, 14.054[3]; 5. 78C-Chance Cody, 14.098[5]; 6. 22-Jesse Pate, 14.201[1]; 7. B2-Carson Bolden, 14.311[6]; 8. (DNS) 42-Ashley Afdahl NT
Performance Electronics Qualifying 4 (3 Laps): 1. 13-Elijah Gile, 13.769[3]; 2. 5-Ryder McCutcheon, 13.999[2]; 3. 72-Alex Karpowicz, 14.021[6]; 4. 17E-Kaylee Esgar, 14.048[7]; 5. 77E-Cole Esgar, 14.091[5]; 6. 11J-Joey Starnes, 14.213[4]; 7. 17S-Baron Silva, 14.333[1]; 8. 2-Lathe Griggs, 14.393[8]
Stock Non-Wing
Hi-Plains Building Division A-Main (25 Laps): 1. 88-Austin Torgerson[4]; 2. 11X-Jett Hays[5]; 3. 3-Cole Schroeder[3]; 4. 93-Matt Carr[13]; 5. 17G-Isaiah Garcia[14]; 6. 72-Alex Karpowicz[2]; 7. 13-Elijah Gile[7]; 8. 22-Jesse Pate[19]; 9. 938-Bradley Fezard[9]; 10. 82-Seth Shebester[16]; 11. 9F-Ryan Frandsen[6]; 12. 81-Frank Flud[8]; 13. 25-Maverick Elkins[18]; 14. 49-Daniel Shaffer[17]; 15. 5-Ryder McCutcheon[11]; 16. 27KW-Kaden Weger[10]; 17. 34-Colton Robinson[15]; 18. 17S-Baron Silva[1]; 19. 24T-Glenn James Bratti[12]; 20. 15-Brody Brown[20]
Hoss Media B-Main 1 (12 Laps): 1. 34-Colton Robinson[3]; 2. 82-Seth Shebester[7]; 3. 49-Daniel Shaffer[2]; 4. 25-Maverick Elkins[9]; 5. 22-Jesse Pate[12]; 6. 15-Brody Brown[4]; 7. 14G-Madelyn Gjerness[6]; 8. 4-Brent Shoemaker[10]; 9. 3L-Lathe Griggs[5]; 10. 20-Tony Morris[8]; 11. 11J-Joey Starnes[1]; 12. 51K-Kaimron Schoonover[11]
Milestone Home Service Co Heat 1 (8 Laps): 1. 72-Alex Karpowicz[2]; 2. 938-Bradley Fezard[1]; 3. 13-Elijah Gile[4]; 4. 27KW-Kaden Weger[6]; 5. 5-Ryder McCutcheon[9]; 6. 34-Colton Robinson[5]; 7. 14G-Madelyn Gjerness[3]; 8. 4-Brent Shoemaker[7]; 9. 51K-Kaimron Schoonover[8]
Milestone Home Service Co Heat 2 (8 Laps): 1. 3-Cole Schroeder[2]; 2. 11X-Jett Hays[4]; 3. 81-Frank Flud[3]; 4. 17G-Isaiah Garcia[1]; 5. 93-Matt Carr[7]; 6. 49-Daniel Shaffer[5]; 7. 3L-Lathe Griggs[8]; 8. 20-Tony Morris[9]; 9. 22-Jesse Pate[6]
Milestone Home Service Co Heat 3 (8 Laps): 1. 9F-Ryan Frandsen[5]; 2. 88-Austin Torgerson[4]; 3. 17S-Baron Silva[7]; 4. 24T-Glenn James Bratti[6]; 5. 11J-Joey Starnes[1]; 6. 15-Brody Brown[2]; 7. 82-Seth Shebester[3]; 8. 25-Maverick Elkins[8]
Performance Electronics Qualifying 1 (3 Laps): 1. 13-Elijah Gile, 14.318[5]; 2. 14G-Madelyn Gjerness, 14.351[9]; 3. 72-Alex Karpowicz, 14.501[6]; 4. 938-Bradley Fezard, 14.575[3]; 5. 34-Colton Robinson, 14.596[4]; 6. 27KW-Kaden Weger, 15.064[2]; 7. 4-Brent Shoemaker, 15.186[8]; 8. 51K-Kaimron Schoonover, 15.186[1]; 9. 5-Ryder McCutcheon, NT
Performance Electronics Qualifying 2 (3 Laps): 1. 11X-Jett Hays, 14.148[3]; 2. 81-Frank Flud, 14.220[8]; 3. 3-Cole Schroeder, 14.335[2]; 4. 17G-Isaiah Garcia, 14.427[6]; 5. 49-Daniel Shaffer, 14.434[5]; 6. 22-Jesse Pate, 14.454[4]; 7. 93-Matt Carr, 14.478[7]; 8. 3L-Lathe Griggs, 14.759[9]; 9. 20-Tony Morris, 15.606[1]
Qualifying 3 (3 Laps): 1. 88-Austin Torgerson, 14.344[8]; 2. 82-Seth Shebester, 14.363[6]; 3. 15-Brody Brown, 14.376[7]; 4. 11J-Joey Starnes, 14.384[4]; 5. 9F-Ryan Frandsen, 14.400[5]; 6. 25-Maverick Elkins, 14.494[1]; 7. 24T-Glenn James Bratti, 14.519[2]; 8. 17S-Baron Silva, 14.574[3]
Restricted A-Class
Hi Plains Building Division A-Main (25 Laps): 1. 33-Jett Nunley[1]; 2. B2-Carson Bolden[6]; 3. 24C-Cale Lagroon[4]; 4. 75-Deekan McRoberts[14]; 5. 87C-Callan Hill[11]; 6. 14K-Kyle Hooper[10]; 7. 73F-Ty Fulghum[2]; 8. 4-Jude Allgayer[5]; 9. 83-Dawson Woods[9]; 10. 18-Tityn Roberts[12]; 11. GH7-Garyn Howard[3]; 12. 88K-Bryce Kujath[15]; 13. 97-Cash Lacombe[7]; 14. 31BW-Braxton Weger[8]; 15. 73-Chase McDougal[13]
Milestone Home Service Co Heat 1 (8 Laps): 1. 33-Jett Nunley[4]; 2. 4-Jude Allgayer[2]; 3. B2-Carson Bolden[3]; 4. 83-Dawson Woods[1]; 5. 14K-Kyle Hooper[5]; 6. 87C-Callan Hill[6]; 7. 75-Deekan McRoberts[7]; 8. 88K-Bryce Kujath[8]
Milestone Home Service Co Heat 2 (8 Laps): 1. 73F-Ty Fulghum[2]; 2. GH7-Garyn Howard[3]; 3. 24C-Cale Lagroon[4]; 4. 31BW-Braxton Weger[1]; 5. 97-Cash Lacombe[6]; 6. 18-Tityn Roberts[5]; 7. (DNS) 73-Chase McDougal
Performance Electronics Qualifying 1 (3 Laps): 1. 33-Jett Nunley, 14.856[8]; 2. B2-Carson Bolden, 15.039[3]; 3. 4-Jude Allgayer, 15.059[2]; 4. 83-Dawson Woods, 15.131[7]; 5. 14K-Kyle Hooper, 15.172[4]; 6. 87C-Callan Hill, 15.395[1]; 7. 75-Deekan McRoberts, 15.500[6]; 8. 88K-Bryce Kujath, 15.516[5]
Performance Electronics Qualifying 2 (3 Laps): 1. 24C-Cale Lagroon, 14.998[7]; 2. GH7-Garyn Howard, 15.057[4]; 3. 73F-Ty Fulghum, 15.082[1]; 4. 31BW-Braxton Weger, 15.117[6]; 5. 18-Tityn Roberts, 15.150[5]; 6. 97-Cash Lacombe, 15.186[3]; 7. 73-Chase McDougal, 15.203[2]
---
Submitted By: Bryan Hulbert
Article Media
Back to News