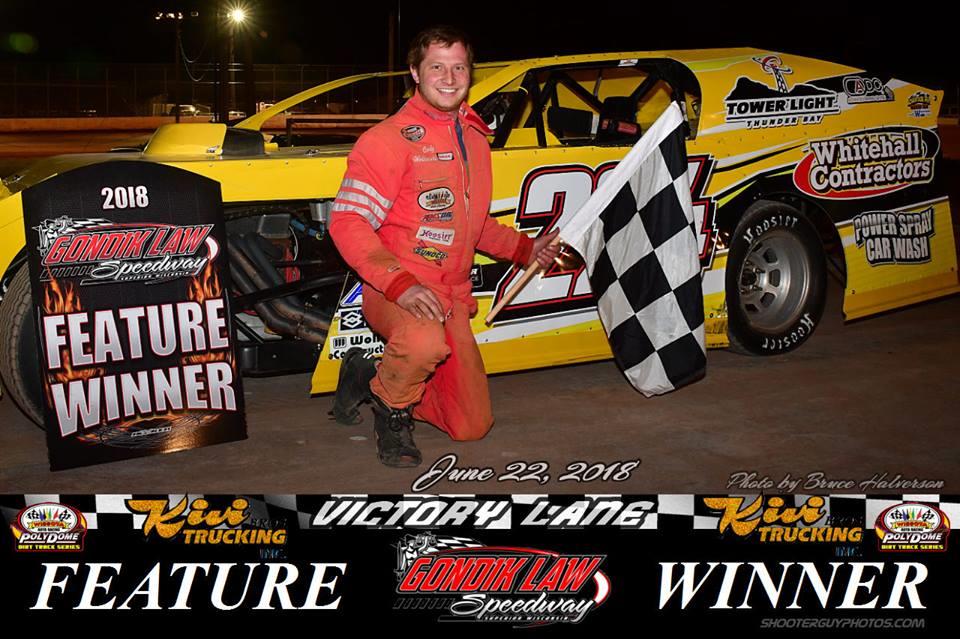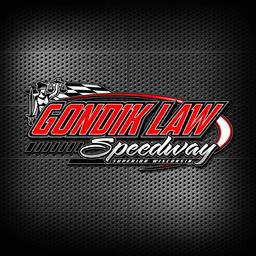 6/24/2018
Gondik Law Speedway
---
Hanson Handles UMSS Sprint Field at GLS; Wolkowski Tops Mods in Thriller
Hanson Handles UMSS Sprint Field at GLS; Wolkowski Tops Mods in Thriller
by Nick Gima
Superior, WI, June 22 -- It was a happy homecoming for Harry Hanson at Gondik Law Speedway on Friday night.
The veteran racer from Eveleth, MN, who has turned many a lap and won many a race on the big four-tenths-mile oval, added another milestone achievement to his 46-year racing career by running away with the victory Upper Midwest Sprint Car Series (UMSS) Traditional sprints feature. In Autumn 2017, Hanson announced his retirement from stock-bodied racing, opting instead to run a limited schedule in the region's wingless sprint tours this summer and, in essence, return to his racing roots.
The program, which was presented by Rivord Repair Center and Dick's Transmission, also included four of the track's five regular weekly divisions and saw 84 total entries compete on a cool, pleasant night in front of a nice-sized crowd eager to see some racing at the big track at the head of Lake Superior.
The non-winged sprints were on hand for the first night of a four-race swing through the region, staging the UMSS drivers - who traveled primarily from the Twin Cities and surrounding area - against their counterparts from the similarly-styled Northern Renegades sprint series, who mostly hail from northern Minnesota. The match-up was promoted as the North-South Challenge, and Hanson, a long-time local WISSOTA Late Model star, represented the northern contingent quite well.
After the field of 15 wingless sprints treated the fans to a three-wide parade lap, and the crowd responding with a "starlight salute" (most using their flashlight functions on their cell phones), Anna Hippe and Bryan Roach led the field to the green flag. Hippe got the early edge, while second-row starters Mike Mueller and Hanson stayed close.
Hippe pulled away over the first four laps, but Mueller cleared Roach and drew to Hippe's rear pushbar within a single circuit. Mueller then used an inside pass to take the lead on lap 5 and was already catching backmarkers within two more tours.
Hanson saw that the upper groove around the smooth, fast oval wasn't being occupied, so he changed lanes. The move paid off quickly, as he overtook Roach and a hard-charging Jon Lewerer to gain third by lap 6. Hanson then swept around Hippe a lap later and set his sights on the leader.
Mueller had Hanson in his shadow when the race's only caution stoppage came on lap 10, after Neal Matuska's ride slapped the turn 2 wall. On the single-file restart Hanson went upstairs again, drew alongside Mueller for a couple laps, and then drove by to take the lead for good coming off the fourth turn to complete lap 12.
From there the fan favorite delighted the crowd by pulling away, steadily stretching his lead to a straightaway over Mueller, who was never challenged for second.
Deeper in the field, though, several drivers swapped positions frequently, especially in the middle of the top-ten, before Brad Peterson took over third place for good, ahead of Hippe and Lewerer.
"I think they let the old guy win tonight," Hanson joked in Victory Lane after the popular win. "We used to run the high side here in the Late Model, so when it opened up I thought I'd give it a try, and ... it worked!"
It was the second sprint win in as many nights for Hanson, who also won the Northern Renegades A-main at Grand Rapids, MN, on Thursday. Hanson also set a fast lap during the race of 18.577 seconds, or a 77.515 mph average.
Another driver who sent the crowd home happy - or at least the strong Canadian following - was Cody Wolkowski, who earned his first-ever WISSOTA Modified feature win. And "earned" is an understatement, as local star Jody Bellefeuille gave the visitor from "up north" all he could handle.
Wolkowski started on the pole, but outside front-row starter Rick Rivord gained the advantage into the first turn at the start of the 20-lap run. Unfortunately for Rivord the move was negated by Pat Cook's spin in mid-pack on the opening lap, and the young Thunder Bay, ON, speedster held off Rivord's challenges on the subsequent restart and paced the field through the first five laps.
Al Uotinen had grabbed second for a lap or two, but Rivord fought back. Rivord then closed the gap to the leader and took a peak to the inside on lap 5, then made an inside pass stick the next time around. But Wolkowski stayed close and threatened to take the lead back right up until the race's only yellow flag flew, for Neil Balduc's spun racer on lap 7. Wolkowski restarted off Rivord's right flank, and at the green he went high to reclaim the lead, while behind them Skeeter Estey and Bellefeuille surrounded Uotinen and displaced him a couple spots, with Estey taking third.
On the very next lap Bellefeuille ran the high side and made his way past a battling Estey and Rivord, and over the remaining 13 laps, which clicked off without a hitch, Wolkowski and Bellefeuille ran off to decide the win. Wolkowski ran a smooth upper-groove line, while Bellefeuille worked both high and low to close the distance. With two laps to go both drivers worked by the slower Tyler Luger, with Bellefeuille showing his car's nose to the inside to prove to Wolkowski that he was close. The pair put on a great show in the race for the win, but Wolkowski held off the final challenge by less than a car-length.
Estey trailed at a distance in third, followed by Rivord and Uotinen.
Defending track WISSOTA Super Stock champion Kevin Burdick of Proctor, MN, picked up his first feature win of the season here. Burdick made a strong lap 2 move to slip into second as Scott Lawrence, DJ Keeler and Keith Kern diced for position behind polestarter and early leader Andy Grymala.
After a lap 2 spin by South Dakota visitor Kip Myers, Burdick challenged Grymala by changing to an outside line, and on lap 3 he made what eventually became the pass for the win. Grymala stayed close for a couple more trips around the oval, but eventually he fell back into a discussion with Dave Flynn over the runner-up position.
Just as Burdick was about to start lapping the tail of the field, the caution lights came on for just the second time in the run on lap 11, and Flynn, restarting on the outside of the row behind the leader, took second place away from Grymala as the green flag flew. But just like Grymala, Flynn could not keep pace with the leader, as Burdick ran off to the win and his 17th straight top-five feature finish at Superior.
Nick Oreskovich also took advantage of the restart to claim third, ahead of Lawrence and Grymala.
The 20-lap WISSOTA Midwest Modified feature was trimmed to just 13 laps, as multiple caution-flag stoppages put a damper on what was shaping up to be a great race for the win. After an opening-lap try ended with a Wayne Jacques spin, polestarter McLean Andrews looked impressive early, outrunning a strong Brandon Copp for the first couple of laps. Estey, performing double-duty on this night, came from the third row to displace Ryan Savoy and Jack Rivord and pulled up behind Copp, just before a spin by Billy Milne stopped the race again.
On the re-do, Copp went high and Estey went low, and Copp came away with the lead ahead of Estey. Those two then pulled away to put on a great side-by-side show for the fans, while Shane Howell snuck through into a distant third. Estey had a run on Copp on lap 6, but a two-car tangle put another halt to the proceedings. Estey made a similar inside move stick a lap after the restart, and Andrew Inman grabbed third away from Howell, bringing a charging Dan Kingsley along to fourth.
Kingsley swiped third on the next go-around and reeled in the lead duo within another lap. Copp then bobbled just enough to allow Kingsley a shot at second, but Jack Rivord's spin slowed the pace again. Kingsley had another chance to clear Copp on the restart, but again a spun car stopped the show.
At this point the race bogged down, as five more times the yellow lights blinked on, and the field only completed four more laps to show for its efforts. Kingsley did finally get by Copp, on lap 11, and the crowd thought that it was in for a shootout between Estey, Kinglsey and Copp, with Howell and a quick-climbing Mack Estey very much in the mix. But after over 45 minutes and a failed single-file restart, the checkers were flown over the field and Skeeter Estey, of Kelly Lake, MN, was declared the winner. Kingsley, Copp, Howell and Mack Estey completed the top five.
The 15-lap WISSOTA Pure Stock feature started the main-event portion of the program with a bang, as perennial frontrunner Kyle Copp's ride ended up on its side in turn 1 on the original start, the victim of polestarter Caitlyn Carlson's dramatically-slowed racer and the swerving and dodging that ensued. Copp was unhurt but done for the race, and the realignment put Dylan Shelton alongside Cory Jorgensen for the restart.
Jorgensen snared the lead and began to build a buffer, but Shelton and James Vendela stormed back to his bumper. Vendela worked inside against Shelton to take second on lap 4, and after a couple more circuits he threatened Jorgensen for the lead. But Jorgensen fended off the challenge and drew away again by a couple lengths, just before a lap 9 spin by Shaina Rapp.
Shelton and Vendela wrestled side-by-side for second on the restart, allowing Jorgensen another chance to pull away, but Carlson's motor blew up on lap 13, spewing oil around turns 1 and 2, and just after the lead trio took the white flag they drove through the oil slick; both Vendela and Shelton looped their rides. With the mess cleaned up, the green-white-checkered finish saw Shelton drive the high line to pull just inches ahead of Jorgensen at the white flag, but the wily veteran from Hermantown, MN, came back to hold off the young hotshoe for his first win in a Pure Stock.
Vendela was hot on the heels of the lead pair in third, while Aaron Bernick and Chad Nikstad led a tight pack while running fourth and fifth, respectively.
On Saturday and Sunday, June 30-July 1, The Gondik Law Speedway will host its third annual Great Lake Border Battle, offering $10,000 to the winner of Sunday's headline Modified A-feature. This is one of the biggest, highest-paying Modified races in the Midwest, and many top-name drivers are expected to be in attendance.
WISSOTA Late Models will race for $2,000 to win each night as well, plus WISSOTA Midwest Mods will run for up to $1,500 to win and Pure Stocks $250 to win both nights. The pits and grandstands will open at 3 pm each day, and racing will start at 6 pm each night. An open practice session is scheduled for Friday, June 29, from 6-9 pm.
The Gondik Law Speedway is located at 4700 Tower Ave in Superior. For more information log onto the track's website, www.gondiklawspeedway.com.
Results
UMSS Traditional Sprints
Feature: 1-10: Harry Hanson, Eveleth, MN; Mike Mueller, Stacy, MN; Brad Peterson, Lake Elmo, MN; Anna Hippe, Albertville, MN; John Lewerer, Andover, MN; Scott Brandt, Andover, MN; Cam Schafer, Minneapolis, MN; Bryan Roach, Welch, MN; Al Stettner, Newport, MN; Gary Mueller, Chisago City, MN.
11-15: Paul Schultz, Grand Rapids, MN; Caley Emerson, Grand Rapids, MN; Tyler Wass, Big Fork, MN; Neal Matuska, Foley, MN; Kevin Lear, Braham, MN.
Heat 1: Roach; M Mueller; Hippe; Matuska; G Mueller; Schafer; Stettner; Wass.
Heat 2: Brandt; Hanson; Lewerer; Peterson; Schultz; Emerson; Lear.
WISSOTA Modifieds
Feature: 1-10: Cody Wolkowski, Thunder Bay, ON; Jody Bellefeuille, Duluth, MN; Skeeter Estey, Kelly Lake, MN; Rick Rivord, Superior; Al Uotinen, Superior; Andy Jones, Princeton, MN; Danny Vang, Deerwood, MN; Cody Carlson, Superior; Jeffrey Lien Jr, Mora, MN; Johnny Broking, Grand Rapids, MN.
11-19: Deven VanHouse, Silver Bay, MN; Donnie Lofdahl, Duluth, MN; Neil Balduc, Bessemer, MI; Pat Cook, Washburn; Jeff Lien, Mora, MN; Ryan Garson, Wrenshall, MN; Tyler Luger, Oxford; Bob Broking, Grand Rapids, MN; Duane Dale, Hibbing, MN.
Heat 1: Bellefeuille; J Broking; Uotinen; Vang; Cook; Balduc; Lien; Garson; Lien Jr; Dale.
Heat 2: Wolkowski; Rivord; Estey; Carlson; Jones; VanHouse; B Broking; Lofdahl; Luger.
WISSOTA Super Stocks
Feature: 1-10: Kevin Burdick, Proctor, MN; Dave Flynn, Superior; Nick Oreskovich, Mason; Scott Lawrence, Superior; Andy Grymala, Superior; DJ Keeler, Superior; Keith Kern, Superior; Matt Deragon, Ashland; Jim Campbell, Two Harbors, MN; Cole Chernosky, Thunder Bay, ON.
11-17: Kip Myers, Ethan, SD; Dan Yrjanson, Carlton, MN; Austin McWilliam, Thunder Bay, ON; Matthew Hammitt, Cloquet, MN; Rita Anderson, South Range; Annika Hammitt, Cloquet, MN; Mike Bellefeuille, Duluth, MN.
Heat 1: Flynn; Burdick; Lawrence; Myers; Chernosky; Campbell; Anderson; McWilliam; Bellefeuille.
Heat 2: Keeler; Grymala; Oreskovich; Kern; Deragon; Yrjanson; A Hammitt; M Hammitt.
WISSOTA Midwest Modifieds
Feature: 1-10: Skeeter Estey, Kelly Lake, MN; Dan Kingsley, Superior; Brandon Copp, Brule; Shane Howell, Buffalo, MN; Mack Estey, Hibbing, MN; Andrew Inman, Hermantown, MN; Nick DaRonco, Britt, MN; Deven VanHouse, Silver Bay, MN; David Simpson, Thunder Bay, ON; Ryan Savoy, Superior.
11-20: Mark Kangas, Eveleth, MN; Don Craig, Thunder Bay, ON; Tanner Williamson, Fort Frances, ON; McLean Andrews, Duluth, MN; Dalton Mains, Foxboro; Wyatt Boyum, International Falls, MN; Wayne Jacques, Thunder Bay, ON; Gunner Peterson, Mason; Calvin Iverson, Eleva; Craig Lofdahl, Duluth, MN.
21-23: Billy Milne, Thunder Bay, ON; Josh Heavirland, Cloquet, MN; Jack Rivord, Superior.
Heat 1: Kingsley; DaRonco; Andrews; M Estey; Lofdahl; Williamson; Craig; Mains.
Heat 2: Inman; Howell; Rivord; Iverson; Peterson; Heavirland; Boyum.
Heat 3: S Estey; Savoy; Copp; VanHouse; Jacques.
WISSOTA Pure Stocks
Feature: 1-10: Cory Jorgensen, Hermantown, MN; Dylan Shelton, Wrenshall, MN; James Vendela, South Range; Aaron Bernick, Duluth, MN; Chad Nikstad, Superior; Tyler Keup, Superior; Shaina Rapp, Saginaw, MN; Caitlyn Carlson, South Range; Darrin Lowney, Superior; Kyle Copp, Brule.
Heat 1: Copp; Vendela; Shelton; Bernick.
Heat 2: Jorgensen; Nikstad; Carlson; Lowney; Rapp.
Superior 6/22/18 opener results
Nick Gima
---
Article Credit: Nick Gima
Article Media
Back to News