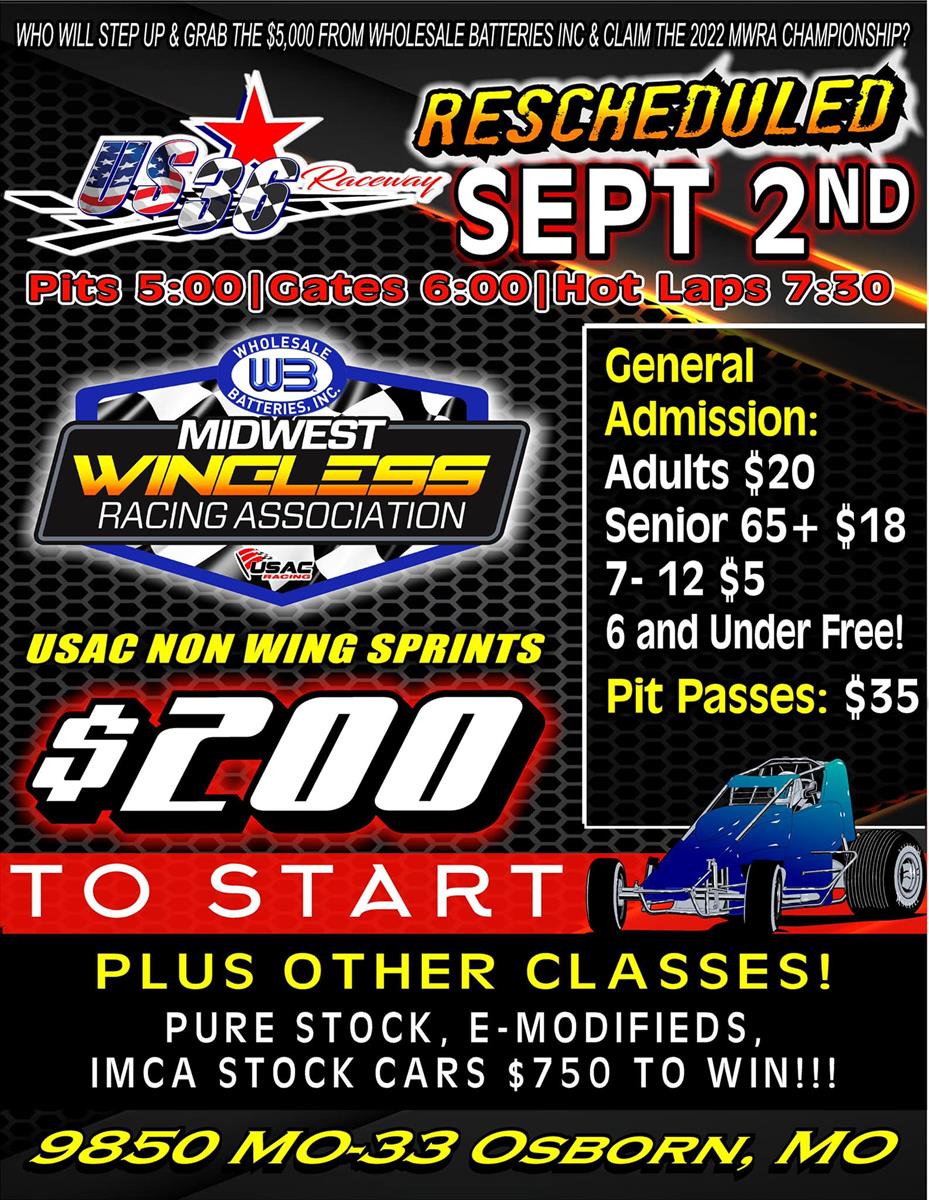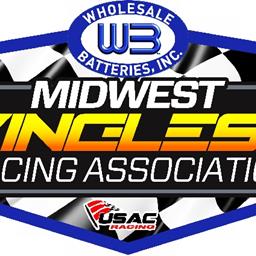 9/1/2022
Midwest Wingless Racing Association
---
Double Your Fun This Labor Day Weekend with the MWRA at US36 and Bethany!
This Friday night September 2nd at US 36 in Osborn, and then again Sunday Night September 4th at Bethany Speedway, located on the Northwest Missouri State Fairgrounds the stars of the Wholesale Batteries USAC MWRA Sprint Cars will compete in a double header not to be missed.
2020 MWRA Sprint Champ Wyatt Burks will lead the field into battle as the point leader this weekend driving the Don Rumsey 11w non winged sprint car wrenched by father Jeff Burks. In 2022 the "Sheriff" from Topeka, Kansas has won five times in non winged sprint competition, including two races in the MWRA. Previously Burks has won 3 times at US 36 in Midwest Wingless competition in 4 starts from 2020 to present. While finishing 4th the last time at US 36 in 2022 behind winner Wesley Smith of Nixa, Missouri, driving the Helm Racing/WSR Racing 12, runner up Cody Baker from Lone Jack, Mo. driving the THR sprinter, and Lone Jacks, Braydon Cromwell racing the Cromwell Racing number 4. That race also represents the only time this season Burks has not been on the podium in the Wyatt Burks Racing machine with the MWRA in 2022.
Speaking of Smith, the 2021 MWRA runner-up is a two time winner as well in this USAC series this season winning the lid lifter in June at US 36, and the last time out in August at Nevada Speedway for his 4th overall victory in 2022 driving non winged sprint cars. The Nixa chauffeur has also won 2 of the 4 races so far in MWRA competition at Bethany since 2020.
Gladstone, Missouri's Chris Parkinson has had a great year in non winged sprints running in the MWRA this year and currently runs second place in the 2022 point standings. The veteran campaigner, and former non winged champ, turned 50 this season but has not slowed down one bit. With Parkinson finishing 2nd at I-35 Speedway in July for his best result so far in 2022 driving the Parkinson Racing 65.
Also from Gladstone, Chad Winfrey driving the Chris Parkinson Racing 65w is having a breakout campaign in 2022 in his rookie season driving a sprint car for the first time this year. Winfrey, a former midget and quad champ is vying with A.J. Gilbert for Rookie of the Year honors with the series this season and currently sits 3rd place in points.
Going into this weekends racing at US 36 and Bethany, Oak Grove, Missouri racer Brian Scott Beebe is having another steady season running his 37b sprinter powered with a 360 motor campaigning against mainly 410 motored machines. Beebe has not finished outside the top 10 in any MWRA show in 2022.
Birthday Boy Dakota Earls of Independence, Missouri, is in his 3rd year of sprint car racing driving the Earls Racing 15e. Earls, who celebrated his 18th Birthday today, was the 2020 MWRA most improved driver, and currently rides in 5th place in the point standings, his highest ever spot in the standings this late in the season.
The Tonganoxie Terror, A.J. Gilbert driving the DGR Deuce is having a solid first year in sprint cars after leaving the midget ranks where he previously ran winning the 2019 Valley Speedway title. Gilbert is currently in a heated battle with Winfrey for ROY honors trailing the Gladstone racer by 55 points going into the final 3 races of 2022 while running in 6th place in points.
Rounding out the top 10 in points going into this weekend are veteran campaigners and former Michigan pavement hot shots Brad Wyatt of Kearney, Mo. driving his 41 non winged sprint car in 7th place in points and Chad Goff of Spring Hill, Ks. running in 8th place racing the Chad Goff Motorsports 9x. While Overland Parks Warren Wojo Johnson driving the Rick and Deb Maycock-Smith 90, in 9th, and KCMO's Tom Curran running the Curran 11 show the quality of every driver running in the top 10 in points with MWRA in 2022.
Several others outside the top 10 in points will provide great competition at the MWRA races this weekend at US 36 and Bethany. Including Overland Park, Ks. driver "Cool Hand Luke" Howard racing the Howard 2H. Howard won last years race at Bethany over Labor Day weekend after surviving a heated battle with 2021 MWRA champ Kory Schudy to win his first feature in the series. And has followed that result by also winning in 2022 earlier in July at I-35 Speedway in his sprinter wrenched by 3-time WAR champ Rick Smith.
Hailing from Ottumwa, Iowa, Lance Silvers the O-Town Outlaw driving his purple 7s returns to MWRA competition after finishing in the top 10 in points in 2021. While Buddy Parker of Wichita Falls, Texas, has had his best result so far in the MWRA finishing in the top 10 at I-35 racing the Linda Weld/Junior Parkinson 93.
Missouri's Justin Johnson has had a eventful year on and off the track in 2022 in his bid for ROY honors racing the Johnson 27. Unfortunately on the track that included a bad wreck at ELC that derailed him for a time. While joyfully off the track adding to his family with a new baby. While Independence, Missouri's Tyler Burton is running strong in the Charlie Burton 03.
Former Valley Speedway track Champ Chad Tye of Independence will be racing his familiar yellow and Orange 88. And Olathe, Kansas, driver Zach Clark in the Clark Racing 26 adding to this lineup that will also include Michael Moore running the KLR 2, Garrett Hulsey driving the 88, Heath Murry in his 7m, and Quinton Benson in the 15b, looking for his first MWRA win in 2022 after finishing 2nd place at 81 Speedway in June, and 2nd place in August the last time out at Nevada Speedway.
Join us this weekend in Northwest Missouri at US 36 in Osborn Friday Night September 2nd, and then just up the road at Bethany Speedway on September 4th, for a great double header of MWRA non winged sprints, as well as other classes both nights to complete your Labor Day weekend festivities.
USAC Racing
Wholesale Batteries, Inc.
JDLawsonMedia
Country Kids Day Care of Olathe
dirt2media.com
US 36 Raceway Dirt Track
Bethany Speedway
---
Article Credit: Ray Cunningham
Article Media
Back to News