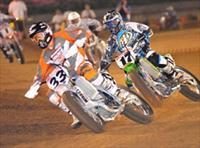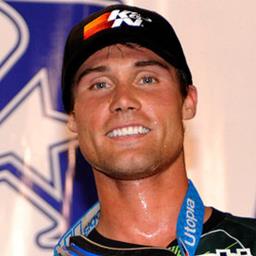 ---
Wiles Wins 2nd Straight Springfield TT
Henry Wiles won his second straight Springfield TT Saturday at the Illinois State Fair Arena track. The Jones Bros Kawasaki ace didn't have an easy go of it however, as veteran JR Schnabel, on the Memphis Shades Yamaha, led parts of the race and battled for the victory nearly all the way to the flag. In the end it was Wiles taking the win by a margin of 1.060 seconds. Sammy Halbert was third on the Halbert Family Race Team Yamaha, the Washington State rider finally earning a podium finish at the TT after finishing fourth last year.
Schnabel held the lead early in the race until a red flag came out after four laps. On the restart Wiles, who'd been running second to Schnabel, went to the front. Schnabel worked his way back to the lead and the two began an excellent battle for the top sport that would last most of the race.
As the leading duo pulled clear, defending Grand National Single champ Jake Johnson, now riding for SuperTrapp Honda, diced with Sammy Halbert for the final podium spot.
Just past the mid-way point in the 25-lap final, Wiles made an inside move on Schnabel in turn two, taking back the lead.
"It was a pretty tight pass," Wiles admitted. "We made contact a couple of times and I think I pushed him wide. I hope he didn't think it was too aggressive."
The ever sportsmanlike Schnabel said the pass Wiles made was tight, but added, "I probably would have done the same thing."
Schnabel mounted a counter attack, but could never quite find a way back around Wiles. Late in the race Wiles opened an ever-so-small gap to secure the victory.
The victory gives Wiles a nine-point lead on Schnabel in Grand National Singles. Sammy Halbert is third in the standings, 10 points back from Schnabel.
Back to News