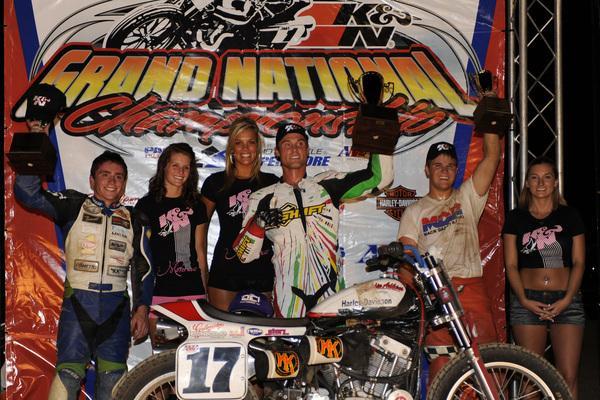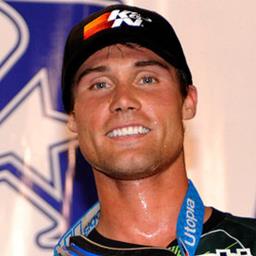 ---
Wiles Continues Dominant March with AMA...
[b Wiles Continues Dominant March with AMA Pro K&N Filters Grand National Championship Win in Lima]
[i LIMA, Ohio (June 27, 2010)] - The AMA Pro K&N Filters Grand National Championship presented by Motorcycle-Superstore.com switched from a Singles Short Track to a Twins Half Mile, but Henry Wiles never missed a beat. Wiles just devastated the Allen County Fairgrounds Half Mile in Lima, OH, leading the 25-lap National from start to finish. The dominating performance gave Wiles 50 consecutive laps led as he pushed his # 17 KK Motorcycle Supply / Mike & Eddie Adkins backed Harley-Davidson to a six-and-a-half second win over Sammy Halbert and his # 7 Kings Kustoms / KK Motorcycle Supply backed Harley-Davidson.
"I love this place. This is my kind of track and the fans really get into it. I can see them hanging on the fence all the way around," said Wiles. "I just tried to get away in the National. It seemed like I was in lapped traffic real soon. It was like, this isn't the heat race, these are the best of the best. This is really just great, now we've got to get it together for the groove tracks coming up."
Wiles couldn't have been better as he set the fast qualifying time, won the fastest heat, captures the 5 points and $2,000 in the dash and then dominated the National. The George Roeder Memorial Dash featured double the normal purse for the four-lap race.
Wiles led the hungry horde into turn one when the green light flashed on the eighteen rider K&N Filters Twins Grand National Championship grid. Joe Kopp # 3 Latus Harley-Davidson / ENI USA R&M / Lloyd Brothers Motorsports backed Ducati, Sammy Halbert, Jake Johnson # 5 Zanotti Racing / Leo Vince's Harley-Davidson and Defending Twins Series Champion Jared Mees # 1 Rogers Lake Racing / Blue Springs Harley-Davidson / Lucas Oil were bunched right behind.
Wiles quickly pulled away as Halbert also separated himself from the pack. Wiles' and Halbert's race looked to be settled and both were into serious lapped traffic by lap 15. Two years ago Wiles lost this race when a lapped rider opened the door for Joe Kopp to nip him at the line. No chance of that this year as Wiles sliced and diced his way through the field, lapping all the way up to eighth place. Ironically Kopp was the last rider he lapped right at the finish line.
The race was now for third as Johnson, # 42 Bryan Smith (Monster Energy Kawasaki Werner Springsteen Racing Kawasaki), Mees and # 20 Matt Weidman (White's Harley-Davidson / SNIP / Mack Daddy Racing Harley-Davidson) battled away.
Smith was looking to put his potent Kawasaki on the podium for the second straight time as he and Johnson exchanged the position all around the track, but it was the youngster from New York, Weidman, who would prevail earning his first ever Grand National podium finish.
Smith finished a couple of seconds back in fourth, followed by Johnson and Mees. Greg Crow Racing / Salina Harley Davidson's # 61 Dustin Crow was a solid seventh with # 4 Chris Carr (Lancaster Harley-Davidson / Dallas-Fort Worth Honda backed Harley-Davidson), Kopp and # 80 Stevie Bonsey (Johnny Goad / Alpinestars backed Harley-Davidson) filled out the top ten.
After winning three of the last four races Henry Wiles has moved into a points tie for the AMA Pro K&N Filters Grand National Championship presented by Motorcycle-Superstore.com Championship with Joe Kopp at 129 points. Jake Johnson is just eight points back with Sammy Halbert and Jared Mees another five and six points back. Three-time Grand National Champion Kenny Coolbeth is lurking 31 points off the pace, but with some strong races for him coming up.
Back to News