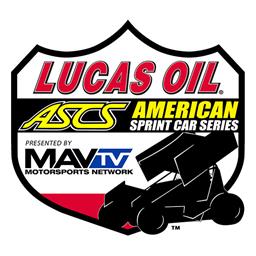 ---
Randi Miller tops Frontier Region Season Finale
Bryan Hulbert - BILLINGS, Mont. (September 21, 2013) The inaugural season for the ASCS Frontier Region closed their season on Saturday night at the Billings Motorsports Park with Randi Miller taking his second victory of the 2013 season.
Miller, who drew the outside of the front row, led the distance with Trever Kirkland and Friday night's winner Kelly Miller making up the podium. Phil Dietz crossed fourth to secure the 2013 Frontier Regional championship with David Hoiness completing the top five.
Bill Boyce, Paxton Lambrecht, Jeremy McCune, Josh Ostermiller, and Eric Flatmoe completed the top ten.
ASCS Frontier Region
Billing Motorsports Park - Billings, Mont
Saturday, September 21, 2013
Car Count: 22
Heat 1 (8 Laps): 1. 72-Phil Dietz; 2. 27DD-David Hoiness; 3. 10-Anthony Farnsworth; 4. 1-Bill Boyce; 5. 77X-Nate Maxwell; 6. 13-Ryan Parks
Heat 2 (8 Laps): 1. 0J-Jeremy McCune; 2. 12X-Josh Ostermiller; 3. 05-Justin Wolf Medlock; 4. 21W-Calvin Fitch; 5. 21-Ryder Olson; 6. 11-Cliff Nelson
Heat 3 (8 Laps): 1. 38-Bryan Brown; 2. 12-Paxton Lambrecht; 3. 29-Eric Flatmoe; 4. 2-Shad Peterson; 5. 81-Darren Smith; 6. 8X-Roger Cummings
A Feature (25 Laps): 1. 90-Randi Miller; 2. 37-Trever Kirkland; 3. 44-Kelly Miller; 4. 72-Phil Dietz; 5. 27DD-David Hoiness; 6. 1-Bill Boyce; 7. 12-Paxton Lambrecht; 8. 0J-Jeremy McCune; 9. 12X-Josh Ostermiller; 10. 29-Eric Flatmoe; 11. 38-Bryan Brown; 12. 2-Shad Peterson; 13. 81-Darren Smith; 14. 21W-Calvin Fitch; 15. 77X-Nate Maxwell; 16. 05-Justin Wolf Medlock; 17. 11-Cliff Nelson; DNF 10-Anthony Farnsworth; DNF 13-Ryan Parks; DNF 98-Joe Ramaker; DNF 8X-Roger Cummings; DNS 21-Ryder Olson
Lap Leader(s): Randi Miller (1-25)
---
Submitted By: Bryan Hulbert
Back to News