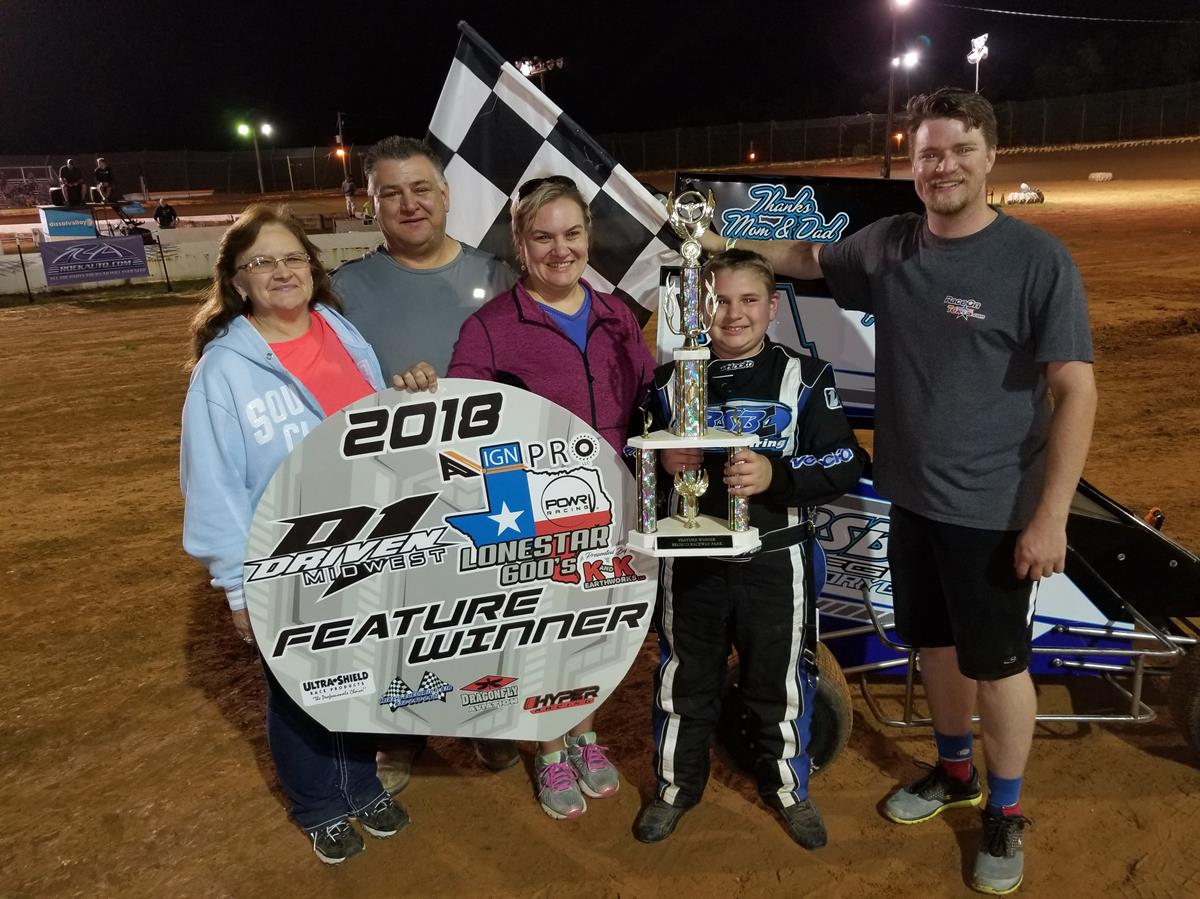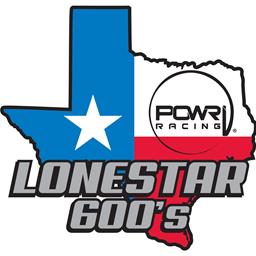 3/25/2018
POWRi Lonestar 600's Non Wing
---
Buford, Zakalowski & Weir Victorious at 105 Speedway
The POWRi Align Pro Lonestar 600's presented by K & K Earthworks roll into 105 Speedway in Cleveland, Texas for the second time this 2018 season. A beautiful spring day and a racing surface begging to play. 27 600's, 8 Restrictors, & 6 Jr. Sprints check in for the nights action.
600's heats hit the track. Bush's Chicken! Heat 1 winner- Wyatt Rector. Day Motorsports Heat 2 winner- Isaiah Garcia. Smileys Racing Heat 3 winner- Weldon Buford. Hyper Racing Heat 4 winner- Karter Battarbee. Restrictor Bush's Chicken Heat winner- Christopher Townsend. Jr. Sprints Bush's Chicken Heat winner- Trevor Twardeski.
No 600's B-main tonight. That's right! The track is taking em' all straight to the A. A short intermission. Redraw & line ups are made. The race track is ready for it's competitors.
600's, roll out. Karter Battarbee & Weldon Buford set the pace. Green is out. Hand full of laps in. Debris caution due to a muffler. Back under green. Buford steps out front. Karter Battarbee and Isaiah Garcia battle it out for second. Caleb Martin and Jacob Lucas are close behind. Lucas trying to rail in the top. Blake Moeller has entered the ring. A few minor cautions due to spinning cars. Buford remains out front. Garcia into 2nd. Waiting for any wrong move. Martin has charged to 3rd. Followed by Lucas & Battarbee. A caution brings out a green, white, checkered. Garcia is on the prowl. Buford leads. Coming out of 3 & into 4, Garcia is giving it his best shot. Buford dominates and holds Garcia off by half a car length. Weldon Buford gives the crowd a show with a dusty donut. He parks his 01 machine in the Driven Performance Midwest Feature Winner victory lane. Picking up that $750 cash prize!
Restrictors, to the hotgrid! It's go time! Christopher Townsend jumps out to the lead. Landen Zakalowski in second. Wyatt Wilkerson holding 3rd. First lap in, a body panels comes loose from Townsend. By the last threads, it hangs on until 3 to go. Caution comes out. Townsend to the rear. Zakalowski takes over the lead. Wyatt Wilkerson in 2nd. Jayton Brown moves into 3rd. Checkers wave & Landen Zakalowski snags him a "W"! The #57 ride parks it in the Driven Performance Midwest Feature Winner victory lane! $300 bucks in hos pocket too!
Jr. Sprints, you are up! Kole Weir takes the green and runs with it. The field has spread out. Trevor Twardeski is second. Half way mark & Cam Spake spins it around. Finding a infield tire. Driver rejoins the race at the tail. Weir still out front. Twardeski got his shipment & is hauling the mail now. Shows his nose a time or two. Weir holds onto it. Checkers arrive! Kole Weir wheels his #11 mobile into the Driven Performance Midwest Feature Winner victory lane!
We can't thank each and everyone who joins us enough! We had blast & look forward to the next!
Two week break from racing to regroup. Then we are back at it April 14th at 105 Speedway for another $750 To Win for the Non Wing 600's and $300 To Win Restrictor's along with Jr Sprints.
We from the POWRi Align Pro Lonestar 600's presented by K and K Earthworks would like to wish you all a very Blessed & Happy Easter!!!
---
Article Media
Back to News