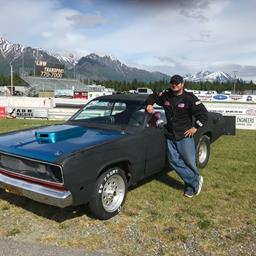 Alex Van Nice
Wasilla, AK
Driver Information
I have been into cars for most of my life. As with most racers, my hobby started with Hot Wheels, Then progressed to working on vehicles with my dad. My racing passion has grown from just owning muscle cars to full on racing for points back in 2016 when Pam VanDenBerg let me drive her Demon as a birthday present. After that, we convinced her husband Robert to sell me a 1972 Duster he had laying around and we spent the winter building it into the car now known as the "Rusty Dusty".
2017 Rookie of the year
2017 S/ET State Champion
2018 S/ET State Champion
2019 S/ET State Champion
Winning my rookie year championship and the Rookie of the year award.
Along with wrenching on cars, I love anything RC. Me and Ella enjoy riding our summer toys around the state and usually spend the winter on a gaming system of some sort in between getting the car ready for the next season.
Recommendations
No recommendation information