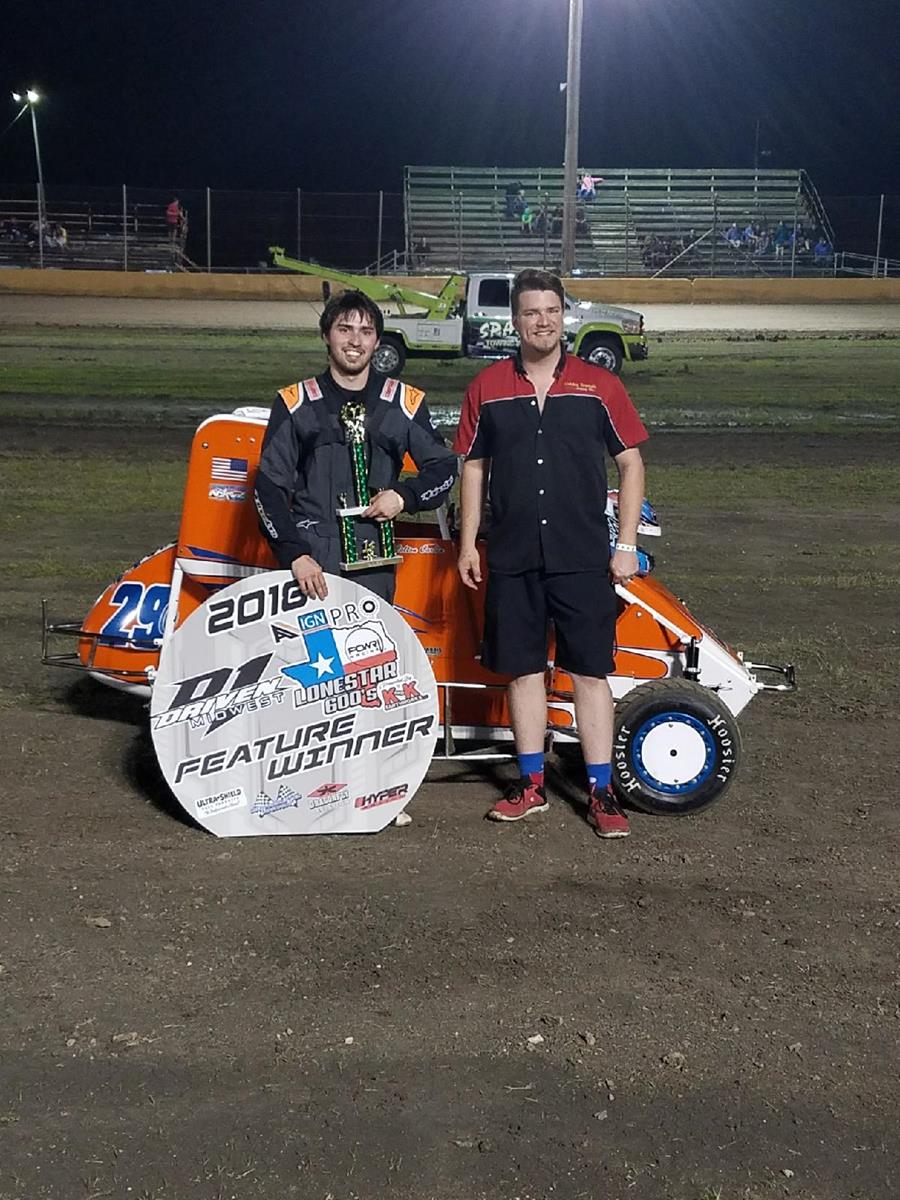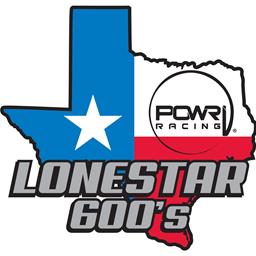 3/11/2018
POWRi Lonestar 600's Non Wing
---
Corbin & Townsend Win Season Opener at Golden Triangle Raceway Park
The POWRi Align Pro Lonestar 600's presented by K & K Earthworks took it on down to China, Tx. Where the dirt is gumbo and the surface is fast at Golden Triangle Raceway Park. Opening night 2018 & a 80% of mother nature's temper against us. 34 600's & 5 Restrictors set up shop to hunt down a win.
To start the night, inspections take place. All cars pass & it is on! Driver's meeting underway. Slight interuption to sing owner Scot Maust happy birthday & serve cookie cake as the information pours out.
Let's go y'all! The track is waiting! Restrictor heat is out 1st. Christopher Townsend bags up the Bush's Chicken! heat win!
600's roll on. Bush's Chicken! Heat race 1 is snagged by Weldon Buford. Lucas Oil Products Heat race winner goes to the run away driver Luke Lucas. Ultrashield Racing Products Heat race 3 snatched by the young gun Jarret Hjorth. Hyper Racing Heat Race 4 gets a little interruption brought to you by a flipping Caleb Padgett. Driver & car check out okay. They rejoin the field. Winner Cody Duke wraps it up! Lil Tuck's Truck Accessories Heat race 5 winner Colton Corbin concludes the heats with that black & white beauty flag.
The POWRi Lonestar 600's Ultrashield Safety and official crews are working non-stop. The work occurring is not unnoticed. The show is moving quickly. The crews are working hard to provide fast & quick cautions. And reds. A game in tow. They got it down & going on.
Top 14 in passing points lock into the 600's A feature. Following 20 settle into B mains. Top 5 from each make the transfer. First B main takes to the racing surface. Transfering drivers- Kevin Battarbee, Kendall Battarbee, Patrick Lundy, Bash Ferguson & Tim Ferguson. B main 2 up next. Little interruption brought to you by Colton Audilett & Albert Kelley as they send it. And find each ride, side down. Drivers check out okay! Transferring drivers- Preston Perlmutter, Mike Walling, Dan Tucker, Matt McDade, & Nick Groeneveld.
Restrictors A feature you are up!!! Kamirin Cook jumps to the 1 spot. She leads the boys around until the half way. Christopher Townsend stakes out his pass & get's it. Rookie racers Jayton Brown & Steven Yates follow close behind holding a solid 3rd & 4th. As well as Kinsley Cook rounding it all out with a 5th place finish. Christopher Townsend parks his #6 ride in victory lane taking home the D1 Driven Midwest Feature Win.
24 600 A feature cars to the track. Only 1 win in the distance. A 4 wide salute to crowd, a beautiful introduction by the one and only Caleb McFarland, track announcer. The green drops. A bit anxious, a jump start it is. The front row rearranges & they try again. First caution arrives for a fast Cody Duke. A tag from the rear sends him around & off to the infield to conclude his night. Back to green as Weldon Buford leads. A few solid laps count on. Caution #2 arrives for a 3rd place runner Jacob Lucas. A nudge & a attempt to dodge, he finds a turn 3 infield tire. Ending his night. Back to racing. Mike Walling is charging from 19th upwards. He is into 2nd. Coltin Corbin has taken over the #1 spot. Luke Lucas is holding onto 3rd as the pack is on the prowl. Jarret Hjorth & Kevin Battarbee knocking on the door. As they both have climbed past 10 spots. Coltin Corbin steals it all. The 29c wheels his ride into the D1 Driven Midwest Feature victory lane!
Extra perks added to the payout courtesy of Golden Triangle Raceway Park! Highest 600 Female Racer- Kendall Battarbee. Hard Charger- Mike Walling. Longest Haul- Isaiah Garcia. Feature Winner- Coltin Corbin.
What a way to kick off the season! We from the POWRi Align Pro Lonestar 600's presented by K and K Earthworks salute you all for taking the chance on us! We got a awesome night of racing in! Golden Triangle Raceway Park our hats off to you all! Thank you for providing us a place to race! A true joy to work along side such kind & caring people! Your hard hard is very much appreciated! We look forward to next time!!
Just 1 of 27 races down! It's never too late to join the fun. See everyone next weekend 3/17 at 105 Speedway! Where we will unveil the new class of little dudes & dudettes in the Jr. Sprint class! Who will win the first ever POWRi Jr. Sprint Feature?
---
Article Media
Back to News