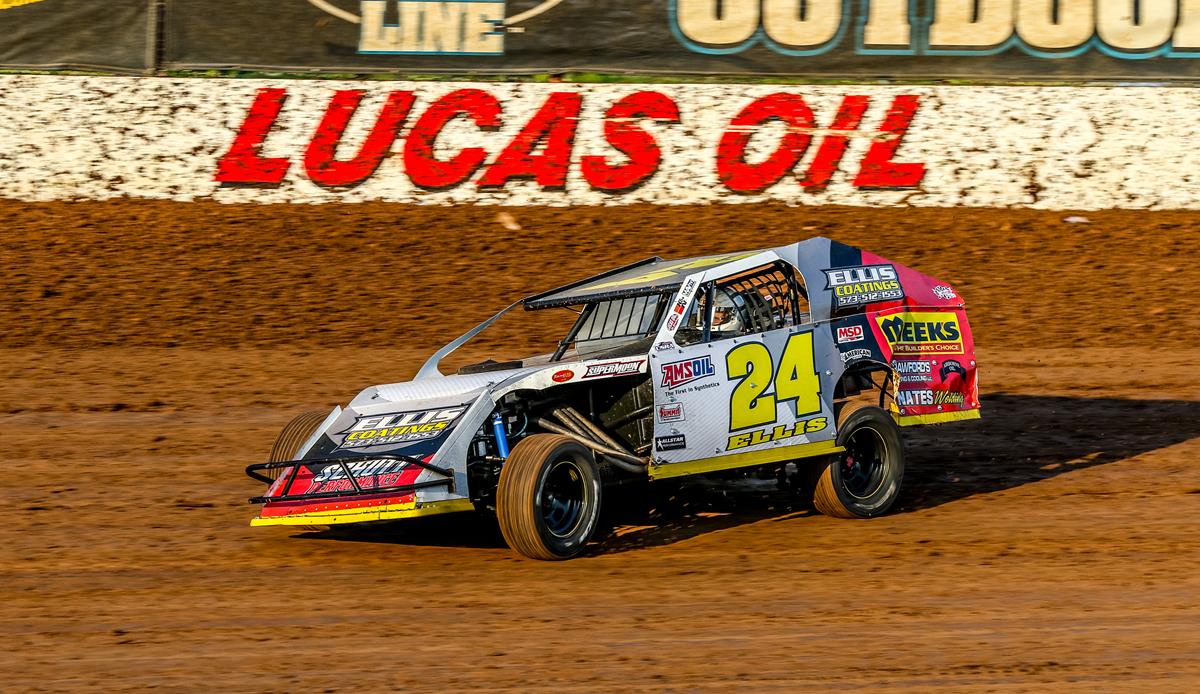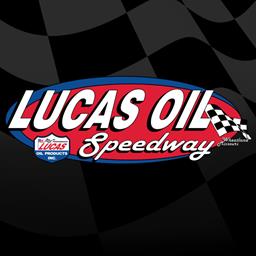 5/20/2021
Lucas Oil Speedway
---
Lucas Oil Speedway Spotlight: Late-starting Ellis makes strides in tough USRA B-Mod division
WHEATLAND, MO. (May 20, 2021) - Finishing sixth in his Ozark Golf Cars USRA B-Mod Feature last Saturday at Lucas Oil Speedway perhaps wasn't a cause for a celebration, but for Richland's Jerry Ellis it certainly was something to smile about.
Ellis got a later start to his racing career than most, raising a family that included three boys while also running his own commercial and residential painting business. It wasn't until he was 36, sitting in the tier parking area and watching the 4-cylinder class race at Lebanon I-44 Speedway, that Ellis had a crazy thought.
"I thought, 'You know, the kids are pretty well raised, I'm gonna buy one of those (4-cylinder) cars and go race.' Now, here we are."
After a couple of years racing on the pavement, Ellis moved to the B-Mod division on dirt. This year, he's running at Lucas Oil Speedway on a weekly basis for the first time and ranks a respectable seventh in the points after five events.
"We wanted to run at Lucas to see where we stacked up," Ellis said. "After Saturday, I think I'm kind of spoiled and now I want to be in the top-10 every time I go."
Ellis on the Ozark Golf Cars B-Mods are back in action on Saturday night as the Titans B-Mod Series, which is sanctioning 10 events in Missouri and Kansas this season, makes it first appearance at Lucas Oil Speedway for a 25-lap feature paying $1,000-to-win and $100-to-start.
Ellis is hopeful his distinctive, rainbow-colored No. 24 - which is a tribute to his favorite NASCAR driver back in the day - will have another strong run.
"When I was younger, we used to watch Thursday Night Thunder on ESPN and Jeff Gordon was running Sprints at the time," Ellis said. "Then when he started running NASCAR, everybody hated him because he won all the time.
"Most everybody was more of a Dale Earnhardt fan and I was more the Gordon guy myself. I don't know why, it just stuck."
Ellis, who also has a pair of top-five finishes this season at Lebanon Midway Speedway, is driving a new-to-him 2014 GRT that he purchased over the winter from David Hendrix. Brian Schutt, who like Hendrix is another racer from the Waynesville/Lebanon area, built the motor for the car.
"Those guys convinced me to get into this side of it," Ellis said. "I think this is my fourth year on dirt and sixth year total in racing. I'm constantly working on it, all the time. That's what it takes.
"David didn't race that car but for just a few races," Ellis said. "It's an older car, but a good car. All the bolt-ons are brand new. It's just a better car than what we had and I'm getting a little better feel for it and what the car needs and the changes to make. Just seat time and experience and continuing to work on it are paying off.
"Brian Schutt helps me a lot. We talk a lot and without him, we wouldn't be close as far as the set-up goes. I have to give a lot of credit to him."
Ellis said it's a tall task to run near the front in a powerhouse class with the likes of former USRA B-Mod National Champions like Kris Jackson, JC Morton and Andy Bryant. He jokingly uses a NASCAR reference of a couple of powerhouse owners and teams to put it in perspective.
"Just to compete with Hendrick and Gibbs, which are the TJR and Allen cars … if you can run in the top-10 at Lucas you can run in the top-10 anywhere," Ellis said. "Hopefully we can get us a top-five, or even a win. But if we can consistently run in the top-five or top-10, we're doing something."
Ellis gets race-night help in the pits from his brother James Ellis and dad Paul Ellis. Sponsors include Ellis Coatings, Meeks, Crawford's Heating & Cooling, Schutt Performance and Amsoil.
Amplified Digital Presents Round 6 of the Big Adventure RV Weekly Racing Series, with Missouri Metal Buildings ULMA Late Models, Cedar Creek Beef Jerky USRA Modifieds and the O'Reilly Auto Parts USRA Stock Cars also in action.
Frogs Jr Fan Club Pit Tour: Young fans arriving early are invited to sign up for the Frogs Jr Fan Club Pit Tour. Kids ages 5-12 can sign up on the midway, behind the main grandstands, before 5 p.m. with eight names drawn for a special pit-area tour at 5:15 with flagman Mike Striegel.
They will get to meet some of the drivers, see the cars up close and attend the drivers' meeting prior to return to the midway. Each of the eight will receive a Frogs Jr Fan Club T-Shirt, checkered flag and a gift bag sponsored by RaceGear Unlimited to put items in they receive from the drivers.
Suite seats available: Fans can take in Saturday's action from a VIP Suite on the third level overlooking the front straightaway, as a limited number of individual tickets are available priced at $24 apiece. All VIP Suite seats must be pre-paid and can be reserved by calling Admissions Director Nichole McMillan at (417) 282-5984.
The suite offers prime viewing from inside, where the temperature is climate-controlled, or an outside seating area. Food and drinks are not included in the ticket price, though a host/hostess will be available to take food and drink orders throughout the evening.
Gates open at 4 p.m. with hot laps at 6:30 and racing at 7:05.
Grandstand admission:
Adults (16 and over) - $12
Seniors (62 and over)/Military - $9
Youth (ages 6-15) - $5
Kids (5 & under) - FREE
Family Pass - $30
Pit Pass - $30
For ticket information for any event during the 2021 Lucas Oil Speedway season, contact Admissions Director Nichole McMillan at (417) 282-5984 or via email at Nichole@lucasoilspeedway.com. Fans also can use the online ticketing system.
CONTACT:
Danny Lorton
Lucas Oil Speedway General Manager
Office: (417) 282-5984
DLorton@lucasoilspeedway.com
---
Article Credit: By Lyndal Scranton, Lucas Oil Speedway
Back to News