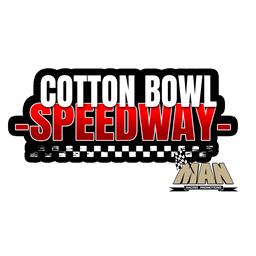 Kragh's Car Show On Dirt/Swap Meet/Test and Tune
The inaugural Kragh's Car Show, Swap Meet, and Open practice all FREE to race fans, car owners, and crews. Must sign-in at the back gate ticket office. Voting ballots for best appearing car in each class will be provided. One ballot per person. Voting will begin at 11:00 AM and close at 1 PM.
In addition, all 2020 Championship Awards will be presented beginning at approximately 1:30PM, followed by Best Appearing Car Award presentations. And while all of this is going on, we will be hosting a Swap Meet for racers to sell, buy, or exchange racing related items.
This is a unique "behind the scenes"" opportunity to see your favorite race cars and drivers up close and personal. And for the first time ever, be a part of celebrating our annual Season Championship Awards presentation ceremony for the 2020 season. To cap it all off, watch the cars and stars of Cotton Bowl Speedway shake down their 2021 cars. (Tickets not required)
ADVANCE AUTO PARTS Street Stocks
GUNSLINGER Factory Stocks
DESIGN WELDING Sport Compacts
Dwarf Car Racing Series of Texas
MAGNUM IMCA Modifieds
ACM SERVICES IMCA Southern SportMods
BROWNING IMCA Stock Cars
Pits Open

8:00 AM

Hot Laps At

2:30 PM