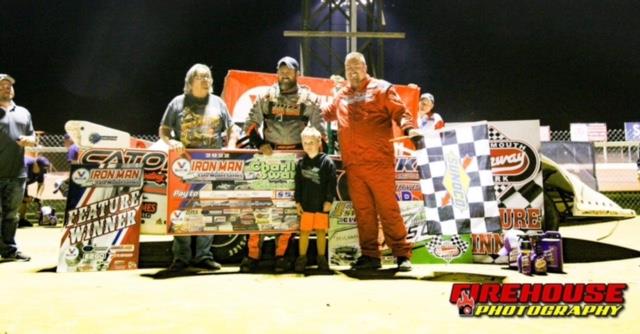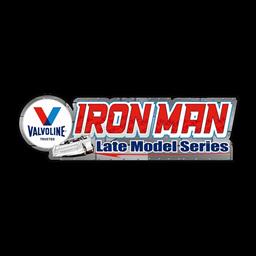 6/18/2022
Iron-Man Late Model Series
---
Michael Chilton Captures 2nd Annual Charlie Swartz Classic at Portsmouth Raceway Park
PORTSMOUTH, OHIO (June 18, 2022)– The Valvoline Iron-Man Late Model Northern Series would visit Portsmouth Raceway Park in Portsmouth, OH for the first time in series history on Saturday evening for the 2nd Annual Charlie Swartz Classic and Michael Chilton of Salvisa, KY would lead all forty laps on his way to a $5,000 payday.
The victory for Chilton would be his first of the season with the tour and his ninth career Valvoline Iron-Man Late Model Series victory and would come behind the wheel of a Rocket Chassis powered by a Bullock Race Engine and carries sponsorship from MKC Transport, Parkview Home Center, Caton's Industrial Painting, EquipLink Auction Group, C and C Redi Mix, Purvis Home Builders, Edgewood Homes, Base Race Fuels, Irvin Enterprises, and Brucebilt Performance.
Robby Hensley and Michael Chilton would bring the field to the green flag in the 2nd Annual Charlie Swartz Classic, but the caution would wave before one lap was completed when Evyian Terry would spin in turn four. The second attempted start would go green and Chilton would take the race lead, with Hensley, Zach Hill, R.J. Conley, and Rod Conley giving chase. The front five would remain the same until the second caution of the race waved on lap six when a four-car tangle would occur in turn four involving Corey Lewis, Evyian Terry, Audie Swartz, and Shane Bailey. The restart would see Chilton maintain the race lead, with Hensley in second, while R.J. Conley would challenge Hill for third and take the third position on lap seven, while Rod Conley would maintain the fifth spot. Chilton would stretch his lead at this point and would catch the rear of the field on lap fifteen. Chilton would not press the issue with slower traffic at this point and that would allow Hensley to close the distance between himself and Chilton, but Chilton would put a lapped car between himself and Hensley on lap twenty-one. The final caution of the race appeared on lap twenty-five when Nick Bocook slowed in turn four with a flat right-rear tire. The final restart would see Chilton maintain the lead, but Hensley would stay within striking distance of Chilton, however, Chilton would not be denied and would cross under the checkered flag first, with Hensley settling for runner-up honors, and R.J. Conley would finish third. Hill and Rod Conley would complete the top five. The remainder of the top ten finishers would be Brandon Fouts, Shannon Thornsberry, Lucas Crooks, Austyn Mills, and Kody Evans.
The next events for the Valvoline Iron-Man Late Model Northern Series will be at Atomic Speedway in Waverly, OH on Friday June 24 and Saturday June 25 for the Atomic 100 weekend. The Friday June 24 event will be a 40 lap, $5,000 to win/$450 to start contest, while Saturday June 25 will feature a 60 lap, $10,000 to win/$500 to start main event.
For more information about the Valvoline Iron-Man Late Model Series, please contact Chris Tilley at (828) 361-5981 or visit the tour's webpage at www.IMDIRT.net or visit the tour page Iron-Man Racing Series on Facebook and Iron-Man Series (@CTPROMOTE) on Twitter.
The Valvoline Iron-Man Late Model Northern Series would like to thank the following sponsors and marketing partners for their support of the 2022 racing season: Valvoline, Zerex by Valvoline, Brucebilt Performance Parts, Hoosier Racing Tire, E-Z-GO, Sunoco Race Fuels, Bazell Race Fuels, DirtonDirt.com, MyRacePass, FloRacing, XS Power Batteries, Vic Hill Racing Engines, American Racer Tires, Keltner Contracting, TW Taylor Trucking, Earnhardt Technologies Group, Swafford Signs, KY Clutch, Brown Haven Homes, Knowles Race Parts and Bodies, Coosa Heating and Cooling, SFP Performance Systems, KND Safety, Chattanooga Valley Auto Parts, Race Clean, Denby's J&J Construction, Advanced Transportation, Lowe's Tows, Reno's Roadhouse, and Racetrack Safety Initiative.
About Valvoline™
Valvoline Inc. (NYSE: VVV) is a leading worldwide marketer and supplier of premium branded lubricants and automotive services, with sales in more than 140 countries. Established in 1866, the company's heritage spans more than 150 years, during which time it has developed powerful brand recognition across multiple product and service channels. Valvoline ranks as the No. 3 passenger car motor oil brand in the DIY market by volume. It operates and franchises approximately 1,400 quick-lube locations, and it is the No. 2 chain by number of stores in the United States under the Valvoline Instant Oil ChangeSM brand and the No. 3 chain by number of stores in Canada under the Valvoline Great Canadian Oil Change brand. It also markets Valvoline lubricants and automotive chemicals, including the Valvoline High Mileage with MaxLife technology motor oil for engines over 75,000 miles; Valvoline Advanced Full Synthetic motor oil; Valvoline Premium Blue™ heavy-duty motor oil; Valvoline Multi-Vehicle Automatic Transmission Fluid; and Zerex™ antifreeze. To learn more, visit www.valvoline.com.
Official Summary of Results
Feature Results for Valvoline Iron-Man Late Model Northern Series 2nd Annual Charlie Swartz Classic at Portsmouth Raceway Park in Portsmouth, OH on Saturday June 18, 2022
Michael Chilton-Salvisa, Ky.
Robby Hensley-Walton, Ky.
R.J. Conley-Wheelersburg, Oh.
Zach Hill-Red House, West Va.
Rod Conley-Wheelersburg, Oh.
Brandon Fouts-Kite, Ky.
Shannon Thornsberry-Martin, Ky.
Lucas Crooks-Grayson, Ky.
Austyn Mills-Alexandria, Ky.
Kody Evans-Camden, Oh.
Kirk Phillips-Ashland, Ky.
Charlie Jude-Inez, Ky.
Clint Keenan-Pataskala, Oh.
Audie Swartz-Minford, Oh.
Austin Lay-Walton, Ky.
Shane Bailey-Grayson, Ky.
Nick Bocook-Wheelersburg, Oh.
Kenneth Howell-Inez, Ky.
Josh Bocook-Wheelersburg, Oh.
Corey Lewis-Grayson, Ky.
Evyian Terry-Catlettsburg, Ky.
Ronnie Whitt-Grayson, Ky.
Time of Race: 24 minutes, 3 seconds
Margin of Victory: 0.531 seconds
Yellow Flags: Three (lap 1, 6, 25)
Red Flags: None
Lap Leaders: Michael Chilton 1-40
Entries: 31
E-Z-GO Time Trials Top Qualifier: Kody Evans 15.851 seconds
Provisional Starters: Austin Lay, Audie Swartz
Sunoco Race Fuels Heat Race One Finish (8 laps/top 5 transfer): Robby Hensley, R.J. Conley, Kody Evans, Austyn Mills, Corey Lewis, Shane Bailey, Audie Swartz, Evyian Terry, Austin Lay, Chris Lockhart
Sunoco Race Fuels Heat Race Two Finish (8 laps/top 5 transfer): Michael Chilton, Rod Conley, Nick Bocook, Kirk Phillips, Kenneth Howell, Charlie Jude, Josh Bocook, Travis Carr, Shawn Martin, G.C. Erwin
Sunoco Race Fuels Heat Race Three Finish (8 laps/top 5 transfer): Zach Hill, Shannon Thornsberry, Brandon Fouts, Lucas Crooks, Ronnie Whitt, Kenny Christy, Clint Keenan, Kevin Terry, Justin Carter, Richie Edwards (DNS-Billy Staker)
B-Main One Finish (8 laps/top 5 transfer): Shane Bailey, Josh Bocook, Charlie Jude, Evyian Terry, Clint Keenan, Audie Swartz, Travis Carr, Austin Lay, G.C. Erwin, Kevin Terry, Shawn Martin, Justin Carter, Richie Edwards (DNS-Kenny Christy, Chris Lockhart, Billy Staker)
Back to News