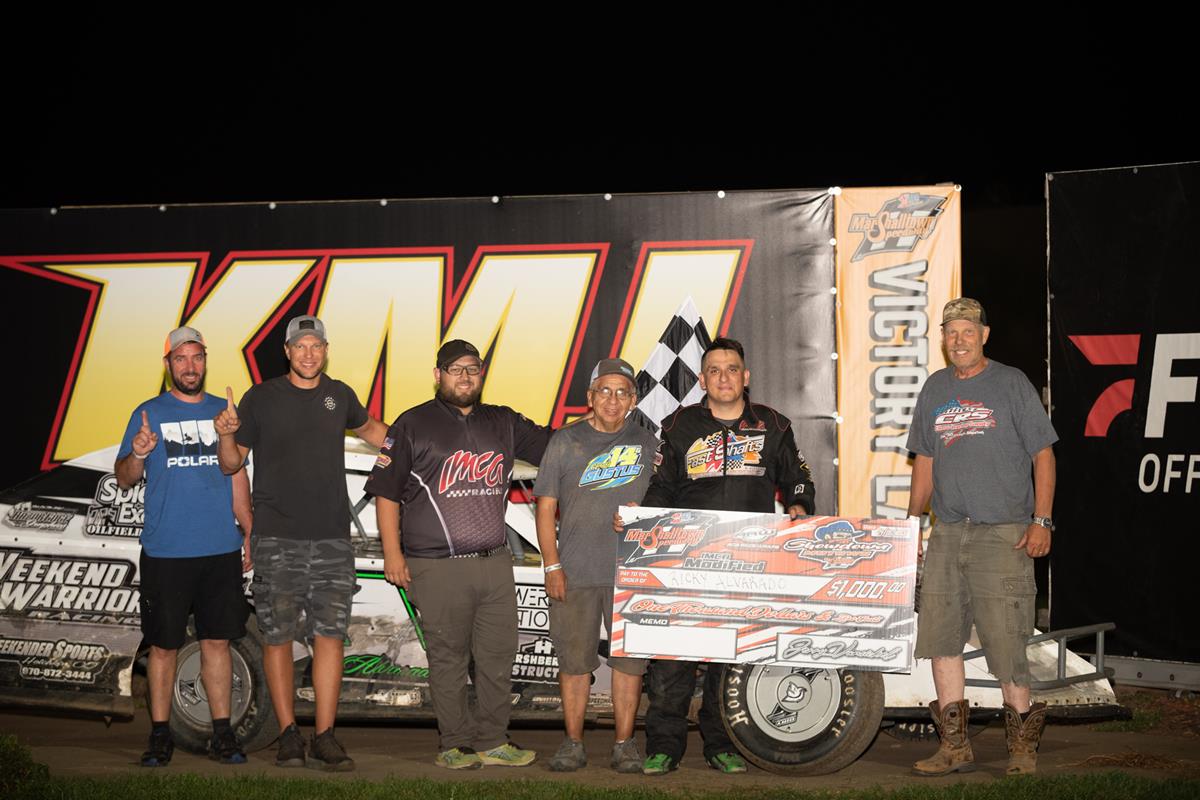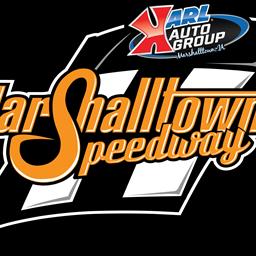 9/22/2022
Marshalltown Speedway
---
Alvarado takes $1K at Showdown in Motown
Marshalltown, Iowa September 2, 2022
The pits were packed at the Marshalltown Speedway with 166 cars on Friday night, and the majority from out of state for the Karl Kustom's Showdown in Motown. The drivers were already in the area for next week's IMCA Super Nationals just down the road in Boone, Iowa.
The IMCA STARS Mod Lites kicked off the feature racing with their 15 lapper that paid $500 to the winner.
Jacob Copley, Milan, Illinois, led the opening laps only to have Dustin Ford snatch it away on lap three. By lap seven, it was Randy Bryan in command. It was all Bryan from there on out as he stretched his lead and won going away in the race that went caution free.
Josh May finished a distant runner up, as he held off a hard charging Jason Massengarb. Massengarb, from Colona, Illinois started twelfth, and took third place. Fourth went to Ben George, and early leader Jacob Copley completed the top five.
Eric Stanton went home the victor in the 20 lap "A" feature for the IMCA Sunoco Hobby Stocks. He started tenth, and reeled in then leader Eric Knutson, and took over the top spot on lap sixteen. It was Stanton's race from there on as he won comfortably over second place Tyson Overton in second. Third went to Adam Streeter, and pole sitter Joel Magee, Palm Beach Gardens Florida, a transplanted Iowan, was fourth. Eric Knutson, who spun out on lap seventeen, bringing out a caution, and having to tag the field, rallied back to a fifth place finish.
The IMCA Friesen Performance Northern SportMods took to the track next for their 20 lap feature event.
Tony Olson started on the outside front row and grabbed the lead immediately. Springfield, Missouri's Ryan Gillmore fell in to run second. Gillmore continued to chase Olson until lap twelve when Brayton Carter came calling and took over second spot. Then Olson and Carter put on a show for the fans as they duked it out lap after lap. Olson maintained the lead until lap sixteen when Carter managed the pass, and then held on to the lead the rest of the way to the flying checkers. Olson finished a close runner up, Gillmore took third place, Bakersfield, California's Tyler Bannister came from thirteenth spot to finish fourth, and Clay Erickson, Phoenix, Arizona, was fifth.
Austin Kaplan went home with the $500 pay day in the IMCA Sunoco Stock Car 20 lap feature event. He started sixth, caught leader Jeff Mueller with just a handful of laps in the books, and then made the pass a couple of laps later. Mueller hung close for a few more laps, but in the end as the checkers flew, it was Kaplan stretching his lead and taking the easy win. Mueller finished a distant second, third went to Seminole, Texas racer Cory Davis, and Laurel, Iowa's Dave Atcher came from eleventh, to finish fourth. Rounding out the top five was Chris Luloff, Independence, Iowa.
There was a great field of 47 IMCA Friesen Performance Modifieds checked into the pits. Drivers were from coast to coast. It took two "B" mains to whittle the starting field down to twenty-four cars.
Arvada, Colorado's Ricky Alvarado started on the outside pole of the 20 lap main event, got the jump on pole sitter Tim Ward, and grabbed the lead immediately. Fourth place starter Joel Rust soon threw his hat in the ring, and took over second. The two continued to battle it out in a heated contest....Rust throwing sliders, and looking for anyway around. However, Alvarado threw off all advances and went home to the flying checkers, and took home the $1,000. Rust had to be content with second place. Olivehurst, California's Ryan McDaniel was third, and close behind were Cody Laney, and Tim Ward fourth and fifth respectively. Cody Thompson hard charged his ride from nineteenth, to finish sixth.
The MACH-1 IMCA Sport Compacts ran 15 laps for their "A" feature. Kolby Sabin, who is the 2022 track champion at the speedway, continued his winning ways, led all but the opening laps, and sailed home to an easy win. Kevin Bolte and Jason Bolte, from Odin, Minnesota finished second and third. Pole sitter, Payce Herrera, Price, Utah was fourth, and Ryan Brown rounded out the top five.
The night ended with the Karl Chevrolet Dirt Trucks and their 15 lap feature. Jeff Johnson took home the honors in this one. Johnson led all but the first two laps, on his way to victory. Brandon Toftee finished in second place. Shawn Cooney held off Shonn Mapes as they went third and fourth respectively, and it was Bryan Spangler taking fifth.
The Marshalltown Speedway will hold its grand finale for 2022 coming up on Friday September 16, and Saturday September 17 for the 16th Annual World Nationals, with an open practice to be held on Thursday, September 15 from 7-9:30. IMCA Modifieds, Stock Cars, SportMods, Hobby Stocks and Sport Compacts are scheduled to run. The Modifieds will be running for $2000, Stocks Cars and SportMods $1,000, Hobby Stocks $500, and Sport Compacts $250 each day. Hot laps are scheduled for 6 with racing at 7 p.m.
---
Article Credit: Joyce Eisele
Submitted By: Jerry Vansickel
Article Media
Back to News