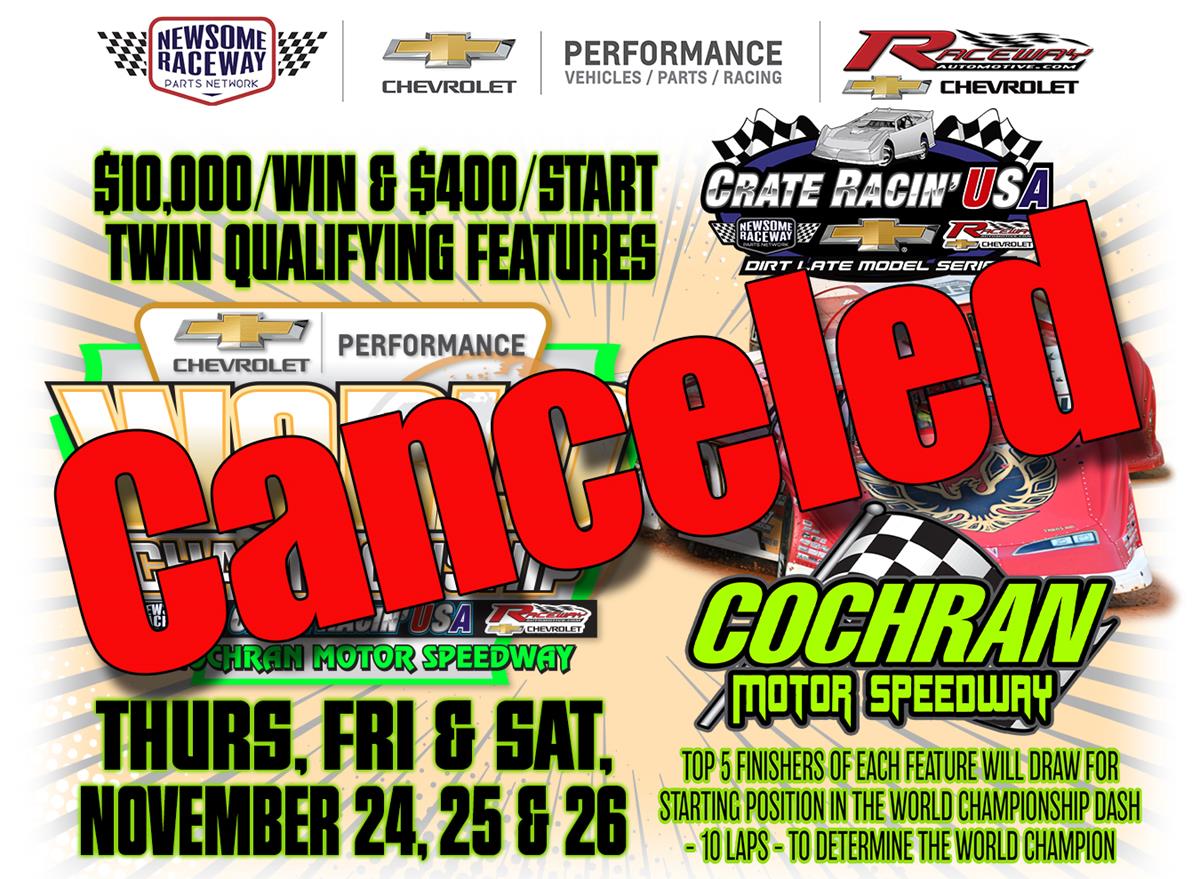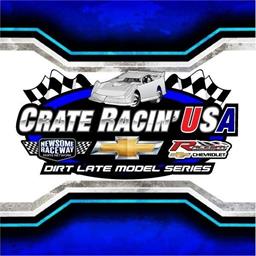 11/23/2022
Crate Racin' USA Dirt Late Model Series
---
Rain Cancels Season's Final Event for Crate Racin' USA
EASTABOGA, Ala. (Nov. 23) — The annual Crate Racin' USA World Championship event scheduled Nov. 24-26, 2022, at Cochran Motor Speedway, which was to have been the final race of the season on the schedule for the Newsome Raceway Parts Crate Racin' USA Dirt Late Model Series, has been canceled due to predicted inclement weather over the next few days. It will not be rescheduled, and the joint decision was made between track promoter Chris Martin and series director Adam Stewart.
"Unfortunately the weather looks like it isn't going to cooperate with us," Stewart said. "We have decided to cancel the event rather than force our competitors to travel long distances for a race that is more than likely to be rained out based on forecasts for rain over the next few days. We were already getting calls from drivers telling us they were considering not making the trip. We need to be cognizant of their loyal commitment to the series and to this event over the years, and not have them traveling on a holiday weekend for potentially no reason."
The event was slated to include two feature events during the traditional Thanksgiving Weekend extravaganza at the 3/8-mile oval, each paying $10,000 to the winner and featuring a 24-car starting field. A total of 48 drivers would have been able to make money during the giant weekend, and the top five finishers from each main would have advanced to a 10-lap shootout with a 10-car starting field to determine the overall winner of the event.
The race is annually one of the most important of the year for the touring circuit, and has found a home at the 3/8-mile facility over the past few years. It has been held at three different facilities over its long and storied history, and would have been the 21st event of the year for the touring circuit.
The cancellation makes official the series points standings as they stood entering the race, and Jason Welshan of Maryville, Tenn., is the newly-crowned series champion. Welshan held an insurmountable 134-point edge over Jake Knowles, and claimed his first title on the organization's regular touring series. The championship pays $10,000.
Welshan finished second to recently-crowned titlist Jimmy Thomas of Phenix City, Ala., in the sanctioning body's second-year E-Z-GO $100,000+ Challenge championship battle, which was decided after that circuit's final event held Nov. 17-19 at Needmore Speedway in Norman Park, Ga.
Crate Racin' USA Dirt Late Model Series (final points): 1. Jason Welshan, 1,624 points; 2. Jake Knowles, 1,490; 3. Jake Rainey, 1,460; 4. Jimmy Thomas, 1,350; 5. Matthew Brocato, 1,294; 6. Jason Markewitz, 1,054; 7. Jeremy Pate, 938; 8. Tanner Collins, 916; 9. Randall Beckwith, 736; 10. Dalton Dowdy, 680; 11. Cody Overton, 664; 12. Mark Whitener, 614; 13. Hunter Peacock, 572; 14. Clay Harris, 560; 15. Tyler Millwood, 522; 16. Mark Fleischer, 468; 17. T.J. Brittain, 454; 18. Joseph Joiner, 388; 19. Cory Hedgecock, 372; 20. Matt Henderson, 361.
E-Z-GO $100,000+ Challenge (final points): 1. Jimmy Thomas, 694; 2. Jason Welshan, 646; 3. Jake Knowles, 618; 4. Jake Rainey, 616; 5. Matthew Brocato, 542; 6. Hunter Peacock, 478; 7. Randall Beckwith, 474; 8. Clay Harris, 440; 9. Cody Overton, 352; 10. Mark Whitener, 342; 11. Trey Mills, 328; 12. Jason Markewitz, 322; 13. Jeremy Pate, 264; 14. Tanner Collins, 258; 15. Mark Fleischer, 256; 16. Henry Carter, 246; 17. Ty Giles, 240; 18. Cameron Weaver, 228; 19. Jeremy Steele, 226; 20. Russell Brown Jr., 225.
About Crate Racin' USA
The economical Chevrolet Performance 602 and 604 Circle Track Engine is utilized by competitors in the various divisions presented by Crate Racin' USA. It's in stock and available from Newsome Raceway Parts in Hartsville, S.C.
Each engine is built and sealed at the factory to prevent any expensive modifications. To place an order, call 1-877-497-3624.
For more information and rules, visit the organization's website at www.crateracinusa.com, or follow our extensive social media programs on Facebook, Twitter and Instagram.
Newsome Raceway Parts, a division of Raceway Chevrolet in Hartsville, S.C., is the title sponsor of Crate Racin' USA. E-Z-GO Golf Carts is the title sponsor of the second-year E-Z-GO $100,000+ Challenge.
Chevrolet Performance is an official sponsor of the organization, along with Advanced Laser & Machine, Cruise with the Champions, Hoosier Racing Tire, KRC Power Steering, Knowles Race Parts and Bodies, My Race Pass, VP Racing Fuels and Lubricants and Willy's Carburetors.
Official chassis sponsors include Warrior Race Cars, Rocket Chassis and CVR Race Cars.
---
Article Credit: Brian McLeod
Back to News