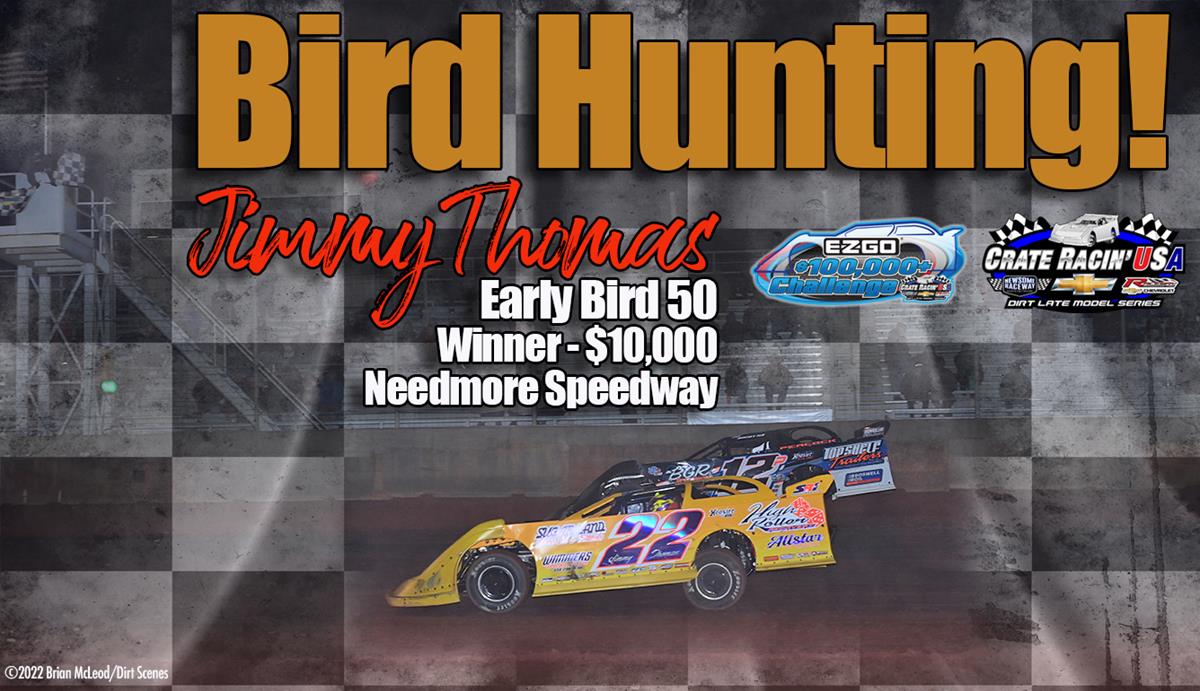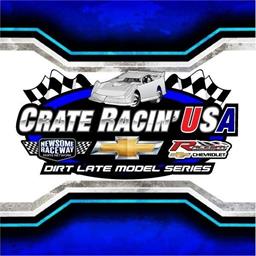 11/23/2022
Crate Racin' USA Dirt Late Model Series
---
Thomas Takes Last-Lap Victory in Early Bird 50
NORMAN PARK, Ga. (Nov. 19) — A dramatic points battle for the E-Z-GO $100,000+ Challenge championship was on the horizon entering the Early Bird 50 Saturday night at Needmore Speedway, and Phenix City, Ala., driver Jimmy Thomas held a tight-fisted, 20-point edge over Jason Welshan in a tense duel for the $5,000 title as the Newsome Raceway Parts Crate Racin' USA Dirt Late Model Series arrived at the 3/8-mile oval.
Rain was close and reportedly on the way according to radar reports, and that situation made the final-race showdown even more intense as drivers couldn't wait long to make their moves in case the wet weather stopped the race after it had reached the halfway point. The entire distance was completed, and Thomas injected his own brand of drama into the race with a last-lap, come-from-behind victory over Hunter Peacock as the pair battled side by side to the checkered flag on the final circuit.
Thomas edged past his rival on the low side exiting the fourth corner to steal away with a hard-fought $10,000 victory. The thrilling win in the 50-lapper assured Thomas the E-Z-GO championship by 48 markers over Welshan, who finished 14th after starting from seventh on the grid, which was two spots ahead of Thomas' ninth starting spot.
Completing the top five behind the lead duo in the 26-car field were 18th-starting Clay Harris, 10th-place starter Tyler Sanders and outside fourth-row starter Mark Whitener.
A Racy Place
The 3/8-mile track provided an extremely racy surface on a cooler-than-average evening, and drivers were able to use multiple grooves that resulted in three lead changes among four different drivers before Thomas capped the lead-swapping flurry by leading only the last trip around the semibanked oval.
Local youngster Ty Giles led the opening six circuits until Whitener blasted past him on the top side, wasting little time getting to the front with inclement weather looming in the immediate area. Whitener paced the field until the 13th circuit when Peacock took command, leading the race until the 49th lap when Thomas' heroics sent the Phenix City, Ala., driver to the winner's circle.
"Wow…that was Magnolia Motor Speedway-type fun out there tonight," Thomas said, referencing a recent visit to the Columbus, Miss., track that allowed competitors to race all over its generous surface. "It's probably the best I've ever seen this place in all the times I've been here. It was so much fun out there…100 percent! The whole field was racing hard."
Late Battle Begins to Develop
The racing was perhaps never any harder than it was in the latter stages, when Thomas was closing on the leading Peacock as the race wound toward its conclusion. After searching and finding the bottom groove to his liking, the chaser moved into second position on the 37th circuit and stuck to the strategy, chopping down a whopping 4.573-second disadvantage faster than a commercial wheat combine chews up acreage during harvest season.
He was close behind with two laps remaining, making up the large deficit by completing his journey to Peacock's deck lid in less than a dozen laps. When lapped traffic loomed ahead, Thomas blasted suddenly forward and landed squarely on Peacock's rear bumper with the real estate between them no longer a major factor. The pair cleared the traffic and Peacock prepared to defend a lead that Thomas hungrily eyed.
Earlier in the race, Peacock and Whitener had made contact, which affected the handling on the race leader's machine during the latter stages. The Macon, Ga., driver said the damage that resulted affected his car's handling during the closing stages of a highly-competitive event.
While Peacock drove away and established a comfortable advantage, Thomas was steadily working forward from the inside of the fifth row, and 18th-starting Harris also moved forward to establish his presence during the race's latter stages.
"I think the rain earlier today might have helped the racetrack a little bit," Peacock said. "You could race all over the track. Maybe if I'd kept my car in one piece a little longer, we might have had a better shot. We bent a spindle when Mark [Whitener] got into my right front when we were racing, and it damaged my right-rear quarter panel, and I could feel that affecting the car's handling. Aerodynamically, there was a difference from the way the car ran earlier in the race."
As Peacock struggled a bit, Thomas zeroed in and readied for a late-race war for the checkered flag. It looked like a lost cause until lapped traffic slowed the leader, suddenly handing Thomas a better opportunity.
"I was focusing so much on hitting my marks, hanging that left-front tire over the berm and trying to not miss my spots and wash out in the corners," Thomas said. "I saw him [Peacock] approaching the lapped cars ahead of me, and I could see that slowed him up, and it helped me a lot in chasing him down."
Locking Horns
Heading for a lucrative prize, the pair locked horns for the final sprint to the finish. Peacock was flying high, Thomas hugged the bottom, and they raced toward the flagstand and received the white flag. Thomas dove low into the first corner, and the battle raged even stronger from there. Ironically, Thomas didn't know it was the final circuit.
"I showed him the nose entering turn one, but I didn't know that was the last lap," Thomas said. "We were running door to door coming off turn four on the last lap, and I glanced up and saw the checkered flag flying, and I was like, 'Oh wow, I gotta keep the car straight here. I hoped when I showed him the front end he might overdrive the next corner, but I didn't know it was the last corner. He was out there running hard to my right, and I could hear him wide open on the fuel. I started to mat it, but then I thought, 'Man…let's just peddle this thing down here on the low side and see what happens.' I spun the tires a little bit, but not too much and we were able to just beat him to the finish line."
It was a tough, disheartening loss for Peacock, but he handled it well. He was also complimentary toward Thomas after the duo raced door to door without incident, and the outcome of the race hanging in the balance.
"Jimmy…he deserved one and they've been needing one, so congrats to him and their group," Peacock said. "Lapped traffic hurt me at the end, and it's definitely disappointing to lose one like we did, but the man in second place always has an advantage in those situations, and I knew I'd be at a disadvantage if I didn't get through those lapped cars smoothly. When I didn't, I was basically a sitting duck. Then we raced side by side off the corner on that last lap. I thought I had him at the line…it was definitely a close finish."
Race Wrapup
The gap between the two drivers at the stripe was a very slender 0.025 seconds. Not the closest finish in series history, but close enough to be called one of the most narrow. Thomas couldn't have been happier, and especially after his laps in time trials sent him reeling backwards to a ninth-place start.
"We knew we had a fast car this weekend, and after I qualified and ended up starting ninth in the feature, I thought, 'Man, I've screwed it up again.'" Thomas said. "But the racetrack turned out to be really racy tonight, and we were able to work forward from that far back. Everything finally turned out in our favor. Not only that, but it was a really good race there at the end."
A championship secured and now miles away from a mid-season qualifying crash at 411 Motor Speedway in Seymour, Tenn., that sent him to the sidelines [and out of the regular season points chase] while the team got repairs made, Thomas looked very much relieved. He was a distant cry from the frustrating stretch his team had suffered through during most of the summer, which only started to turn around in mid-October at Golden Isles Speedway near Brunswick, Ga., when he finished fifth in the $10,000-to-win Showdown on the Coast.
"It's been a tough deal this season," Thomas said. "We finally just started focusing on winning races, and for some reason it always seems to work out better for us that way. That's what we did this weekend, and it turned out the way we wanted. It's a huge relief to win this race after all the bad luck we've had this year."
Sponsors and Champions
Thomas' victory (and E-Z-GO championship) was accomplished in a Scorpion Race Cars entry that was powered by a motor from Bobby Thomas Racing Engines. Sponsors included High Roller Recovery, Sugarland Garden Soil & Materials, Wimmer's Wrecker Service and Allstar Graphix by Bruce Carroll.
The event ended up being the final race of the season for the touring series after the annual Crate Racin' USA World Championship event was canceled due to forecasts for inclement weather during the traditional Thanksgiving weekend extravaganza slated Nov. 24-26, 2022, at Cochran (Ga.) Motor Speedway.
That decision to not reschedule the event officially made Welshan the overall champion of the regular touring series. He held an insurmountable 134-point edge over Jake Knowles entering the final race of the season, and could not be caught in the points standings, but all points were finalized as they were entering the planned holiday weekend, making Welshan the official titlist of the Adam Stewart-managed circuit for the first time in his career.
Early Bird 50: 1. Jimmy Thomas, 2. Hunter Peacock, 3. Clay Harris, 4. Tyler Sanders, 5. Mark Whitener, 6. Jake Knowles, 7. Ty Giles, 8. Joseph Brown, 9. Russell Brown Jr., 10. Jordy Nipper, 11. Wiley McDaniel, 12. Jake Rainey, 13. David Markham, 14. Jason Welshan, 15. Jonah Bozeman, 16. John Baker, 17. Allen Styck, 18. Kerry King, 19. Matthew Brocato, 20. Stacey Roberts, 21. Mark Fleischer, 22. Dylan Browning, 23. Cody Overton, 24. Jeff Baggett, 25. Pratt Cooper, 26. Cody Stevens.
Entries: 26
Fast qualifier: Hunter Peacock, 15.898 seconds
Lead changes: Three among four drivers
Lap leaders: Ty Giles 1-6; Mark Whitener 7-13; Hunter Peacock 13-49, Jimmy Thomas 50.
Margin of victory: 0.025 seconds
Cautions: 5
Crate Racin' USA Dirt Late Model Series (final points): 1. Jason Welshan, 1,624 points; 2. Jake Knowles, 1,490; 3. Jake Rainey, 1,460; 4. Jimmy Thomas, 1,350; 5. Matthew Brocato, 1,294; 6. Jason Markewitz, 1,054; 7. Jeremy Pate, 938; 8. Tanner Collins, 916; 9. Randall Beckwith, 736; 10. Dalton Dowdy, 680; 11. Cody Overton, 664; 12. Mark Whitener, 614; 13. Hunter Peacock, 572; 14. Clay Harris, 560; 15. Tyler Millwood, 522; 16. Mark Fleischer, 468; 17. T.J. Brittain, 454; 18. Joseph Joiner, 388; 19. Cory Hedgecock, 372; 20. Matt Henderson, 361.
E-Z-GO $100,000+ Challenge (final points): 1. Jimmy Thomas, 694; 2. Jason Welshan, 646; 3. Jake Knowles, 618; 4. Jake Rainey, 616; 5. Matthew Brocato, 542; 6. Hunter Peacock, 478; 7. Randall Beckwith, 474; 8. Clay Harris, 440; 9. Cody Overton, 352; 10. Mark Whitener, 342; 11. Trey Mills, 328; 12. Jason Markewitz, 322; 13. Jeremy Pate, 264; 14. Tanner Collins, 258; 15. Mark Fleischer, 256; 16. Henry Carter, 246; 17. Ty Giles, 240; 18. Cameron Weaver, 228; 19. Jeremy Steele, 226; 20. Russell Brown Jr., 225.
---
Article Credit: Brian McLeod
Back to News