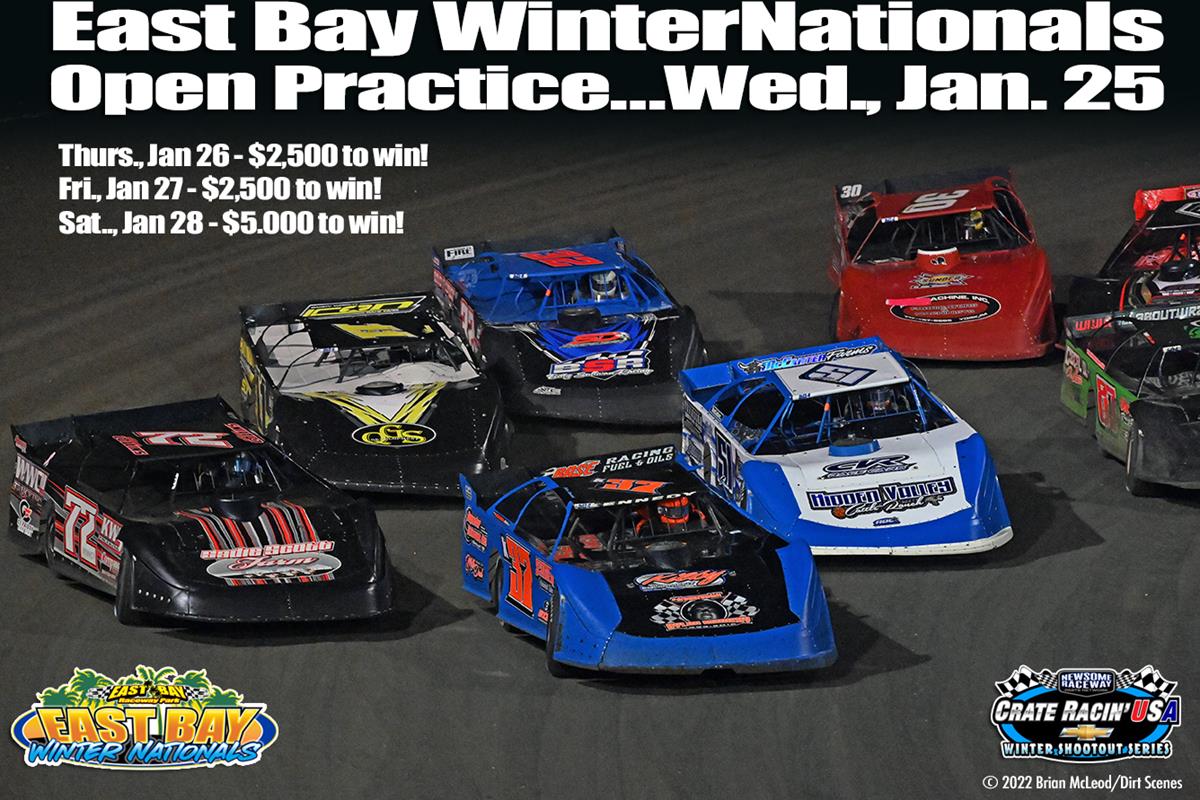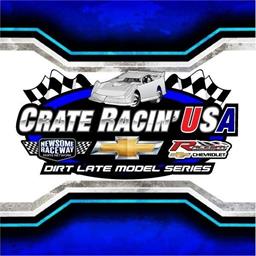 1/24/2023
Crate Racin' USA Dirt Late Model Series
---
Practice Session Scheduled at East Bay Raceway
EASTABOGA, Ala. — Crate Racin' USA's Winter Shootout Series will head towards East Bay Raceway Park in Gibsonton, Fla., starting with an open practice session scheduled Wed., Jan. 25, 2023, as drivers prepare for three days of Florida Winternationals racing action scheduled Jan. 26-28 at the famed third-mile oval.
Drivers in the 604 Late Model division at the "Clay by the Bay" will compete for a $2,500 prize the first two nights at the facility, and the three-day extravaganza will conclude with a miniseries-capping finale paying $5,000 to the winner!
Crate Racin' USA's legendary Street Stock division will also join the card for all three nights, and those races will pay $1,000 to win (Jan. 26), $1,000 to win (Jan. 27) and $2,500 to win (Jan. 28) for the finale. The division promises to be a potential stage-stealing act with a strong field expected for the three nights of competition at the historic speedplant located just a stone's throw from the waters of Tampa Bay.
Catch their historic debut at the facility, and watch closely as the points battle among 604 Late Model competitors continues to unfold as drivers chase the eighth annual Winter Shootout Series championship that will conclude Feb. 18 with the traditional Sweetheart event at 411 Motor Speedway in Seymour, Tenn., where the battle for the $2,500 title will reach its conclusion.
Former champions of the Winter Shootout Series include Chase Edge (2016), Kyle Bronson (2017), Jimmy Elliott (2018, 2019), Pierce McCarter (2020), Dylan Knowles (2021) and Cory Hedgecock (2022).
Crate Racin' USA (current points)…1. Jason Welshan, 196; 2. Cory Hedgecock, 184; 3. Jake Knowles, 176; 4. (tie) Joshua Bishop and Cody Overton, 170; 6. Trevor Sise, 164; 7. Jody Knowles, 162; 8. Phillip Anderson, 150; 9. Jadon Frame, 140; 10. Keaton Smith, 104; 11. (tie among eight different drivers) Kyle Bronson, Ross Bailes, Donald McIntosh, Rye Faulk, Randy Weaver, Freddie Carpenter, Austin Yarbrough and Michael Page, 100; 19. (tie among five different drivers Demetrios Drellos, Mack McCarter, Clay Harris, Nevin Gainey and Booger Brooks, 96.
About Crate Racin' USA
The economical Chevrolet Performance 602 and 604 Circle Track Engine is utilized by competitors in the various divisions presented by Crate Racin' USA. It's in stock and available from Newsome/Raceway Parts Network in Hartsville, S.C.
Each engine is built and sealed at the factory to prevent any expensive modifications. To place an order, call 1-877-497-3624.
For more information and rules, visit the organization's website at www.crateracinusa.com, or follow our extensive social media programs on Facebook, Twitter and Instagram.
Newsome Raceway Parts, a division of Raceway Chevrolet in Hartsville, S.C., is the title sponsor of Crate Racin' USA. E-Z-GO Golf Carts is the title sponsor of the third-year E-Z-GO $100,000+ Challenge.
Chevrolet Performance is an official sponsor of the organization, along with Advanced Laser & Machine, Cruise with the Champions, Hoosier Racing Tire, KRC Power Steering, Knowles Race Parts and Bodies, My Race Pass, VP Racing Fuels and Lubricants and Willy's Carburetors.
Official chassis sponsors include Warrior Race Cars, Rocket Chassis and CVR Race Cars.
---
Article Credit: Brian McLeod
Submitted By: Carolyn McLeod
Back to News