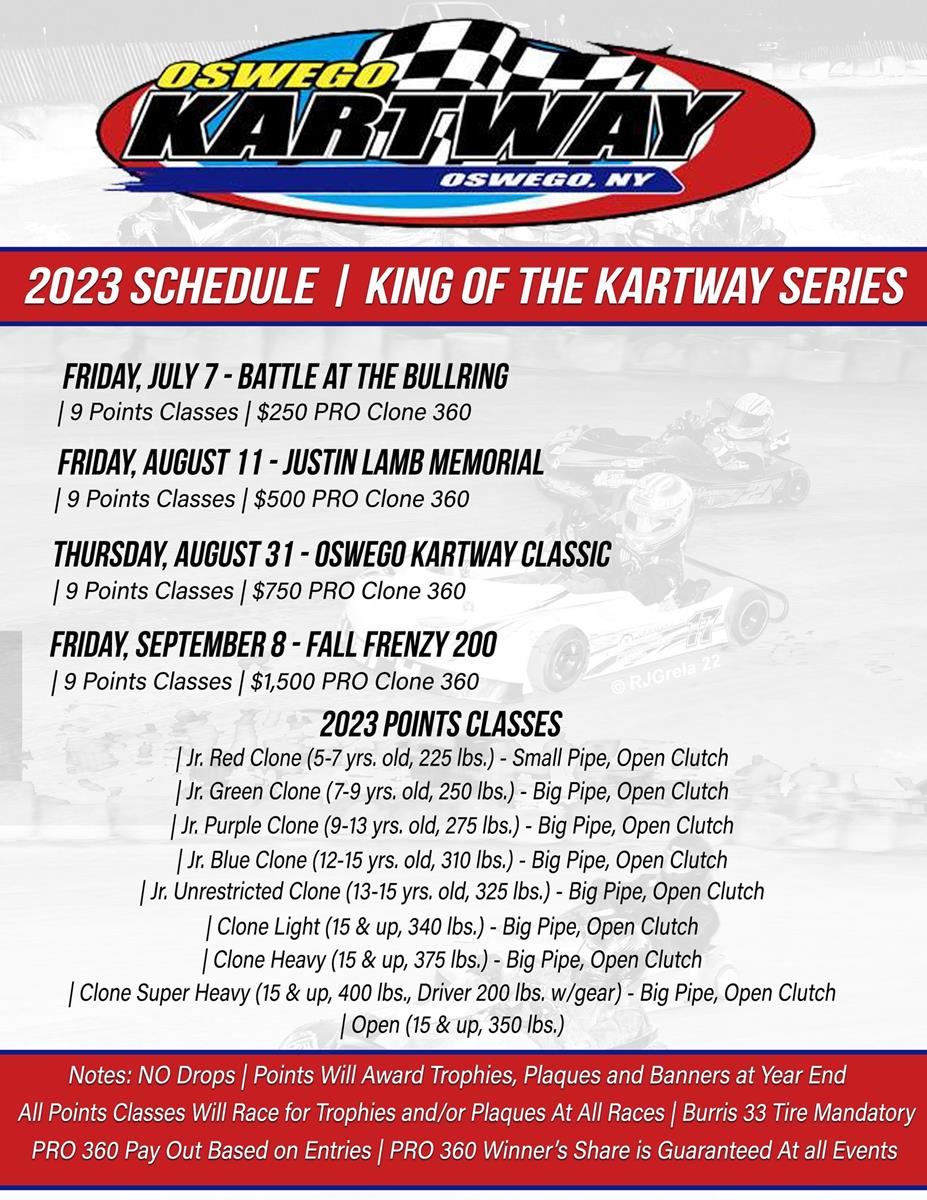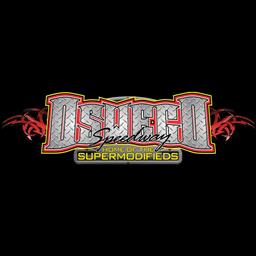 ---
KING OF THE KARTWAY MINI-SERIES RETURNS TO OSWEGO KARTWAY THIS SUMMER
Oswego Kartway - OSWEGO, NY (February 14, 2023) – A renewed promotional partnership between Jason Simmons Racing and Dan Kapuscinski Motorsports Promotions will see Oswego Kartway's King of the Kartway Series return in 2023, capped by the $1,500 to win Fall Frenzy 200 for PRO Clone 360 racers.
The four-race King of the Kartway Series will be contested on Friday, July 7, Friday, August 11, Thursday, August 31 and Friday, September 8 with points accumulated to determine champions across nine points divisions. Points divisions include Jr. Red Clone, Jr. Green Clone, Jr. Purple Clone, Jr. Blue Clone Jr. Unrestricted Clone, Clone Light, Clone Heavy, Clone Super Heavy and Open.
Each event will also include a special PRO Clone 360 main paying $250 to win on July 7, $500 to win on August 11, $750 to win on August 31 and $1,500 to win on September 8.
"We're looking forward to ensuring that racing continues at Oswego Kartway in 2023," said Jason Simmons Racing owner, Jason Simmons. "We have added a race to the schedule this year and believe that four events will be the right mix for the kartway this summer. We are eager to get started."
The Friday, July 7 Battle at the Bullring will open the King of the Kartway series with all nine points divisions in action. The 30-lap, $250 to win, PRO Clone 360 feature will conclude the night.
The Justin Lamb Memorial will take center stage on Friday, August 11. All nine points divisions will once again be in action with a 40-lap, $500 to win, PRO Clone 360 special to cap the evening.
The always exciting Kartway Classic will be featured on Thursday, August 31 with more points racing as well as the 50-lap, $750 to win, PRO Clone 360 finale.
The Fall Frenzy 200 will conclude the series on Friday, September 8. All nine points divisions will crown champions on this night, followed by the 16-kart Fall Frenzy 200 for PRO Clone 360, which will once again see cautions flag laps count.
"We had a great response at the kartway last year and believe we can replicate the excitement and great competition we had one year ago," said Dan Kapuscinski of Dan Kapuscinski Motorsports Promotions. "With the help of many great supporters and partners, we feel as though 2023 is shaping up to be a great year for the kartway."
More details will be available soon, including opportunities for series and event sponsorship. For more information contact Dan Kapuscinski at (315) 708-7544 or dkapuscinski00@gmail.com.
Oswego Kartway can also be found on Facebook at www.facebook.com/OswegoKartway.
Friday, July 7
Battle at the Bullring
Nine Points Classes
$250 to win PRO Clone 360, 30-laps
Friday, August 11
Justin Lamb Memorial
Nine Points Classes
$500 to win PRO Clone 360, 40-laps
Thursday, August 31
Kartway Classic
Nine Points Classes
$750 to win PRO Clone 360, 50-laps
Friday, September 8
Fall Frenzy 200
Nine Points Classes
$1,500 to win Fall Frenzy 200 for PRO Clone 360, 200-laps (cautions count)
Points Classes (Burris 33 Tire Mandatory for All Classes)
Jr. Red Clone | Small Pipe, Open Clutch (5-7 yrs., 225 lbs.)
Jr. Green Clone | Big Pipe, Open Clutch (7-9 yrs., 250 lbs.)
Jr. Purple Clone | Big Pipe, Open Clutch (9-13 yrs., 275 lbs.)
Jr. Blue Clone | Big Pipe, Open Clutch (12-15 yrs., 310 lbs.)
Jr. Unrestricted Clone | Big Pipe, Open Clutch (13-15 yrs., 325 lbs.)
Clone Light | Big Pipe, Open Clutch (15 & up, 340 lbs.)
Clone Heavy | Big Pipe, Open Clutch (15 & up, 375 lbs.)
Clone Super Heavy | Big Pipe, Open Clutch (15 & up, 400 lbs. – Driver 200 lbs. w/gear)
Open | (15 & up, 350 lbs.)
PRO Clone 360 (Burris 33 Tire Mandatory): Big Pipe, Open Clutch (15 & up, 360 lbs.)
---
Submitted By: CAMDEN PROUD
Back to News