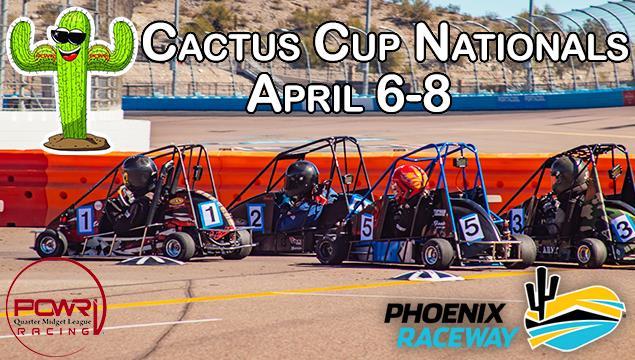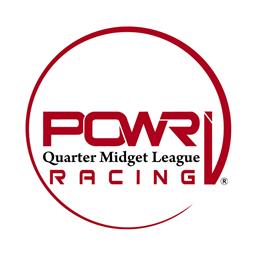 ---
Registrations Open for Cactus Cup at Phoenix Raceway April 6-8
Belleville, IL. (2/27/23) Offering real-world NASCAR track experiences while highlighting future competitors of the sport, the POWRi Quarter-Midget Association is excited for the continuation of the Second Annual Cactus Cup Nationals returning to Phoenix Raceway on April 5-8 with entries now open.
Continuing the traditions of the fun-filled inaugural Cactus Cup in 2022, competitors will get a chance to race on the actual NASCAR track surface as part of the layout for the quarter-midget track being utilized. Heat race and feature winners will get to take photos in the same victory lane where their favorite NASCAR drivers celebrate wins. Competitors will be able to do a victory lap around the entire NASCAR Phoenix Raceway either Thursday or Friday.
Registration for the Second Annual POWRi Quarter Midget Cactus Cup remains open and available online at https://www.emailmeform.com/builder/form/a0slW7f4cv7XA8L5ne68d.
Wednesday, April 5th – Beginning at Noon: Parking/Safety Sign-In
"Cactus Cup Kick-Off Dinner" in the evening offering competitors and families a FREE catered meal before the weekend racing adventure.
Thursday, April 6th – Parking/Safety Sign-In | Practice | Heat Races | Easter Egg Hunt.
Friday, April 7th – Heat Races | Lower Mains.
Saturday, April 8th – Lower Mains | A-Mains.
More information for competitors will be released with additional details soon to follow.
Follow along for more information such as race recaps, updates, full results, and press releases online at www.powriqmr.com, or on Facebook at POWRi QMR.
Back to News