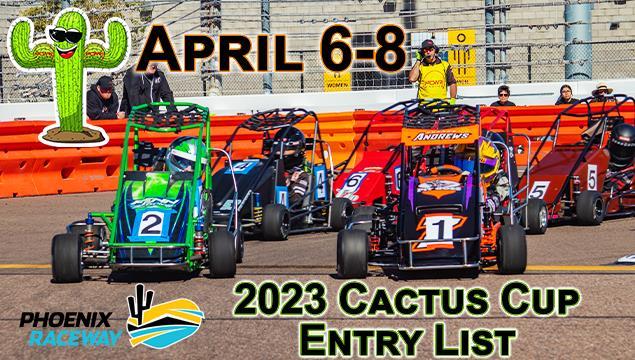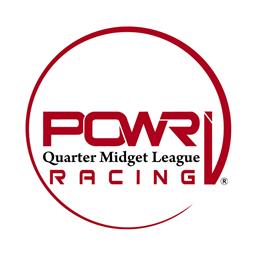 ---
Entry List as of Monday, March 21st
Belleville, IL. (3/21/23) Entries are beginning to accumulate as the POWRi Quarter Midget League takes center stage for the Second Annual Cactus Cup Nationals at Phoenix Raceway on April 5-8.
POWRi QMR Cactus Cup entries as of Monday, March 20th include:
Junior Novice:
Wyatt Prenovost
Matteo Alicea
Ronald Williams
Lathyn Villegas
Tristin Nichols
Benjamin Nichols
Chevy Ashcraft
Emma Zayas
Senior Novice:
Chase Schilling
Kade Perry
Ian Yaw
Junior Honda:
Mackenzee Parker
Easton Cambensy
Evan Dickison
Johnny Bultsma
Jace Bultsma
Ryan Whipple
Julian Zayas
Amilia Deavult
Logan Kleinman
Rylee Gauthier
Senior Honda:
Eli Black
Brady Prenovost
Dominick Smith
Manny Zayas
Andrew Kleinman
Colton Kleinman
Skyler Bohard
Allison Gauthier
Heavy Honda:
Adrian Imperial
Sloan Lowther
Sophia Esquivel
Stock/Junior 160:
Easton Cambensy
Evan Dickison
Rylee Gauthier
Amilia Deavault
Light Honda 160:
Eli Black
Rylee Gauthier
Heavy Honda 160:
Adrian Imperial
Sloan Lowther
Johnny Bolanos
Junior Animal:
Easton Cambensy
Senior Animal:
Eli Black
Mia Bolanos
Skyler Bohard
Heavy Animal:
Light World Formula:
Eli Black
Heavy World Formula:
Adrian Imperial
Johnny Bolanos
AA/Modified:
Adrian Imperial
Registration for the Second Annual POWRi Quarter Midget Cactus Cup remains open and available online at https://www.emailmeform.com/builder/form/a0slW7f4cv7XA8L5ne68d.
Wednesday, April 5th – Beginning at Noon: Parking/Safety Sign-In
Thursday, April 6th – Parking/Safety Sign-In | Practice | Victory Lap | Easter Egg Hunt.
Friday, April 7th – Heat Races | Lower Mains
Saturday, April 8th – Lower Mains | A-Mains.
More information for competitors will be released with additional details soon to follow. Follow along for more information such as race recaps, updates, full results, and press releases online at www.powriqmr.com, or on Facebook at POWRi QMR.
Back to News