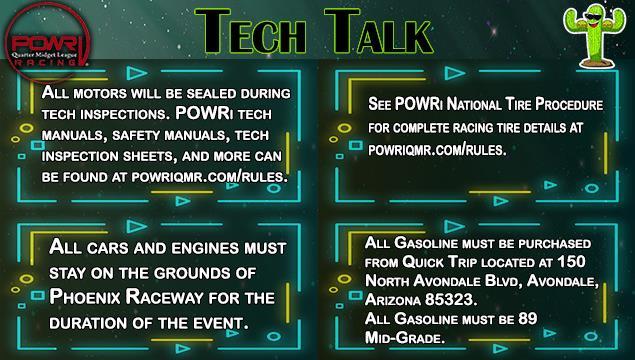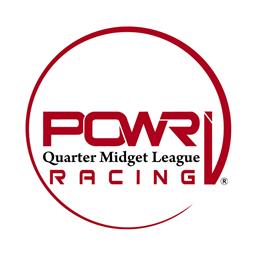 ---
POWRi QMR Cactus Cup Nationals Information
Belleville, IL. (3/9/23) In less than a month's time, current and future racing stars from all over the country in the quarter-midget division will converge upon Phoenix Raceway for the 2nd Annual POWRi QMR Cactus Cup Nationals on April 5-8 with NASCAR dreams on the line.
Competitors will park on the infield of Phoenix Raceway in the same stalls as their NASCAR counterparts, with the quarter-midget track layout utilizing part of the actual NASCAR racing surface. Heat race and feature winners will also take photos in the same victory lane where their favorite NASCAR drivers celebrate wins.
Wednesday, April 5: Parking | Safety Sign-In
Thursday, April 6: Parking/Safety Sign-In | Practice | Victory Lap | Easter Egg Hunt.
Friday, April 7: Heat Races & Lower Mains.
Saturday, April 8: A-Mains.
Subject to change with car count.
Race Formats:
Practice – 3 Minutes in duration, maximum of 7 cars on the track.
Heat Race Line-ups will be a random computer-generated pill draw.
Heats & Mains Laps:
All races will be staged and run out of the hot chute.
Novices will run 2 Heats & Feature
Heat Races – 20 Laps.
Lower Mains – 25 Laps.
Novice A-Mains – 25 Laps.
Jr. A-Mains – 30 Laps.
Sr. A-Mains – 40 Laps.
Judging:
See POWRi Rules & Guidelines.
Tech:
All engines will be sealed immediately after heat races.
Handlers are responsible for the engine sealing by track officials.
The top-3 finishers in each class will be impounded after each main event.
All cars signed in are subject to tech & safety inspections.
POWRi QMR National Tech Manuals, Safety Guidelines, Tech Inspection Sheets, and more can be found online at www.powriqmr.com/rules.
Fuel:
All Gasoline must be purchased from Quick Trip located at 150 North Avondale Blvd, Avondale, Arizona 85323. All Gasoline must be 89 Mid-Grade.
Tires:
All participants at a POWRi National will be required to use the same set of right-side tires per car/class for qualifying, heat racing, and A-Main event. POWRi will not be requiring tires to be purchased at the National Event. All approved POWRi tires are listed on the POWRi QMR website.
Please refer to POWRi Nationals Tire Procedure online at http://www.powriqmr.com/downloads/get.aspx?i=801076.
Registration remains open online at https://www.emailmeform.com/builder/form/a0slW7f4cv7XA8L5ne68d.
Follow along for more information such as race recaps, updates, full results, and press releases online at www.powriqmr.com, or on Facebook at POWRi QMR.
Back to News