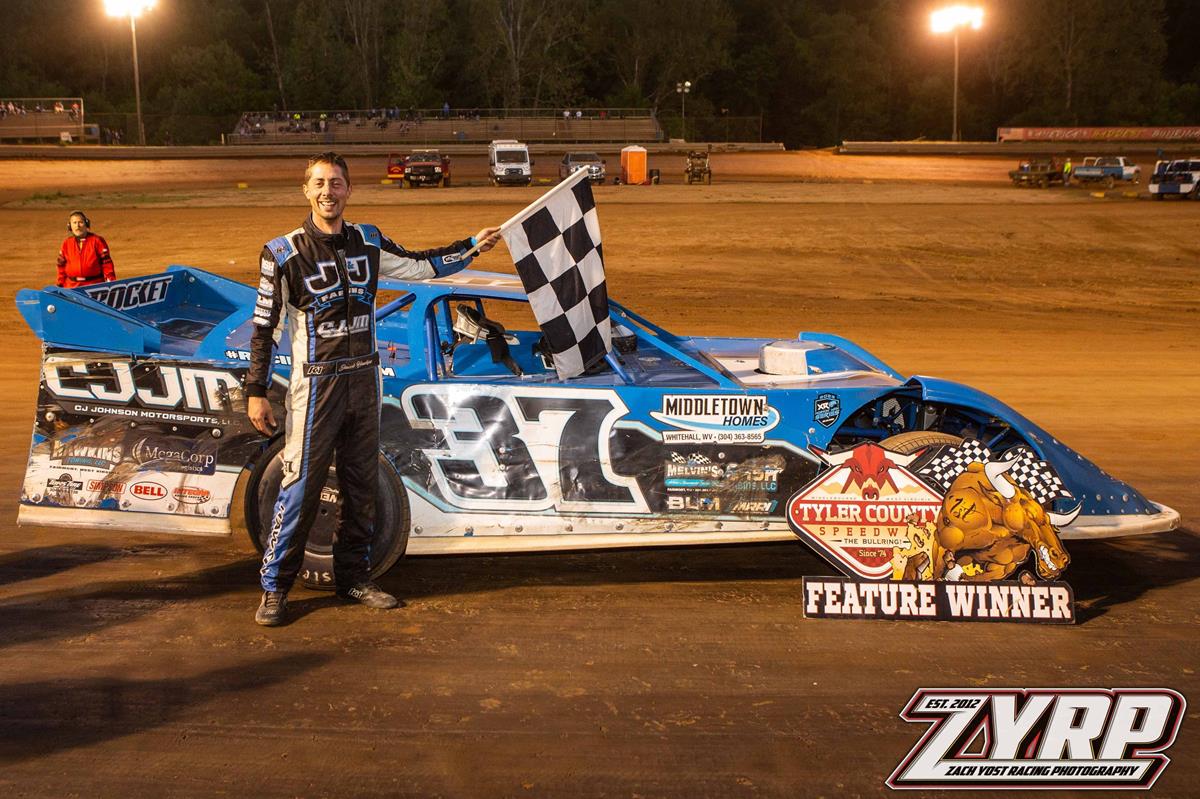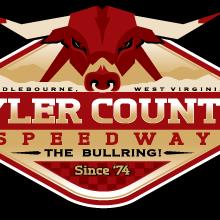 5/22/2023
Tyler County Speedway
---
HAWKINS, WEIGLE & BURDETTE LEAD WAY DURING FEATURE FEST AT TYLER COUNTY SPEEDWAY
A rare Sunday night raindate would be on the docket at America's Baddest Bullring looking to overcome a pesky Mother Nature after another Saturday rainout. 105 eager racers would make the trip to Middlebourne, WV on a picturesque Sunday for FEATURE FEST. A unique event featuring qualifications with racers heading right into Feature events based on times, ensuring a quick and efficient program on a worknight. Jacob Hawkins, Brandon Weigle, Jacob McDaniel would all go back to back at the 'Bullring' with KC Burdette, Pat Garrett and Coen Thomas securing their first feature wins of the year, while Brian Probst and Leah Brightwell also added to their trophy cases.
Redrawing the outside front row in the Stutler Motorsports Body Shop Super Lates was Jacob Hawkins of Fairmont, WV. Coming off his epic performance in the 29th Annual Topless 50 in which the Fairmont ace would rally from last to first in that event, this night would be much easier for the driver of the CJJ Motorsports/ J&J Farms/ Middletown Homes/ Hawkins Towing Rocket Chassis. At the drop of Flagman Matt Amick's green flag it was all Hawkins as the pilot of the #37 machine would never be challenged enroute to his second trip to the EQT Corporation Victory Lane at Tyler County Speedway this year. Following Hawkins to the pay window was Travis Brown, Ryan Payne, Tyler Riggs and Shane Hitt.
In the J&R Excavating RUSH Late Model division it would be Brandon Weigle rallying from his sixth starting spot to secure his 2nd win in a row. Weigle would utilize his typical high line around the 'Bullring' aboard the Titan Energy Solutions/ Weigle Farms/ Landon Hall Construction/ D&S Automotive Rocket XR 1 to overtake race leader Garrett Paugh to easily pull away for the victory. Following Weigle across the stripe was Paugh, AJ Spagnuolo, Ryan Hare and Michael Duritsky.
A strong contingent of 18 Jenkins Auto Parts UMP Modifieds would see Parkersburg, WV's KC Burdette make his first appearance of the 2023 season a good one. The talented driver of the KC44 machine would hold off Derek Doll, Kenny Johnson, Cody Brightwell and Danny Thomas to secure his first trip to the EQT Victory Lane.
Reno, Ohio's Pat Garrett would roll into the 'Bullring' for the first time this season and would roll off in the 3rd position in the Middlebourne Galaxy Food Center Sportmod feature event. Garrett would waste no time in getting to the point amongst the 22 car field. Garrett aboard the M&M Land Company/ PCD Chassis machine would hold off previous week's feature winner Lance Weppler, Sonny Leek, Kendall Hodge and Dwight Henry to capture the win.
Defending track champion Brian Probst of New Martinsville, WV would pick up his 3rd win of the season in the J&L Collision Center Hotmod division and appear poised for another track championship in the competitive division. Following Probst once again in the runner-up position was and ever-improving Santino Loretta, and with a career best 3rd place finish for Makenzie Dotson, while veterans Steve Magyar and Kevin Dotson would round out the top five.
A slim field of 8 Dual Threat Sports Card SCDRA 4 Cylinders would take to the track with Jacob McDaniel picking up his 3rd win of the season besting Joey Price and Ethan Drain. McDaniel pilots the McWilson Performance LLC, Kuya Union Coffee, B&J Performance/ BJP Racing, Mister Bee Potato Chips, Welderman@MOVBT #22.
The Hino Motors Manufacturing USA Mini Wedges would kick off Feature Fest with upstart Coen Thomas in his first year of racing garnering his first ever feature win in his Devin Moran look alike #9 machine ahead of Rowen Brightwell and Cruz Thomas in the Junior Division. In the Senior Division it was defending track champion Leah Brightwell etching her name in the record books over Bryson Roberts and Bryar Glover.
Join us next Saturday Night at America's Baddest Bullring as we celebrate the Memorial Weekend in style! You won't want to miss the 'King of the Quarter Mile' featuring the 19th Annual Dickson Classic for UMP Modifieds paying $1,500 to win along with the Workin' Man World Championship for the J&L Collision Center Hotmod division paying $2,000 to win along with all other divisions. Plus the kids will love the Race Car Rides at intermission!
Tyler County Speedway, Feature Fest Results, Sunday Night, May 21st
Stutler Motorsports Body Shop Super Late Model Feature presented by Midcap Land and Timber: Jacob Hawkins, Travis Brown, Ryan Payne, Tyler Riggs, Shane Hitt, Logan Hitt, Steve Weigle, Lucas McDonald, Ryan Saffell, Billy Brown, Brock Stevens, Jamey Long, Preston Bier, DNS Troy Frazier, Nick Corbitt
Jenkins Auto Parts UMP Modified Feature: KC Burdette, Derek Doll, Kenny Johnson, Cody Brightwell, Danny Thomas, JP Roberts, Ryan Jones, Justin Hart, Zack Robinson, Robin Ours, Bobby Bagley, Cody Henthorn, Travis Thomas, Robin Lashley, James Schnegg, Mitch Ward, Gerald Deitch, Chad Roush
J&R Excavating RUSH Late Model Feature: Brandon Weigle, Garrett Paugh, AJ Spagnuolo, Ryan Hare, Michael Duritsky, Nick Corbitt, Dave Loudin, George Casto, Joe Squatriglia, Jarrett Spencer, Donnie Dotson, Logan Reed
Middlebourne Galaxy Food Center Sportmod Feature: Pat Garrett, Lance Weppler, Sonny Leek, Kendall Hodge, Dwight Henry, Brandon Davis, Tommy Powell, Ron Pickens, Josalyn Hibbard, Sonny Conley, Wayne Francis, Zack Barr, Wesley Reed, Jeff Gorrell, Mackinsey Thomas, Brad Lucas, Allen Clark, Jacob Wheeler, Eric Francis, Mike Mason, DNS Justin Robinson, Chris Thomas
J&L Collision Center Hotmod Feature: Brian Probst, Santino Loretta, Makenzie Dotson, Steve Magyar, Kevin Dotson, CJ Dotson, Carson Thomas, Tim Spencer, Eddie Probst, Natalie Hibbard, Tripp Perine, Michael Thomas, Robin Maxson, Jason Todd, Edward Ackerman, Mickey Thorpe, Crash Craddock, DNS Nik Keller
Dual Threat Sports Card SCDRA 4 Cylinder Feature: Jacob McDaniel, Joey Price, Ethan Drain, Tim Harlan, Bobby Rymer, Mitch Eddy, Conner Siders, DNS Mike Todd
Hino Motors Manufacturing USA Junior Mini Wedge Feature: Coen Thomas, Rowen Brightwell, Cruz Thomas, Eli Smith, Peyton Gibson, Brentley Carson, Aly Leak, Maddie Wilson Trophy Sponsor Hare Racing
Hino Motors Manufacturing USA Senior Mini Wedge Feature: Leah Brightwell, Bryson Roberts, Bryar Glover, Kyndi Glover Trophy Sponsor Hare Racing
---
Submitted By: Dan Patterson
Article Media
Back to News