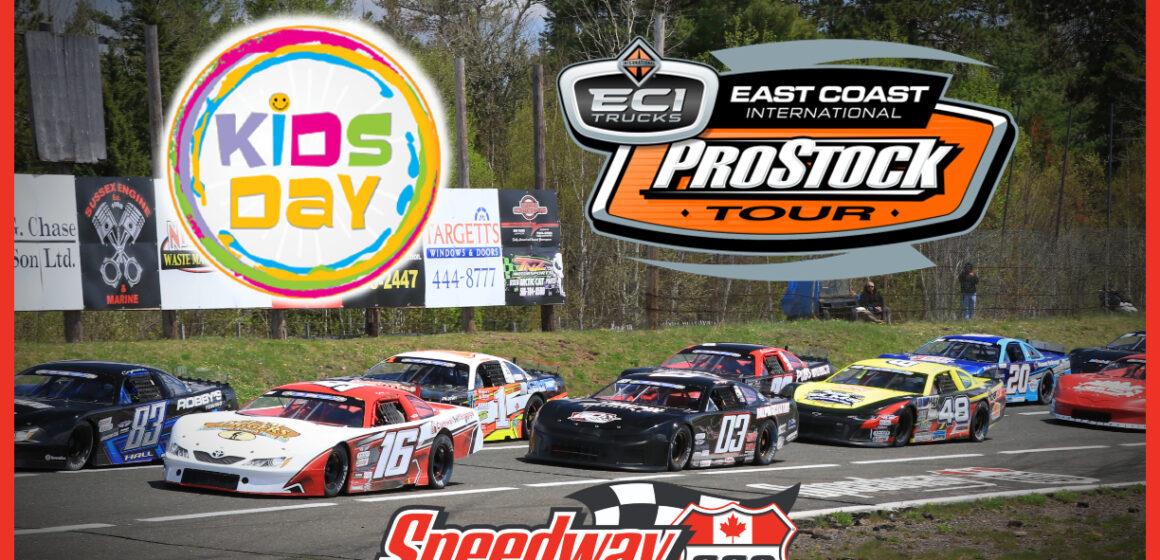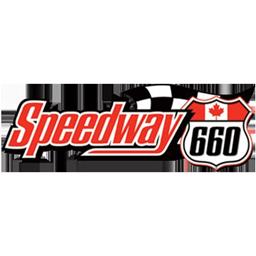 ---
KIDS DAY, PRO STOCK TOUR HEADLINE SUPER SATURDAY AT SPEEDWAY 660!
(May 24th, 2023) – A longstanding and popular tradition at Speedway 660 will see its annual festivities held on Saturday – part of a highly billed racing event that also features the return of a regional touring series to the Geary Woods. With Kids Day and the East Coast International Pro Stock Tour 150 on tap, the second event of the 2023 season will be a big one that fans will not want to miss!
In addition to the one-two punch brought by Kid's Day and the Pro Stock Tour return, there will be plenty of business to take care of for the weekend warriors of Speedway 660. Championship points racing will be contested in the Shur-Fit Automotive, Bumper to Bumper Street Stock division and the Fredericton Gun Shop Sharp Shooter division. Both divisions contested thrilling races at the Riverview Ford Season Opener, and this time around are ready to put on a show for the youngest fans and precede the East Coast International 150. It will be an extended 50-lap feature for the Street Stocks and 30-lap feature for the Sharp Shooters.
Action will kick off at 4pm on Saturday May 27th, with the pre-race autograph session getting underway at 3pm. Fans can purchase advanced tickets via ShowPass (https://www.showpass.com/s660race2) or purchase tickets at the gate on race day. It is encouraged to purchased advanced tickets and / or arrive early on race day to avoid lineups and catch all the action!
Kid's Day Excitement
Kid's Day is back at Speedway 660 this weekend – the popular event that sees the candy scramble on the front stretch during the St. Louis Bar and Grill intermission, along with an on-track autograph session pre-race. The youngest fans look forward to this event every year thanks to the opportunity to meet their hometown heroes who race every week, get autographs, and score plenty of candy and treats.
Not only is plenty planned for the young fans, but the Speedway 660 free admission policy for youth will also be in effect! Grandstand admission is free for all youth fifteen (15) years of age and younger. While action starts at 4pm, the autograph session on the frontstretch kicks off at 3pm!
Highly Anticipated Pro Stock Tour Return
For the region's Pro Stock fans, they have been looking forward to this event as well, for six years! The anticipation has been building since 2017 for the return of the East Coast International Pro Stock Tour at Speedway 660. It was July 2017 when the last Pro Stock Tour race was held, and on that day it was Greg Fahey going to victory lane. This will be the thirty-first time the East Coast International Pro Stock Tour has competed at Speedway 660.
Fans will witness what is sure to be a duel between Pro Stock Tour title contenders and local Speedway 660 talents during the East Coast International 150. Two-time and defending series champion Craig Slaunwhite (#99), most recent race winner Jarrett Butcher (#54), and stars such as Nicholas Naugle (#08), Russell Smith Jr (#88), Matt Vaughan (#0), and more will make the trip to the Geary Woods – some for the first time! They will be met with a battle line of drivers who frequently challenge for wins at Speedway 660 and are sure to seek to defend their home tracks – names like Ryan Messer (#1), Lonnie Sommerville (#23), Ashton Tucker (#2), Kevin Moore (#88) and others are expected! A full official entry list and race preview for the East Coast International 150 will be released by the management of the East Coast International Pro Stock Tour, but the stage is being set for a stellar show.
Street Stock Stars Continue Championship Battle
It was a sea of blue out in front of the field in the Shur-Fit Automotive, Bumper to Bumper Street Stock division on opening day. Michael Cormier (#68) came through the pack and took the lead in the closing laps to secure the victory over a competitive roster of drivers. For much of the race, it looked like Harvey's Justin Cole (#38) would snap a winless streak that dates to the end of 2019, but he would relinquish the lead in the closing laps and drop back to third behind two-time champion Luc McLaughlin (#11).
After accounting for heat races, the points championship is brewing. Cormier has a one-point lead over McLaughlin, with another one-point being the gap back to Cole in third. Former champion Shawn Hyslop (#99) is not far behind in fourth, with Tom Nicholls (#28) in fifth after a strong start. Defending champion Rick Cashol (#54) leads a charge of drivers looking to improve on opening day and climb the standings, along with Ron Enkel (#52), Jimmy Sommerville (#5), Kyle MacKinnon (#22), Jonathan Hanley (#16) and Nick MacKenzie (#48).
First-Time Winner Leads Sharp Shooter Field Into Kids Day
Mitchell Harvey (#19) had a memorable Riverview Ford Season Opener by earning his first career feature victory in the Fredericton Gun Shop Sharp Shooter division. The popular driver wheeled to victory over last year's championship runner-up Alex Gallant (#5) and asserted himself as an early title favorite. After round one, Harvey sits tied with Wesley Harnish (#61) on top of the points standings after a third-place effort and heat victory for Harnish. As the points stack up, the top seven are all within ten points of each other, with familiar faces like Randy Storey (#92), Matt Martin (#33), Darren Wilcox (#32), and last year's Rookie of the Year Todd Day (#4) all near the top early in the year.
The Sharp Shooter division always produces an impressive field of entries, and round one was no different with eighteen drivers in attendance. With a strong mix of veterans and rookie drivers, the dynamic in the class is always intriguing, and that was seen opening day with many veteran competitors having fortunes not play out in their favor. To make a championship bid in 2023, drivers like Randy Titus (#75), Daniel Atyeo (#15), and Ryan Bernard (#68) will need to have a strong showing on Kids Day.
Stay in the Know
Action starts at 4pm on Saturday May 27th, but fans are encouraged to arrive early with the popular autograph session at 3pm! Pits for competitors will open at 10:30am. Grandstand tickets are $30 for adults, and as always kids fifteen (15) years of age and under will be admitted free to the grandstands. Pit admission is $40 and is restricted to those at least sixteen (16) years of age and older, except for youth who are direct family members of a driver, who can enter the pits with proper signed waivers. All entrants to the pits must complete the e-waiver prior to entering the pits.
For all up-to-date info from Speedway 660, check us out online at Speedway660.com, or find them on Facebook at "Speedway 660".
About Speedway 660:
Speedway 660 is one of Canada's premier stock car racing facilities. Located in New Brunswick's Fredericton region, it has attracted race teams and fans from the Maritimes, New England and Quebec since 1994. The Speedway 660 racing season runs from mid May until late September. SpeedWeekend, one of the most prestigious short track events in eastern North America, is the marquee event of the Speedway 660 season on Labour Day Weekend.
---
Article Credit: Denver Matchett
Submitted By: Stephen Muzzerall
Article Media
Back to News