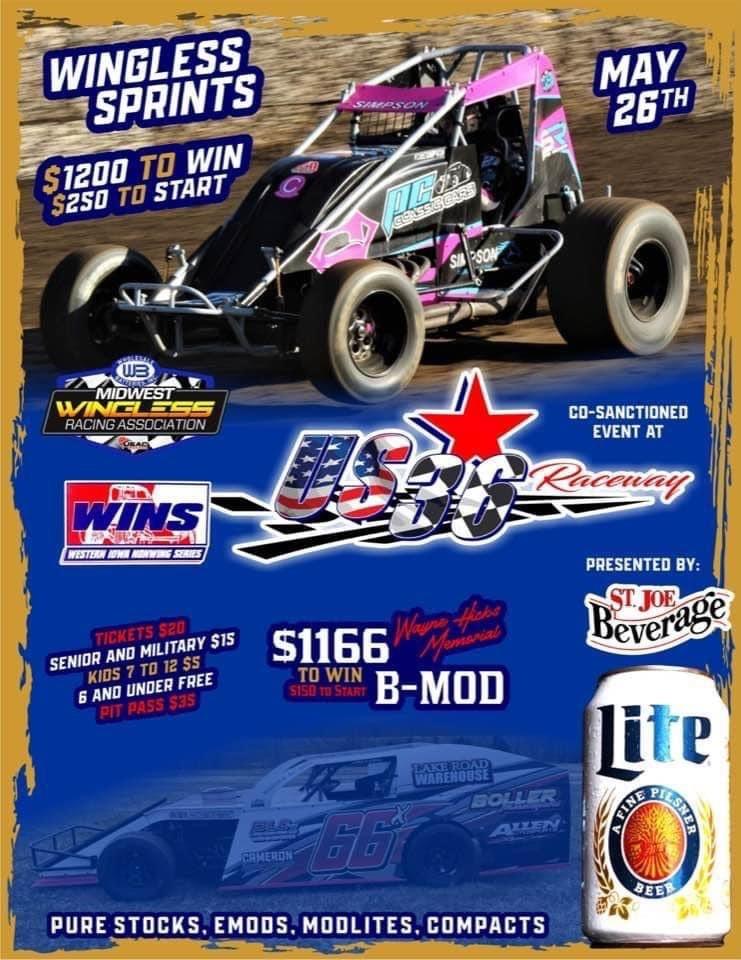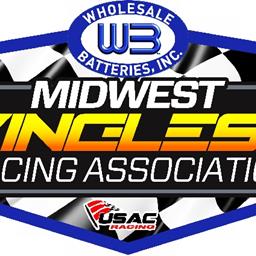 5/22/2023
Midwest Wingless Racing Association
---
US36 Technical Bulletin for 5-26-2023
USAC MWRA Treks back towards Northwest Missouri, to US 36 Raceway Dirt Track, near the town of Osborn, Mo. for some Friday night lights to kick off Memorial Day Weekend, after a Southern Kansas swing to bring in May! The 1st visit of season to 36 will be race #5 on the docket for the Wholesale Batteries, Inc. Road to a Championship. Fort the first time the Warriors of the USAC Regional series is tackling the Highbanks of 36 in conjunction with Western Iowa Non-wing Sprint Cars, or WINS.
Also in contention for the US36 Weekly series are USRA B-Mods, IMCA Mod Lites, E-Mods, Pure Stocks and Sport Compacts.
US36 Raceway
9850 MO-33
Osborn, Mo. 64474
Spectator Info:
Grandstands open: 6pm
Hot Laps 7:30pm
Racing to Follow
GA Ticket: $20
Competitor info:
Pit Gate: 5pm.
Pit Road – Follow the Signs that lead to the right/South
Pit Gate - West side of Facility
Pit Passes are $35.
Pill-Draw:
530pm | 645pm -
MWRA Tent.
Drivers Meeting: 700pm -
MWRA Tent
Return Transponders to MWRA Tent
Pay – MWRA/WINS Tent
Technical notes:
RACEcivers are mandatory. Channel is 464.5500.
Hoosiers on all four Corners of the Car. Old or New compounds acceptable. No doping.
AS THIS IS A CO-SANCTIONED EVENT WITH "WINS", NO COCKPIT/SHOCK ADJUSTERS ALLOWED FOR THIS RACE.
No traction control devices. Open Headers, No Mufflers required.
Tires will be available for purchase.
Points info:
Competitors Must have a USAC Regional License to accrue points for MWRA.
This must be completed prior to coming to the track. This is much easier accomplished on a computer, than over a phone. (Approx. $160 for the year, after online fees) If you race with us 6 times or more, this is the way to go!
If you do not have a USAC License a $25 Temporary One Day License Fee will be assessed at the time of Competitor Check-In.
Other Notes:
US36 Raceway will not have Methanol for sale. Series Regular Justin Johnson also sells Methanol. (816) 519-7016 - Call ahead for pick up before heading to the track.
Questions Regarding MWRA - Contact Caleb Harvey (785) 806-0434 or Shelby Manthe (913) 827- 2054
Questions Regarding US36 Raceway - Contact John Boller (816) 752-3645
Points Race - US36 Raceway
USAC Racing
Wholesale Batteries Inc
Rod End Supply
Contingency Connection
Valor Racing
High Fly'N Photos
Country Kids Day Care of Olathe
Daytona 1
Friendly Affordable Computing
BSmithEnterprises
Creationsby Ravyn
Pit Stop Catering
---
Article Credit: Caleb Harvey
Back to News