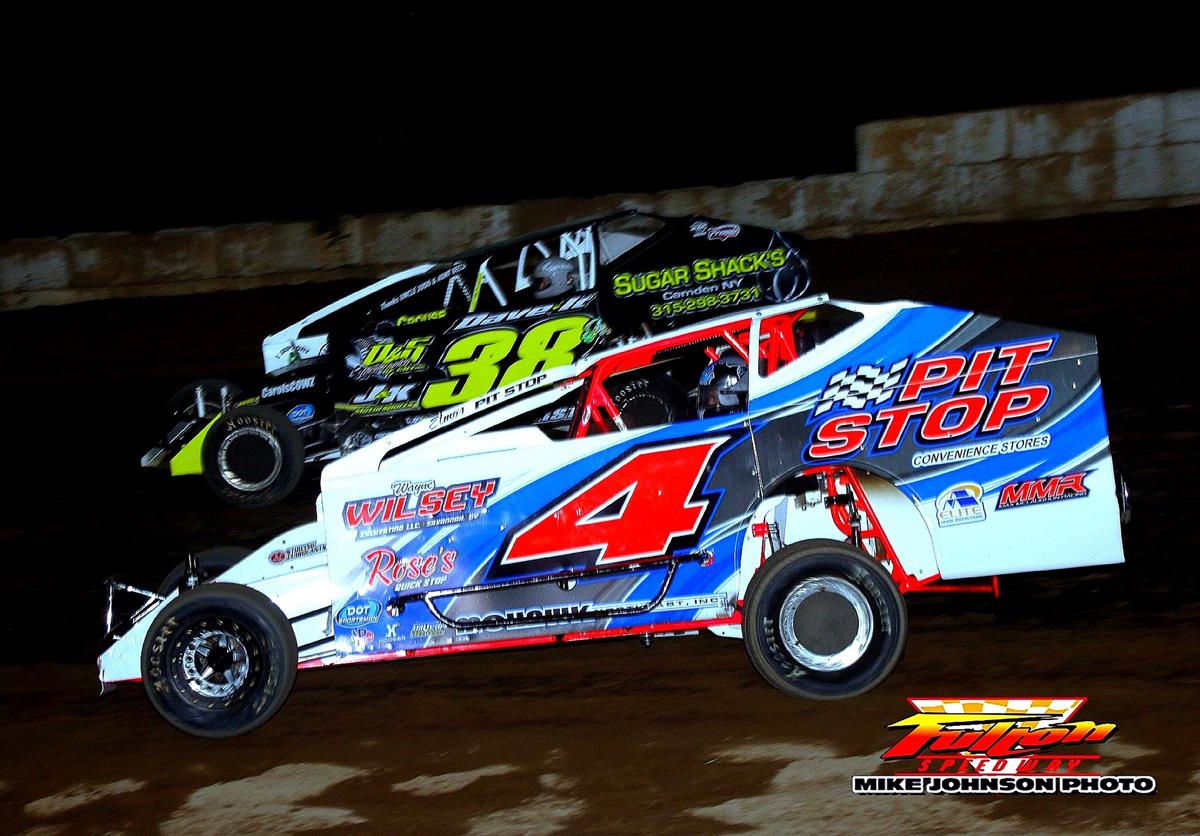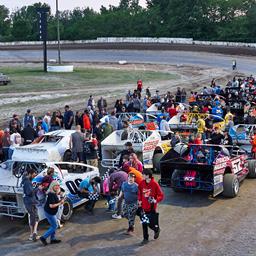 ---
Racing Returns to the Fulton Speedway Highbanks Saturday, June 10
By Dave Medler
FULTON, NY - (June 7, 2023) - Ground pounding, and fast side by side racing returns to the Fulton Speedway this Saturday, June 10 presented by Neivel Precision Plumbing and Chris Nichols Snap-On-Tools.
Doing battle on the 'Highbanks' will be the Tracey Road DIRTcar Modifieds, DOT Foods DIRTcar Sportsman, E&V Energy Novice Sportsman, Billy Whittaker Cars & Trux Hobby Stocks.
The speedway is excited to announce the return this Saturday for the Billy Whittaker Cars & Trux - Jr. Fan Club pace car ride during intermission. Stop by the Ellen Krassowski Allstate Insurance, Jr. Fan Club Zone located in the midway to sign up for a pace car ride, plus the Oswego Health Jr. Fan Club Bike Giveaway.
June 3 Feature Winners: Tim Sears Jr. (Modifieds) Brett Sears (Sportsman) John Pietrowicz (Hobby Stocks) Josh Hughto (Novice Sportsman).
Top-Five Point Standings:
Modifieds: 1. 83X – Tim Sesrs Jr. (228) 2. 99L – Larry Wight (222) 3. M1 – Dave Marcuccilli (204) 4. 49 – Billy Dunn (190) 5. 32R – Ronnie Davis III (181).
Sportsman: 1. 92 – Andrew Buff (198) 2. 33 – Richard Murtaugh (192) 3. 4 – Emmett Waldron (184) 4. 33Jr. – Clayton Brewer III (180) 5. 6 – Cody Manitta (173).
Hobby Stocks: 1. 711 – John Pietrowicz (240) 2. 74X – Jim Evans (202) 3. 13 – Adam Hunt (196) 4. Big4 – Mike Watkins (194) 5. 29K – Casey Cunningham (188).
June 10 Admission.
Adult G/A: $15
18 Years & Under: Free
Pit Passes.
DIRTcar Member: $35
Non-Member: $40
Pits Open @ 4:00 PM
Grandstands Open @ 5:00 PM
Hot Laps Start @ 6:00 PM
Racing Begins @ 7:00 PM
The speedway would like to thank our marketing partner and one of the night's presenting sponsors, Chris Nichols Snap-On Tools.
This month Chris is celebrating his one-year anniversary as a franchise owner. He covers Hannibal, Fulton, Pennellville, Oswego, Central Square, and Brewerton. You can follow him on Facebook @cnytoolsinc or by phone 315-50-TOOLS (315) 508-6657.
The speedway would also like to thank marketing partner and event sponsor Neivel Precision Plumbing and Mechanical LLC., who sponsor Sean Beardsley's Modified.
Neivel Precision Plumbing and Mechanical LLC., are a commercial plumbing and heating Contractor including industrial piping, plus residential plumbing, and heating.
They are currently one of the largest plumbing companies in the city of Syracuse and surrounding areas. They are located at 5841 Butternut Drive, East Syracuse, NY. They can be reached at (315) 437-3400 – (315) 937-5085.
As always remember to support those who support racing.
Direct any questions on race day activity or sponsorship opportunities to Cory Reed at (315) 593-6531 or cory@fultonspeedway.com.
For all the latest news, visit www.fultonspeedway.com. Be sure to like the speedway social media pages.
The Fulton Speedway is located at 1603 County Route 57, Fulton, NY.
---
Submitted By: David Medler
Back to News