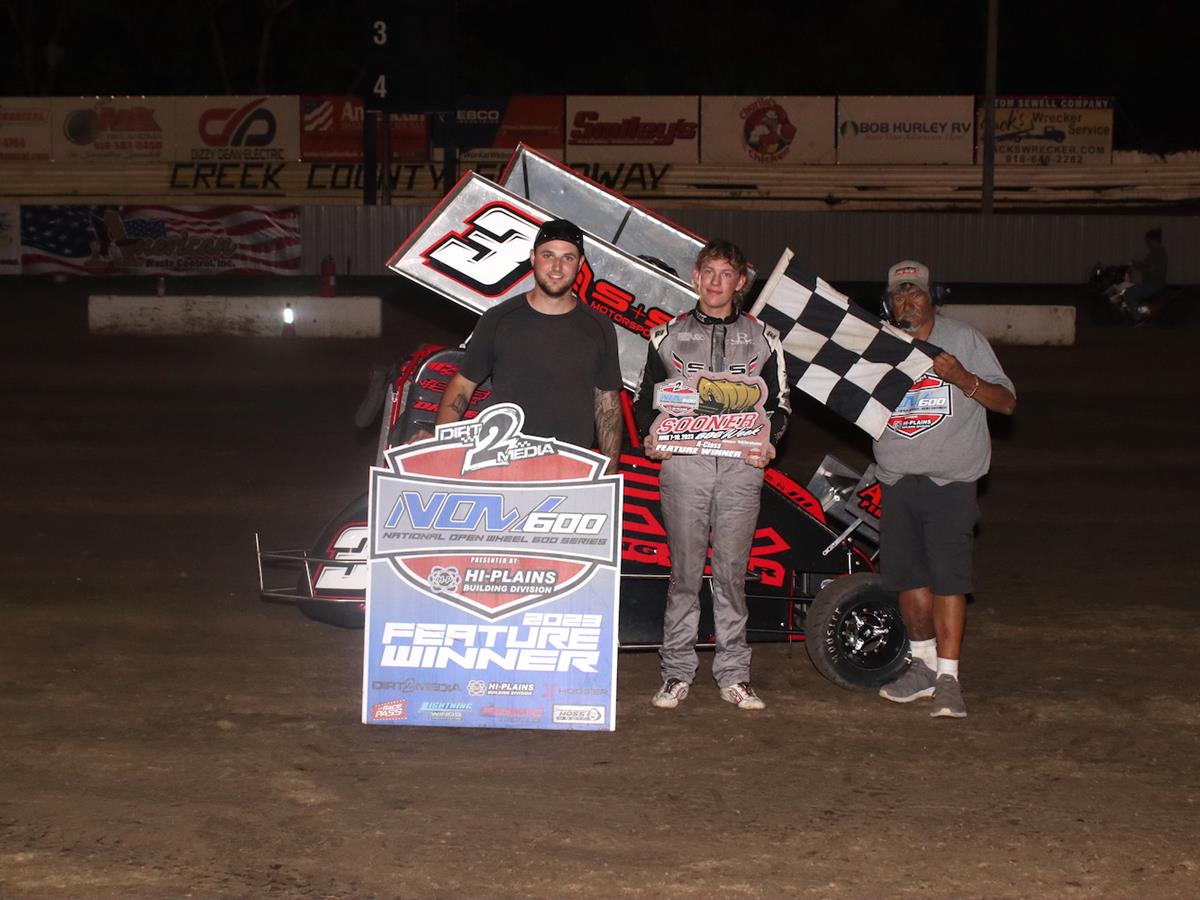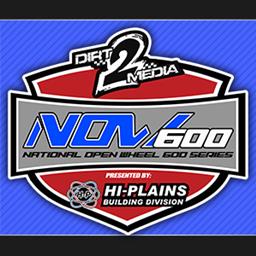 6/9/2023
NOW600 National Micros
---
Schroeder And Nunley Double Up While Flud Returns To Victory Lane With NOW600 At Creek County Speedway
(NOW600 at Creek County Speedway | June 8, 2023 | Image Credit: Richard Bales)
Bryan Hulbert – SAPULPA, Okla. (June 8, 2023) Round 2 of Sooner 600 Week landed at Creek County Speedway on Thursday night with Cole Schroeder and Jett Nunley going back-to-back in A-Class and Restricted, while Frank Flud returned to Victory Lane in Non-Wing.
Eighty-three entries on hand with the Dirt2Media National Open Wheel 600 Series presented by Hi-Plains Building Division, 36 of those field into A-Class where Schroeder went on to lead every lap. Stalked at the end by Flud on a green, white, checkered finish, the Montana shoe kept Frank at bay. Garrett Benson, who had slipped to fifth, made it back to third, with Jett Hays and Brant Woods making up the top five.
Losing the engine in his Dirt2Media No. 81 at Caney on Wednesday, Frank Flud was given the controls to Matt Carr's No. 93.
Putting the wingless machine to the front in Heat Race qualifying time and win, Frank took the green fourth and wasted no time getting the point on the opening lap; restarts would see the No. 93 steadily pull away, with the gap growing to 3.220-seconds at the finish. Winner Wednesday night, Austin Torgerson fought from eighth to second. Out of the B-Feature, Minnesota's Ryan Frandsen wheeled to third, with Austin Saunders fourth. Likewise, from the B-Feature, Glenn James Bratti moved from 18th to fifth.
Getting to the lead on Lap 9 after chasing Garyn Howard, the No. 33 of Jett Nunley dominated from there in Restricted. Winning by 4.083-seconds, the No. GH7 crossed a very welcoming second place after destroying a car the night before. Making moves on restarts especially, Mattix McBride moved from ninth to third, with Carson Bolden following from tenth. Braxton Weger made it to fifth.
A very special thanks to everyone who jumped in at the start of the night and helped drop a temporary loop into the track. While afternoon testing showed the loop in the track was picking up transponder signals, it was apparent during Hot Laps that there was an issue as cars, even after trading transponders, were not reading. We truly can not express our gratitude enough.
Sooner 600 Week, presented by Milestone Home Service, Co., continues Friday, June 9, at Red Dirt Raceway in Meeker, Okla. Grandstands open at 5:00 P.M. with racing at 7:30 P.M. Fans not able to attend can see every lap live on https://www.now600.tv and http://www.dirt2media.tv.
The 2023 season marks the 11th year of competition for the National Open Wheel 600 Series. Anchored by the Dirt2Media NOW600 National Championship, the NOW600 Series comprises several regional tours and sanctioned racetracks. The NOW600 National Championship features three divisions of 600cc micro sprints at each event: Stock Non-Wing, Winged A-Class, and Restricted 'A' Class.
To keep up on everything happening with the National Open Wheel 600 Series, from the National Tour to Regional and Weekly racing lineups, log onto http://www.now600series.com and make sure to follow the tour on Facebook and Twitter (@NOW600Series).
Race Results:
Dirt2Media NOW600 Series
Creek County Speedway (Sapulpa, Okla.)
Sooner 600 Week – Round 2
Thursday, June 8, 2023
NOW600 A-Class Micros
Hi Plains Building Division A-Main (25 Laps): 1. 3-Cole Schroeder[1]; 2. 93-Frank Flud[6]; 3. 2B-Garrett Benson[3]; 4. 11X-Jett Hays[5]; 5. 83-Brant Woods[4]; 6. 22-Jesse Pate[12]; 7. 08-Peter Smith[2]; 8. 11J-Joey Starnes[9]; 9. 3X-Cole Roberts[18]; 10. 13-Elijah Gile[10]; 11. 78C-Chance Cody[17]; 12. 17E-Kaylee Esgar[11]; 13. 77E-Cole Esgar[19]; 14. 33-Jett Nunley[20]; 15. B2-Carson Bolden[14]; 16. 25-Maverick Elkins[13]; 17. 82S-Austin Saunders[16]; 18. 72-Alex Karpowicz[15]; 19. (DNS) 00-TJ Stark; 20. (DNS) 938-Bradley Fezard
Hoss Media B-Main 1 (12 Laps): 1. 72-Alex Karpowicz[2]; 2. 78C-Chance Cody[1]; 3. 77E-Cole Esgar[3]; 4. 14H-Harley Hollan[4]; 5. 14G-Madelyn Gjerness[8]; 6. 15-Brody Brown[5]; 7. 34-Colton Robinson[6]; 8. 24C-Cale Lagroon[7]; 9. 27KW-Kaden Weger[9]; 10. (DNS) 42-Ashley Afdahl; 11. (DNS) 82-Robert Randolph
Hoss Media B-Main 2 (12 Laps): 1. 82S-Austin Saunders[1]; 2. 3X-Cole Roberts[2]; 3. 33-Jett Nunley[3]; 4. 3C-Brady Ross[6]; 5. 17S-Baron Silva[8]; 6. 52-Hayden Mabe[10]; 7. 7A-Aaron Jesina[4]; 8. 9A-Hunter Hanson[9]; 9. 5-Ryder McCutcheon[11]; 10. 5L-Landon Jesina[7]; 11. (DNS) 1V-Johnny Boland
Milestone Home Service Co Heat 1 (8 Laps): 1. 83-Brant Woods[2]; 2. 08-Peter Smith[3]; 3. 11J-Joey Starnes[4]; 4. 77E-Cole Esgar[1]; 5. 33-Jett Nunley[5]; 6. 1V-Johnny Boland[6]; 7. 5L-Landon Jesina[7]; 8. 14G-Madelyn Gjerness[8]; 9. 52-Hayden Mabe[9]
Milestone Home Service Co Heat 2 (8 Laps): 1. 00-TJ Stark[1]; 2. 11X-Jett Hays[4]; 3. 17E-Kaylee Esgar[2]; 4. 25-Maverick Elkins[6]; 5. B2-Carson Bolden[9]; 6. 14H-Harley Hollan[3]; 7. 24C-Cale Lagroon[5]; 8. 27KW-Kaden Weger[8]; 9. 5-Ryder McCutcheon[7]
Milestone Home Service Co Heat 3 (8 Laps): 1. 93-Frank Flud[3]; 2. 938-Bradley Fezard[1]; 3. 22-Jesse Pate[2]; 4. 82S-Austin Saunders[5]; 5. 72-Alex Karpowicz[4]; 6. 7A-Aaron Jesina[6]; 7. 34-Colton Robinson[8]; 8. 9A-Hunter Hanson[7]; 9. 42-Ashley Afdahl[9]
Milestone Home Service Co Heat 4 (8 Laps): 1. 2B-Garrett Benson[2]; 2. 3-Cole Schroeder[3]; 3. 78C-Chance Cody[1]; 4. 13-Elijah Gile[4]; 5. 3X-Cole Roberts[7]; 6. 15-Brody Brown[5]; 7. 3C-Brady Ross[6]; 8. 17S-Baron Silva[8]; 9. 82-Robert Randolph[9]
Performance Electronics Qualifying 1 (3 Laps): 1. 08-Peter Smith, 12.962[3]; 2. 83-Brant Woods, 12.978[9]; 3. 77E-Cole Esgar, 13.025[4]; 4. 14G-Madelyn Gjerness, 13.098[2]; 5. 11J-Joey Starnes, 13.144[1]; 6. 33-Jett Nunley, 13.161[8]; 7. 1V-Johnny Boland, 13.165[7]; 8. 5L-Landon Jesina, 13.890[5]; 9. 52-Hayden Mabe, 13.890[6]
Performance Electronics Qualifying 2 (3 Laps): 1. 11X-Jett Hays, 12.826[6]; 2. 14H-Harley Hollan, 12.904[9]; 3. 17E-Kaylee Esgar, 12.991[7]; 4. 00-TJ Stark, 12.997[5]; 5. 24C-Cale Lagroon, 13.187[4]; 6. 25-Maverick Elkins, 13.202[3]; 7. 5-Ryder McCutcheon, 13.262[2]; 8. 27KW-Kaden Weger, 13.299[8]; 9. B2-Carson Bolden, 13.475[1]
Performance Electronics Qualifying 3 (3 Laps): 1. 72-Alex Karpowicz, 12.902[4]; 2. 93-Frank Flud, 12.930[1]; 3. 22-Jesse Pate, 12.994[6]; 4. 938-Bradley Fezard, 13.062[9]; 5. 82S-Austin Saunders, 13.189[5]; 6. 7A-Aaron Jesina, 13.218[2]; 7. 9A-Hunter Hanson, 13.429[8]; 8. 42-Ashley Afdahl, 13.555[3]; 9. 34-Colton Robinson, 14.053[7]
Performance Electronics Qualifying 4 (3 Laps): 1. 13-Elijah Gile, 12.726[3]; 2. 3-Cole Schroeder, 12.818[2]; 3. 2B-Garrett Benson, 12.959[6]; 4. 78C-Chance Cody, 13.138[5]; 5. 15-Brody Brown, 13.179[1]; 6. 3C-Brady Ross, 13.211[7]; 7. 3X-Cole Roberts, 13.220[4]; 8. 17S-Baron Silva, 13.245[8]; 9. 82-Robert Randolph, 14.223[9]
NOW600 Non-Wing Micros
Hi Plains Building Division A-Main (25 Laps): 1. 93-Frank Flud[4]; 2. 88-Austin Torgerson[8]; 3. 9F-Ryan Frandsen[15]; 4. 82S-Austin Saunders[9]; 5. 24T-Glenn James Bratti[18]; 6. 72-Alex Karpowicz[2]; 7. 13-Elijah Gile[11]; 8. 34-Colton Robinson[10]; 9. 14G-Madelyn Gjerness[17]; 10. 17S-Baron Silva[1]; 11. 87X-Hayden Mabe[13]; 12. 22-Jesse Pate[5]; 13. 00T-TJ Stark[19]; 14. 3-Cole Schroeder[7]; 15. 17G-Isaiah Garcia[3]; 16. 938-Bradley Fezard[12]; 17. 128-Tyler Cook[20]; 18. 25-Maverick Elkins[6]; 19. (DNS) 1V-Johnny Boland; 20. (DNS) 08-Peter Smith
Hoss Media B-Main 1 (12 Laps): 1. 9F-Ryan Frandsen[3]; 2. 08-Peter Smith[7]; 3. 14G-Madelyn Gjerness[6]; 4. 24T-Glenn James Bratti[8]; 5. 00T-TJ Stark[5]; 6. 128-Tyler Cook[2]; 7. 22T-Thomas Byford[10]; 8. 5-Ryder McCutcheon[4]; 9. 28P-Bobby McIntosh[9]; 10. (DNS) 11J-Jett Hays; 11. (DNS) 27-Kaden Weger; 12. (DNS) 20-Tony Morris; 13. (DNS) 357-Bryce Redenbaugh; 14. (DNS) 81G-Giancarlo Ramessar
Milestone Home Service Co Heat 1 (8 Laps): 1. 17G-Isaiah Garcia[1]; 2. 88-Austin Torgerson[2]; 3. 13-Elijah Gile[3]; 4. 1V-Johnny Boland[4]; 5. 5-Ryder McCutcheon[5]; 6. 28P-Bobby McIntosh[6]; 7. 20-Tony Morris[7]
Milestone Home Service Co Heat 2 (8 Laps): 1. 25-Maverick Elkins[3]; 2. 3-Cole Schroeder[2]; 3. 34-Colton Robinson[5]; 4. 128-Tyler Cook[4]; 5. 14G-Madelyn Gjerness[1]; 6. 08-Peter Smith[6]; 7. 27-Kaden Weger[7]
Milestone Home Service Co Heat 3 (8 Laps): 1. 72-Alex Karpowicz[1]; 2. 82S-Austin Saunders[2]; 3. 93-Frank Flud[4]; 4. 11J-Jett Hays[3]; 5. 9F-Ryan Frandsen[5]; 6. 24T-Glenn James Bratti[6]; 7. 357-Bryce Redenbaugh[7]
Milestone Home Service Co Heat 4 (8 Laps): 1. 17S-Baron Silva[1]; 2. 22-Jesse Pate[4]; 3. 938-Bradley Fezard[3]; 4. 87X-Hayden Mabe[7]; 5. 00T-TJ Stark[2]; 6. 22T-Thomas Byford[5]; 7. 81G-Giancarlo Ramessar[6]
Performance Electronics Qualifying 1 (3 Laps): 1. 1V-Johnny Boland, 13.616[5]; 2. 13-Elijah Gile, 13.630[2]; 3. 88-Austin Torgerson, 13.719[3]; 4. 17G-Isaiah Garcia, 13.747[4]; 5. 5-Ryder McCutcheon, 14.049[1]; 6. 28P-Bobby McIntosh, 14.326[7]; 7. 20-Tony Morris, 14.591[6]
Performance Electronics Qualifying 2 (3 Laps): 1. 25-Maverick Elkins, 13.564[1]; 2. 3-Cole Schroeder, 13.793[4]; 3. 14G-Madelyn Gjerness, 13.908[2]; 4. 08-Peter Smith, 14.056[7]; 5. 128-Tyler Cook, 14.330[6]; 6. 34-Colton Robinson, 14.413[5]; 7. 27-Kaden Weger, 14.413[3]
Performance Electronics Qualifying 3 (3 Laps): 1. 93-Frank Flud, 13.585[6]; 2. 11J-Jett Hays, 13.641[5]; 3. 82S-Austin Saunders, 13.733[3]; 4. 72-Alex Karpowicz, 13.762[1]; 5. 9F-Ryan Frandsen, 13.897[7]; 6. 24T-Glenn James Bratti, 14.221[2]; 7. 357-Bryce Redenbaugh, 14.778[4]
Performance Electronics Qualifying 4 (3 Laps): 1. 22-Jesse Pate, 14.014[2]; 2. 938-Bradley Fezard, 14.057[4]; 3. 00T-TJ Stark, 14.187[1]; 4. 17S-Baron Silva, 14.588[7]; 5. 22T-Thomas Byford, 14.599[3]; 6. 81G-Giancarlo Ramessar, 15.317[5]; 7. 87X-Hayden Mabe, 15.317[6]
NOW600 Restricted Micros
Hi Plains Building Division A-Main (25 Laps): 1. 33-Jett Nunley[4]; 2. GH7-Garyn Howard[2]; 3. 11-Mattix McBride[9]; 4. B2-Carson Bolden[10]; 5. 31BW-Braxton Weger[7]; 6. 24C-Cale Lagroon[3]; 7. 83-Dawson Woods[6]; 8. 88K-Bryce Kujath[16]; 9. 73F-Ty Fulghum[5]; 10. 14K-Kyle Hooper[8]; 11. 5S-Stone Smith[11]; 12. 87C-Callan Hill[12]; 13. 73-Chase McDougal[14]; 14. 2K-Kelby Fetters[17]; 15. 18-Tityn Roberts[15]; 16. 97-Cash Lacombe[13]; 17. 4-Jude Allgayer[1]; 18. 81G-Giancarlo Ramessar[18]; 19. (DNS) 75-Deekan McRoberts
Milestone Home Service Co Heat 1 (8 Laps): 1. 4-Jude Allgayer[1]; 2. GH7-Garyn Howard[3]; 3. 14K-Kyle Hooper[2]; 4. 31BW-Braxton Weger[4]; 5. 73-Chase McDougal[5]; 6. 88K-Bryce Kujath[6]; 7. 75-Deekan McRoberts[7]
Milestone Home Service Co Heat 2 (8 Laps): 1. 24C-Cale Lagroon[4]; 2. 73F-Ty Fulghum[1]; 3. 11-Mattix McBride[2]; 4. 5S-Stone Smith[3]; 5. 18-Tityn Roberts[5]; 6. 2K-Kelby Fetters[6]
Milestone Home Service Co Heat 3 (8 Laps): 1. 33-Jett Nunley[4]; 2. 83-Dawson Woods[1]; 3. B2-Carson Bolden[6]; 4. 87C-Callan Hill[2]; 5. 97-Cash Lacombe[3]; 6. 81G-Giancarlo Ramessar[5]
Performance Electronics Qualifying 1 (3 Laps): 1. 31BW-Braxton Weger, 13.657[4]; 2. GH7-Garyn Howard, 13.692[6]; 3. 14K-Kyle Hooper, 13.851[2]; 4. 4-Jude Allgayer, 13.857[7]; 5. 73-Chase McDougal, 13.969[1]; 6. 88K-Bryce Kujath, 13.994[3]; 7. 75-Deekan McRoberts, 14.179[5]
Performance Electronics Qualifying 2 (3 Laps): 1. 24C-Cale Lagroon, 13.652[2]; 2. 5S-Stone Smith, 13.846[1]; 3. 11-Mattix McBride, 13.893[4]; 4. 73F-Ty Fulghum, 13.922[3]; 5. 18-Tityn Roberts, 14.095[5]; 6. 2K-Kelby Fetters, 14.303[6]
Performance Electronics Qualifying 3 (3 Laps): 1. 33-Jett Nunley, 13.403[1]; 2. 97-Cash Lacombe, 13.920[4]; 3. 87C-Callan Hill, 14.032[2]; 4. 83-Dawson Woods, 14.154[6]; 5. 81G-Giancarlo Ramessar, 14.523[3]; 6. B2-Carson Bolden, 14.523[5]
---
Submitted By: Bryan Hulbert
Article Media
Back to News