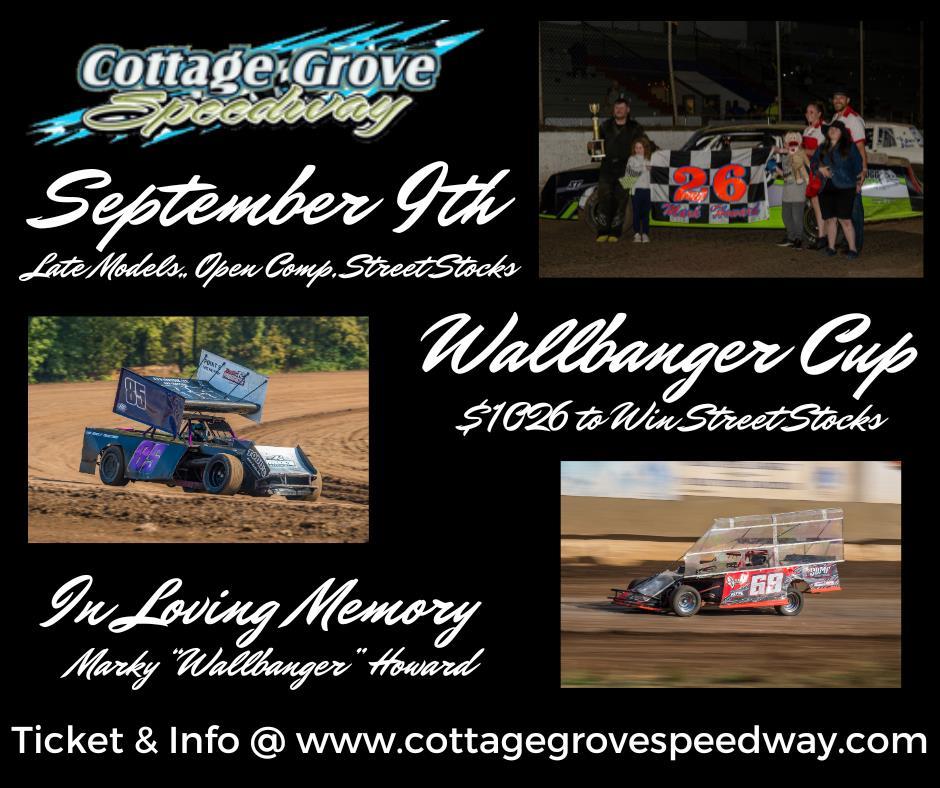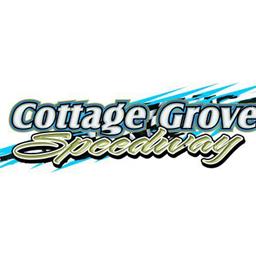 9/6/2023
Cottage Grove Speedway
---
WALLBANGER CUP PLUS LATE MODELS, JUNIORS & OPEN COMP THIS SATURDAY, 9/9 AT COTTAGE GROVE SPEEDWAY!!
Saturday, September 9th Cottage Grove Speedway will hold the 17th annual Wallbanger Cup in honor of the late Mark Howard. It is our honor to once again be able to host this prestigious Street Stock race in Mark's name as he was the man who started this class at Cottage Grove Speedway before his sudden and tragic passing.
The Street Stock class at Cottage Grove Speedway has been great all year and we are very excited to see all the additional cars this great race will bring in!
Please see below for information on Wallbanger as well as Open Comp Info!!
Driver Information Wallbanger Cup:
Rules - All Cottage Grove Speedway Street Stock rules which can be found at www.cottagegrovespeedway.com will be enforced, while we would love to welcome any Stock Cars that wish to run, your car MUST meet all Cottage Grove Speedway rules to be able to compete, any cars not in compliance will not be permitted to race. Please also note that mufflers are required on all cars at all times at Cottage Grove Speedway. If you have any questions feel free to call Heather at 541-729-8666.
Pit Passes are $40.00 each, there is no additional entry fee required however if you have not yet registered at Cottage Grove Speedway for the 2023 season you will be required to purchase a $25.00 registration.
Wallbanger Cup Format
2 Laps of qualifying – Green out of the gate
Fastest 4 inverted for a 4 lap dash – Just a dash, this has no impact on the line-ups
6 car invert from qualifying for heat race lineups
If 3 heats are ran the top 4 in each heat go directly to the A; if 4 heats are ran the top 3 in each heat go directly to the A
The top 12 out of the heats will be locked into the A main and will draw a pill for A main starting order
B mains will be ran – if 1 B main is ran the top 8 will transfer if 2 B mains are ran the top 4 from each will transfer making it a 20 car field
Payout
1st - $1026.00
2nd - $626.00
3rd - $526.00
4th - $426.00
5th - $326.00
6th - $226.00
7th - $150.00
8th back - $126.00
Driver Information Open Comp:
Rules - The only rules that will apply for Open Comp shows are Safety rules. Open Comp 4 cylinders need to comply with all safety/roll cage rules listed in the Sport Compact rules. Open Comp Mod/Late Model also need to comply with all safety rules in 2023 Cottage Grove Rules. Other than that it's free reign! So get them sideboards and wings ready and bring those cool open comp cars back to Cottage Grove Speedway!! (Please note due to safety concerns dwarf cars will not be permitted to run)
Open Comp Payout
4 Cylinder
1st - $100.00
2nd - $70.00
3rd - $60.00
4th - $50.00
5th - $40.00
6th - $30.00
7th - $20.00
8th - out the back - $10.00
Mod/Late Model
1st - $650.00
2nd - $400.00
3rd - $250.00
4th - $200.00
5th - $175.00
6th - $150.00
7th - $125.00
8th - out the back - $100.00
Fan Information
General Admission
Adults - $15.00
Juniors (13-17) - $12.00
Seniors (62+) - $12.00
Military - $12.00
Youth (6-12) - $5.00
5 and Under - Free
Family Pass (2 Adults & 4 Youth (6-12)) - $40.00
VIP Skybox Seats - $35.00
Pit Pass - $40.00
Times
Pit Gate - 2:00pm
Front Gate - 4:30pm
Hot Laps/Qualifying - 5:30pm
Racing - 6:30pm
---
Submitted By: Heather Boyce
Back to News