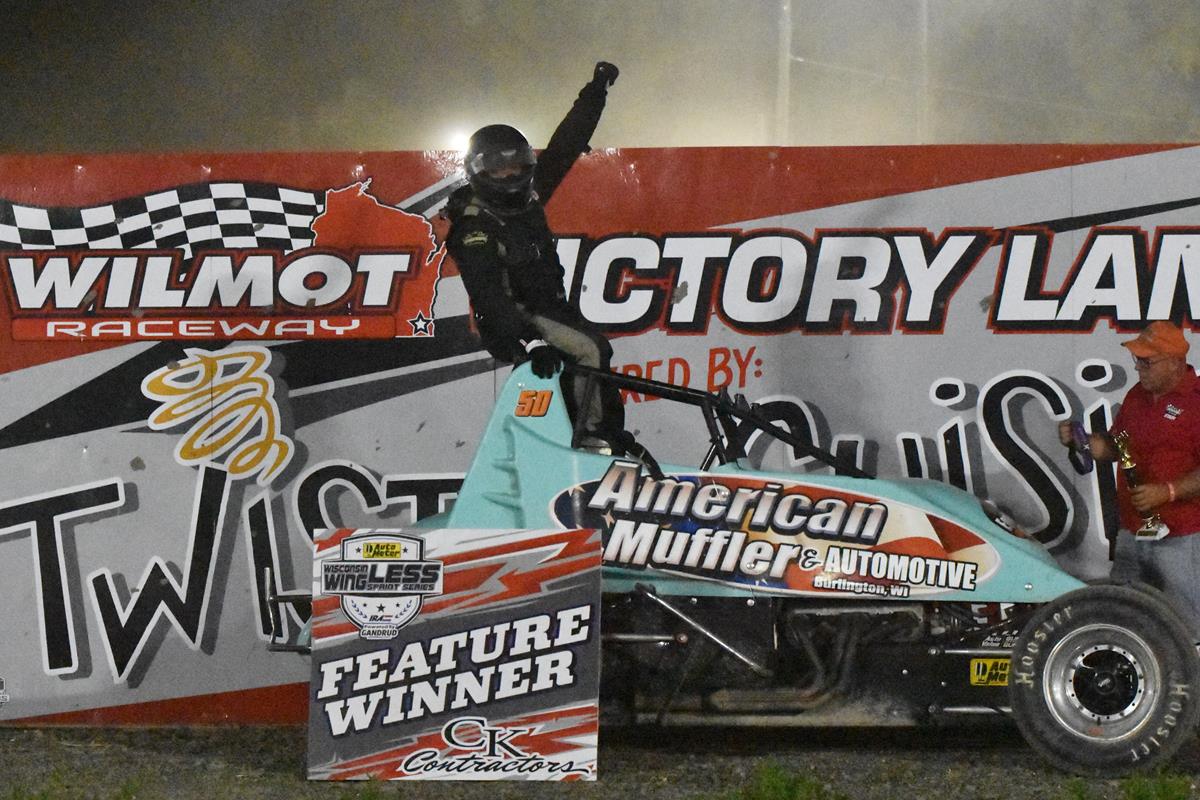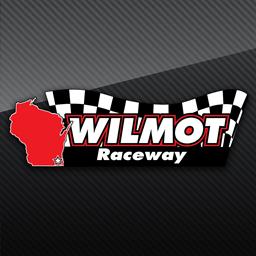 ---
Egan, Sievert, Holland, Zifko and Johnson Roll to More Wins
The 2023 Wilmot Raceway season is winding down with two nights remaining including the crowning of five champions for the year.
Championship Night Saturday, September 9 is next up for the 3/8-mile clay oval on the Kenosha County Fairgrounds. CK Contractors/AutoMeter Powered By Gandrud Performance Parts Wisconsin Wingless Sprints, Pfeiffer Trailer Sales IRA Lightning Sprints, Modifieds and Street Stocks have their final Wilmot point nights that evening.
A drivers autograph session is slated for 4:30-5:10 p.m. for the four divisions on the grandstand side. The first 100 children to come through the grandstand will receive a free checkered flag courtesy of Happ'y Services of Burlington. Three go-kart champions from the Beaver Dam Raceway season Mackenzie Maule, Colin Sivia and Blake Egan are slated to join the dads for the autograph session plus have their karts on display.
Burlington Hobbies & RC Track are scheduled to have a exhibition display.
The final night of 2023 is Saturday, September with the Fall Spectacular highlighted by the Bandit 4-Cylinder Stock Cars Season Championship and autograph session. The Bandit drivers will be available on the grandstand side from 5:30 until 6:30 p.m. following the drivers meeting.
The first 50 children to come to the grandstand on September 16 will receive a checkered flag courtesy of Happ'y Services of Burlington. A candy drop is planned on the grandstand side following the National Anthem Pre-Race Ceremony.
In addition to the Bandits scheduled for the season finale are Open Competition Wingless Sprints, 604 Crate Motor Winged Sprints and Modifieds, all in non-point programs.
The Labor Day Saturday Night Thunder September 2 program saw Salem's Ryan Johnson score his career high single season fifth 20-lap Bandit 4-Cylinder Stock Car feature win. Johnson out dueled Mt. Pleasant's David McKellips and Rick Zifko of Aurora, IL. D. McKellips lead the first 13 laps of the non-stop main. Johnson took the lead with seven laps to go, pulling away to the win. D. McKellips was second. Zifko third as the top three sifted through heavy lapped traffic to the finish. Union Grove's Dale Ehleiter was fourth. Mt. Pleasant's Jessica McKellips, wife of David, finished fifth after the family duo started the front row together.
"It was a tough battle, but having a personal best five feature wins in a season, and closing in on a second championship, is awesome," said Johnson, who won the title in 2019. "I wish Scott (Ellis of Lake Villa, IL) could have been here so I could be trying to beat him on the track, but he wasn't here because of family commitments. I hope he can at least make championship night(Sept. 16)."
The first race of the evening was a makeup 20-lap Bandit feature from August 26. Following an opening lap caution, Johnson held top spot until Zifko powered through traffic into the lead in turn four. A final caution closed the ranks on lap 7. Zifko was up to the challenge as the remaining laps stayed green.
Zifko scored his first feature win of the season. Johnson was second. Union Grove's Garrett Ehleiter third. D. McKellips fourth. Trevor's William Jackson fifth.
"It was a challenging race, but fun to battle Ryan," said Zifko. "I've won here before, but it has been a while. Got to thank my sponsors for their support because without them, I wouldn't get to be here and have fun doing what we do."
Rusty Egan of Round Lake Heights, IL came from seventh starting spot to score a late race pass with two laps to go scoring the win in the C.K. Contractors/AutoMeter Powered By Gandrud Performance Parts Wisconsin Wingless Sprints 20-lap feature.
Kansasville's Ryan Marshall led the opening two laps. Racine's Derek Crane worked in front on lap four. Crane, Marshall and Oconomowoc's Ryan Zielski battled back and fourth for the next seven circuits. A caution flew on lap 11 when Zielski spun as he tried to overtake his teammate, Crane, coming out of turn four narrowly missing contact with the field avoiding the disabled mount on the inside berm.
Watertown's Greg Alt, who started eighth, restarted second. Egan and Zach Raidart of Gurnee, IL along with Cambridge's Tristan Furseth all in close pursuit.
The top five kept within close proximity of the leader Crane as laps wound down. A final yellow with three laps to go set up Egan's charge to the front.
On the restart, Egan shot to the outside using the cushion to take the lead with two laps to go. At the checkered it was Egan becoming the sixth different Wilmot feature winner this season. Alt had a career best second place. D. Crane ended up third. Raidart came from 11th starting spot to fourth. Furseth a career Wilmot best fifth.
"They were sticking to the bottom so I decided to go up top," said Egan, who as a little boy sold programs at Wilmot while his dad, Russ, raced. "I found something up there no one else seemed to want to try. Have to thank my family, team and everybody, as we finally have overcome the Wilmot curse we seem to have had this year."
Cl;ayton Rossmann of Wadsworth, IL, 2022 IRA Wingless Champion, along with 2021 IRA and Wilmot Rookie of the Year, is a 17-year-old Zion-Benton H.S. student. Rossmann holds a 113 point advantage over 2021 Wilmot Champion Zielski and 117 points over 2023 Crate Engine Nationals Champion Marshall.
The tightest point championship battle is the street stocks. Four-time Wilmot Champion Rob Maule of Hebron, IL appeared headed to another feature win when a broken transmission on a restart sent him coasting to the infield with a DNF.
Craig Mertes of Antioch, IL had the initial lead in the 20-lap feature with Maule shooting to the high side on the front straightaway taking the point on lap 2. Cautions on laps 11 and 13 closed the field, with the second proving unlucky for Maule. Sparks and smoke flew from under the rearend of the car as he attempted to take the green on the lap 13 restart ending his night.
Pell Lake's Dustin Holland took over the lead with Kenosha's Blake Kreuser in tow. Big Bend's Mark Baker was in contention as well with the front trio going side by side several times as laps wound down. A final yellow on the initial white flag attempt when Kreuser spun while running third set up an overtime green-white-checkered finish.
Holland was up to the challenge becoming the fourth different street stock main winner of the season. Baker held on for second. Kreuser charged from the tale on the final restart to take third. Tim Calanca of Lake Villa, IL had a career best fourth. Bristol's Keith Stitch scored a career best fifth.
Heading into the championship weekend, Maule holds a 1 point lead over Kreuser. Salem's Brandon Mertes is in possible contention 60 points back in third.
"It's been a long time since I won one," said Holland, whose last Wilmot main win came in 2013. "More importantly, I have something to do. Courtney, will you marry me?" Holland said to his girlfriend on one knee in victory lane. She accepted.
The modifieds saw Racine's Chris Carlson take a friend's car for a drive to see if he could help better the car's setup. Carlson did just fine, as he took the lead from early pacesetter Ryan Mech of Greenfield with 6 laps to go in the 20-lap feature and go on to his second Wilmot win of the year.
Mech finished a career best second. Franklin's Scott Barnharst third. Waterford's Mike Wittenburg fourth. Big Bend's Mike Conn fifth.
"I guess we found something and it worked," Carlson said of driving Bart Sievert's car. "I think we hurt the motor in my car last week and my nephew, Cayden Carlson, tried driving it. We'll see if we can't get it straightened out, but we'll be here the final two weeks driving something."
Sheboygan's Joel Seegert holds the modified point lead by 113 over Mech. Eagle's Steve Mueller is third 119 back.
The Pfeiffer Trailer Sales IRA Lighting Sprints Wilmot championship battle will come down to the final night. Two past Wilmot champions Oak Creek's Mark Heinert has a 8 point advantage over Nick Petska of Spring Grove, IL. Max Brannam of Holiday Hills, IL, who has not won a title, is third 85 points back with an outside shot.
For the latest Wilmot Raceway information check the trackside raceline 262-862-2090, official website Wilmotraceway.com or official track Facebook page.
---
Submitted By: Dakoda Tennyson
Article Media
Back to News