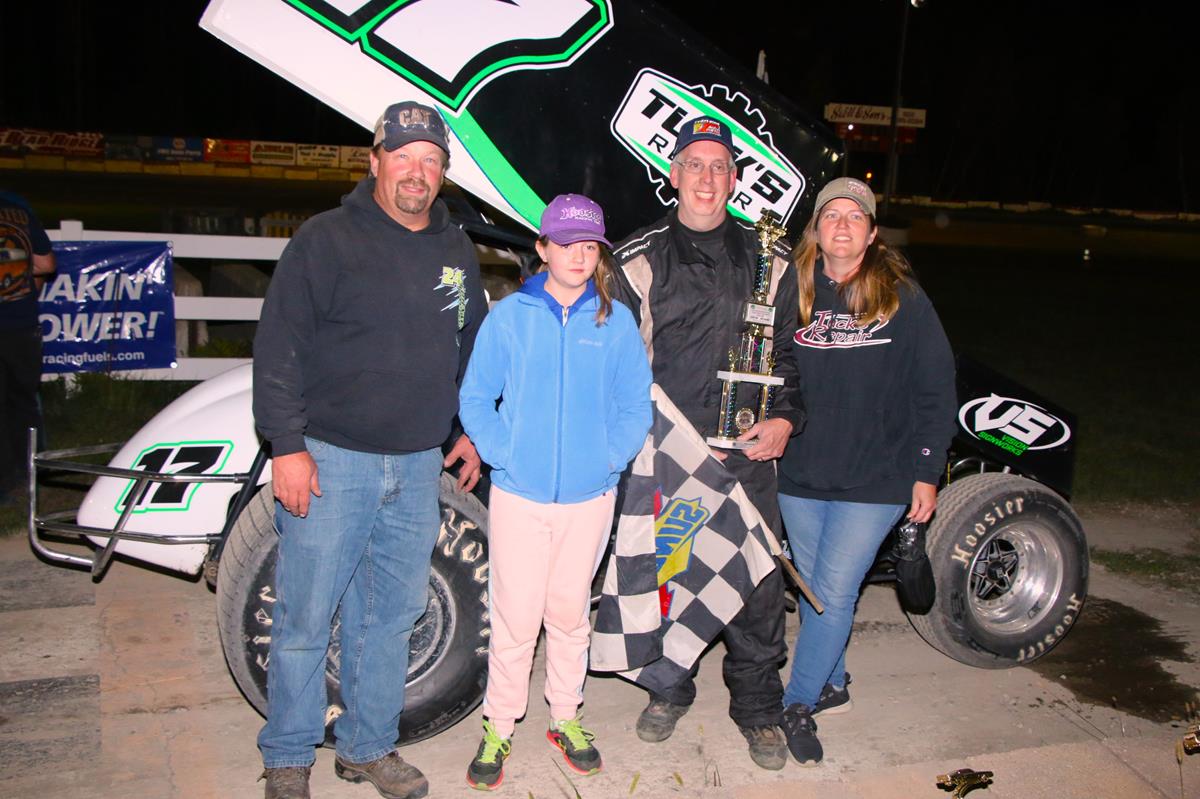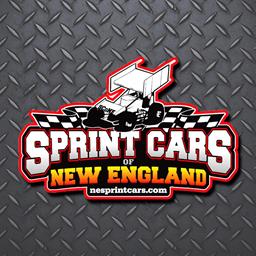 9/18/2023
Sprint Cars of New England
---
Wild Final Laps See Donnelly Steal Bear Ridge Win to Wrap Up SCoNE Title
Last-lap pass gives "Professor" Donnelly fourth win
BRADFORD, Vt. (September 17, 2023) – Chris Donnelly did not need to win at Bear Ridge Speedway on Saturday, September 16, but he pulled into victory lane, nonetheless. "The Professor" snuck into the lead on the final lap of the season to steal the win from Jason Goff and stamp an exclamation point on his eighth championship on the McGee Automotive Family Sprint Cars of New England (SCoNE) tour.
Donnelly, of Piermont, N.H., had already mathematically clinched his record-extending eighth SCoNE championship prior to the event, but he was focused on closing out the regular season schedule with a victory. He almost didn't get it. The race, which was presented by Green Mountain Gear-Heads, was shaping up to be one for the underdogs, as rookies Goff and Ron Davis Jr. ran at the front of the field along with sophomore driver Nick Comeau.
Davis had a breakout performance by leading the first 13 circuits of the 25-lap race before giving way to Goff, who appeared to be headed for his first-ever win. The only caution flag of the race waved on lap 16 with Goff in front, and he slipped away from the field on the restart, but Donnelly had driven from 10th starting position to line up third. Goff fired fast at the green flag, but he was never able to shake Donnelly off his tail tank. As the laps ran down, Donnelly put pressure on SCoNE's leading freshman driver, and he was able to capitalize on Goff's car sliding up the track surface coming to the white flag to enter the final lap.
Donnelly poked his nose to the inside lane under Goff, and the pair drag raced for the next half-lap until Piermont, N.H., runner Donnelly was able to pull ahead on the backstretch and steal the victory. Goff settled for the runner-up finish, but he was able to claim the Rookie of the Year title.
As that was going on, the battle from third place back was white-hot in the final five laps. Davis held the spot and led a big group before his car slipped sideways in the fourth turn on lap 21, directly into the path of Troy Comeau. After contact between the cars – and Comeau slamming up and over a tractor tire barrier – both drivers were able to get their machines pointed in the right direction and continue.
That scrum enabled Nick Comeau and Chase Moran to blast around the outside lane and shuffle the field. Moran, who made a surprise first-ever trip to Bear Ridge, came out of the mess shining, and he finished in third place after starting 11th. Nick Comeau held off his cousin, Troy Comeau, to finish a SCoNE career-best fourth, and Davis regrouped for a career-best sixth. Will Hull finished seventh in the race and ended the regular season as the runner-up to Donnelly in the championship standings. Kadyn Berry finished eighth in the race ahead of Caiden Herbert and Floyd Billington.
RACE NOTES:
• A field of 15 cars attended the event. Rupert, Vt.'s Nick Kruger made his first-ever SCoNE appearance, finishing 14th. The race was Kruger's debut on four wheels after a successful motocross career.
• The 25-lap A-Main feature race was slowed by a single caution flag on lap 16. In five SCoNE A-Mains held at Bear Ridge Speedway in 2023, it was only the second caution period of the season and the first since May 27.
• Chris Donnelly's victory was the 44th of his SCoNE career, extending his all-time lead for tour.
• The two qualifying heat races were won by rookies J.P. Vaillancourt and Jason Goff, with each grabbing a $50 bonus from CMD Logging of Barnstead, New Hampshire. The heat win was Goff's fifth of the season – the most of any driver on the SCoNE tour in 2023.
• Rockingham Boat of Hampstead, N.H., presented the Hard Charger Award, with a $50 bonus going to Chris Donnelly, who drove from the 10th starting position to finish first.
• Doug McPhail was awarded the Panther Frameworx "Hard Luck" Award after spinning out of a top-10 position on lap 16.
The McGee Automotive Family Sprint Cars of New England tour closes its 20th season out with a special non-points event at Unity Raceway in Unity, Maine, on Friday, September 29; the event marks the first Sprint Car race in the Pine Tree State in nearly 50 years. To learn more about the McGee Automotive Family Sprint Cars of New England, visit www.nesprintcars.com or find the "SCoNE – Sprint Cars of New England" page on Facebook.
OFFICIAL RESULTS – McGee Automotive Family Sprint Cars of New England
Bear Ridge Speedway – Bradford, Vt.
Fisher/Federated Auto Parts Night presented by Green Mountain Gear-Heads
Saturday, September 16, 2023
A-Main Feature (25 laps)
Pos.-(Start)-Driver-Hometown
(#) - denotes rookie
(10) Chris Donnelly, Piermont, N.H.
(5) # Jason Goff, Preston Hollow, N.Y.
(11) Chase Moran, Fultonville, N.Y.
(4) Nick Comeau, Hebron, N.H.
(7) Troy Comeau, Wentworth, N.H.
(2) # Ron Davis Jr., Moultonborough, N.H.
(9) Will Hull, Plainfield, Vt.
(6) Kadyn Berry, Goffstown, N.H.
(14) # Caiden Herbert, New Hampton, N.H.
(8) Floyd Billington, South Glens Falls, N.Y.
(13) # Sam Comeau, Hebron, N.H.
(12) Dylan Menditto, Brooklyn, Conn.
(3) Doug McPhail, Tilton, N.H.
(15) Nick Kruger, Rupert, Vt.
(1) # J.P. Vaillancourt, Campton, N.H.
Lap Leaders (3 lead changes among 4 drivers): J.P. Vaillancourt, grid; Ron Davis Jr., 1-13; Jason Goff, 14-24; Chris Donnelly, 25.
Cautions (1): Lap 16.
Contingency Award Winners:
• CMD Logging Heat Winners: J.P. Vaillancourt, Jason Goff
• Rockingham Boat "Hard Charger" Award: Chris Donnelly (+9 positions)
• Panther Frameworx "Hard Luck" Award: Doug McPhail
• Green Mountain Gear-Heads Award: Chris Donnelly (1st)
• 802 Print Award: Trophy: Chase Moran (3rd)
• VT Fire Award: Nick Comeau (4th)
• Hull Motorsports Award: Troy Comeau (5th)
• Big Al's Photos Award: Ron Davis Jr. (6th)
• Waddell Communications & Repairs Award: Will Hull (7th)
• 87Speed Award: Kadyn Berry (8th)
• Uncommon Deeds Podcast Award: Caiden Herbert (9th)
Upcoming Events:
• Friday, September 29 – Unity Raceway – Unity, Maine – Non-Points Special Event
FINAL CHAMPIONSHIP STANDINGS – McGee Automotive Family Sprint Cars of New England
After 10 of 10 Races Completed
Pos.-(Car No.)-Driver-Hometown-Points-(Wins)
(#) - denotes rookie
(17) Chris Donnelly, Piermont, N.H. – 531 (4)
(61) Will Hull, Plainfield, Vt. – 411
3T. (88) Floyd Billington, South Glens Falls, N.Y. – 371
3T. (89) Troy Comeau, Rumney, N.H. – 371
(73) Jake Williams, Center Tuftonboro, N.H. – 356
(12) Kadyn Berry, Goffstown, N.H. – 335
(90) Matt Tanner, Stephentown, N.Y. – 323 (3)
(19J) # Jason Goff, Preston Hollow, N.Y. – 318
(03) Nick Comeau, Hebron, N.H. – 293
(6) Doug McPhail, Tilton, N.H. – 268
(Photos by Alan Ward/Big Al's Photos)
---
Submitted By: Justin St. Louis
Article Media
Back to News